skirt - custom Betty Le Bonbon / brooches - Heidi and Gretel / shirt - Target / scarf - Target (last year) / earrings - Suzywan Deluxe via ASOS / belt - thrifted / shoes - thrifted
I'm so glad that I finally got around to doing an OOTD post with Betty Le Bonbon! This is actually my second skirt from her, both with fabric that I purchased on my own and sent directly to her. Yes, it's yet another Australia shop (Why does Australia seem to have the most awesome retro shops and makers? Where my US ladies at?), but her work is soooo nice and it is soooo worth it to pay for shipping.
You can find Betty Le Bonbon at a couple of different places online:
here
,
here
, or via
Facebook
/
Instagram
/
Twitter
. I found her via Instagram, and have done all of my orders directly via email. Facebook and Instagram seem to be the place to go for the most updated fabrics and ordering options.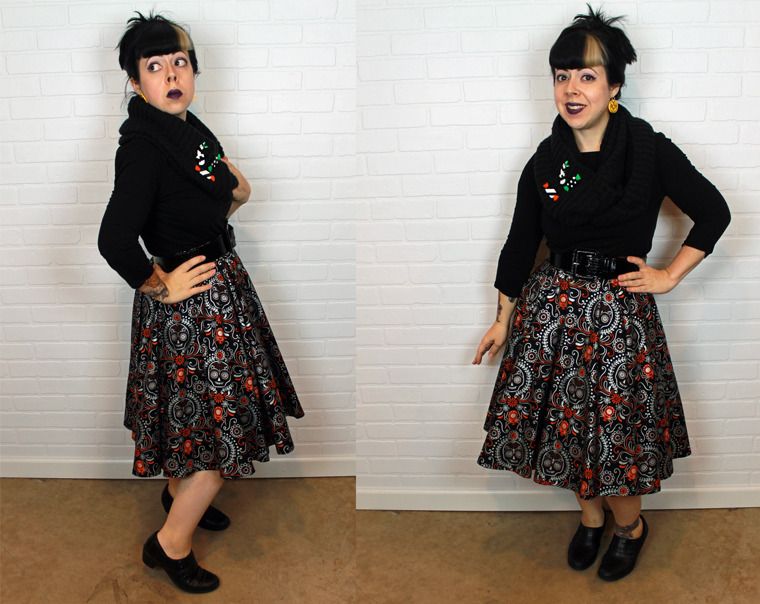 I bought this fabric from Joann's on sale pretty early before Halloween. I couldn't resist it, it made me think of bandanas, only with a Halloween bent. The white line work is actually metallic silver in person. Spiders! Skulls! It's too amazing.
I had these skirts made shorter than most circle skirts (I think they're typically like 24" long?), but I prefer 19-20" since I'm so dang short. Otherwise, I have to spend around $30 per skirt just to get them hemmed since those gathered circle skirts have so much fabric!
This is my first Betty Le Bonbon skirt! I know I'll get around to an OOTD post with it eventually!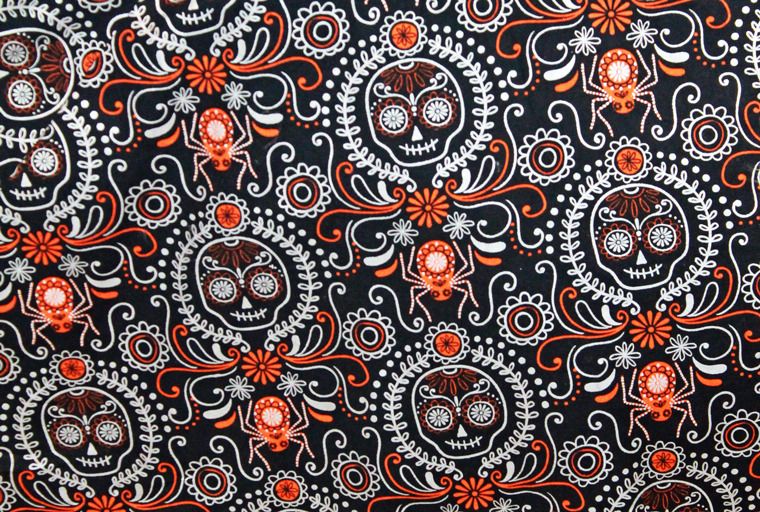 I paired this circle skirt with my trusty black boatneck top from Target, and a thrifted wide patent belt. Then I thought that it needed something more, so I pulled out my chunky black infinity scarf from last winter, and pinned a whole slew of my new Halloween
Heidi & Gretel
brooches on it!
These brooches were kind of a comedy of errors to get here. Donna is a rockstar at filling orders, and I was notified within a day or two of ordering my brooches that they had been shipped. So I waited excitedly... and waited... and waited. In the meantime, I even ordered things from other Australia shops and UK shops, and they all arrived safely! I was convinced that my order was lost forever by the US postal service. Donna and I even messaged back and forth, shocked that it hadn't arrived, and I asked her to set another order aside for me, just in case.
Of course, when I had finally given up all hope, over a month later... a package shows up, and it's the dang brooches. In the meantime, Donna had already sent a replacement! So, we've decided to do an awesome giveaway once the re-sent items arrive - I'll throw in a couple of Hell Razor hair flowers with it, too! So stay tuned.
My shoes are a sweet thrifting find - I think I paid like $6 for these Clarks brand wedges. They reminded me of witch shoes, and they're super comfortable. For those of you thinking "Hey, I never find good stuff like that when I go thrifting..." keep in mind that I go thrifting pretty much once a week. Sometimes I bring home a bunch of stuff, and some weeks I find nothing at all. You gotta keep on going in order to snag a treasure every now and then!
Lastly, these Suzywan Deluxe earrings (they're orange transparent jack-o-lantern shapes) might be my all-time favorite earrings.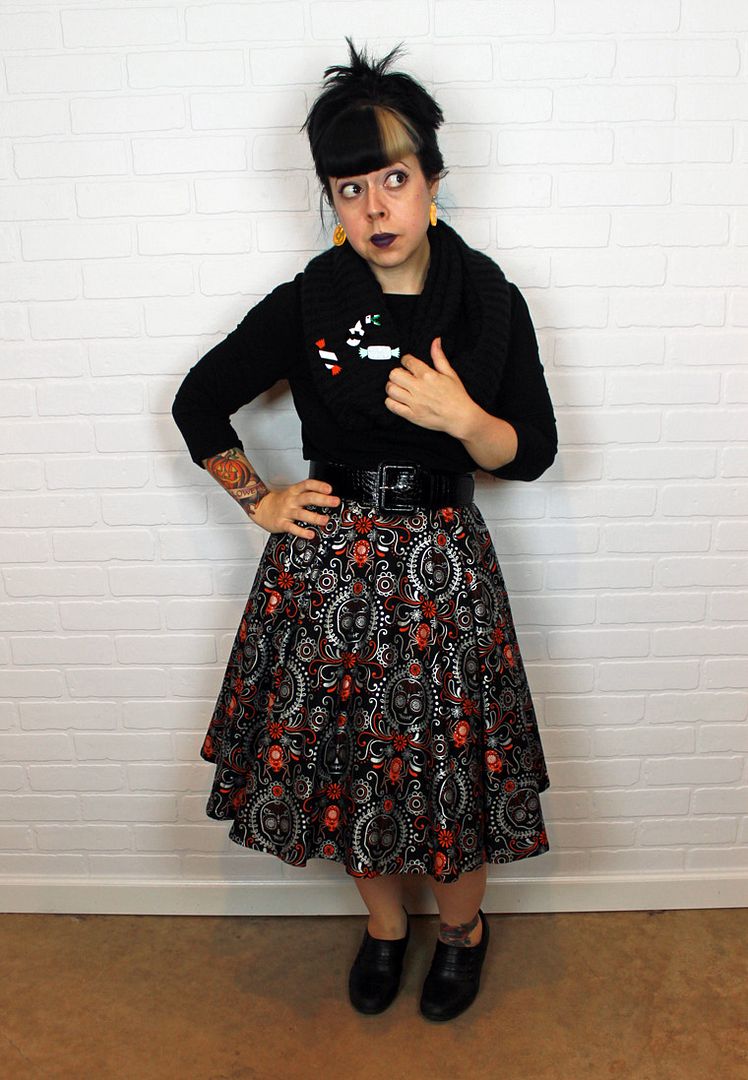 So, just because I wore this skirt around Halloween time doesn't mean that I'm restricting myself to wearing it only at Halloween time. Of course. So be expecting to see more of it at random times. :)
Rock On,
Jen @ Hell Razor