I've wanted this
Katnis dress from Voodoo Vixen
for a while, and I initially purchased one on eBay, using the Voodoo Vixen size chart, only to find out that it was too big. Whomp whomp. Luckily, I found someone selling theirs (and I also sold mine) on a Facebook group that was a size smaller. I had it hemmed professionally, but now that I look at these photos, I kind of wish that I had another size down. It looks really cute on girls that wear it when it fits more cinched in the waist... Maybe I'll put a belt on it?
I kind of hate discussing size on here, because I don't intend for it to come across as humble-bragging, or straight bragging. I have lost a bunch of weight as a result of my weight loss surgery. But that's just the physical. The mental results are pretty weird, and sometimes awkward, and anxiety-inducing. One of the weird mental side effects of weight loss is that in your brain, "you" (in the physical sense) do not always match your actual size. So stuff like this dress tends to be happening more to me recently. I refuse to even try a smaller size because there's "just no way" that I'm a size *** (fill-in-the-blank to suit your own pre-conceived notions).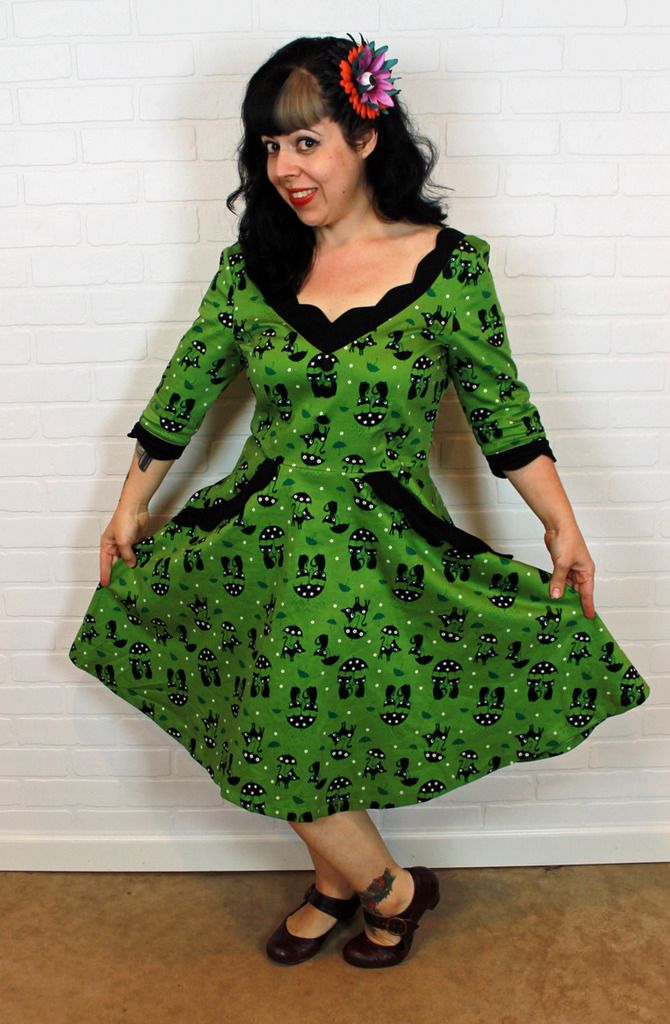 But let's talk about the dress itself. This pattern is really cute, and I first saw Donna from Heidi and Gretel wearing it somewhere
in her Instagram feed
... she looked too cute in it! The scallop trim on the neckline, pockets, and sleeves is super cute (albeit a little out of my usual comfort zone?).
Ooh, and I have to tell you about my shoes! I got them on eBay for less than $20 shipped and I'm pretty psyched about them. They're a nice deep purple color, which is a nice switch from my usual black, but also they have a low chunky heel which makes them totally comfortable for an entire day of work! I check for auctions on my favorite shoe brands almost every day, and I'll bid if something comes up that I like and is in my size, but it's not too often that ALL of the things align and I actually win a great bargain like this! Yay!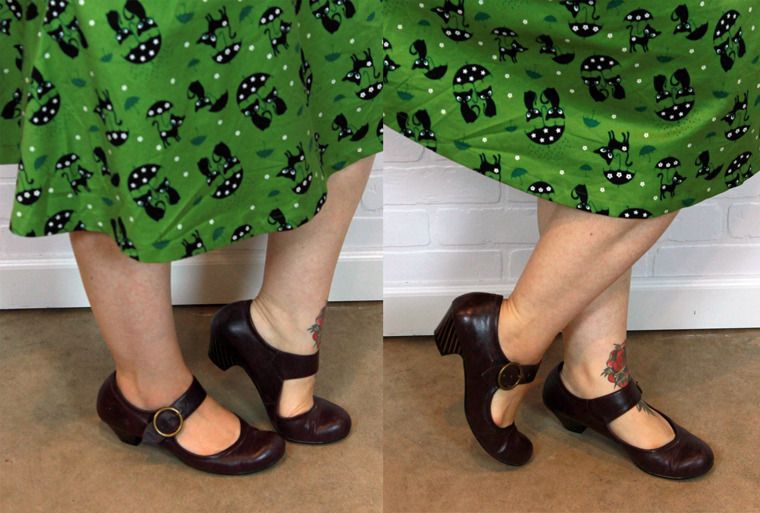 Also, I made my own hair flower in this post! I typically sell them though
the etsy shop
, but I won't be listing any more until after Halloween since I have several
in-person events to go still this month
and my stock is dwindling (not a bad problem to have, right?)!
If you really want a flower and can't wait, go ahead and send me an email (info in the right-side column) and I can make and ship you a custom piece!
Today also marks yet another attempt at a wet set... still haven't quite gotten the hang of it. Or I set it weird because this one has lots of sticking up pieces. So far I prefer setting my hair with the hot rollers, but it doesn't have nearly the staying power of a wet set. Back to the drawing board...
Rock On,
Jen @ Hell Razor