I remember seeing this dress on ModCloth long ago, and wanting it, and even signing up for an alert when it came back in stock. But it was priceyyyy. So when I saw that
Plasticland
had it for less, and you use a sale on top of that, VOILA! New glow-in-the-dark dress. It's called the "
I See Through You X Ray Dress
" if you want to be really specific in your search. Pro tip: the sizing chart on Plasticland is kind of messed up. I was mislead and ordered an XL, but I really should have bought this in an L. At the time, there weren't any in stock, so I had this tailored in for me. I still think that a L would have been even better, but oh well. Still awesome.
My sweater is another epic clothes-hunting story. I wanted this Hell Bunny spiderweb cardigan for a while now, but all of my searches online yielded only the plus-sized range (not bad for my bigger girls though!). So I scoured online and eBay, and ended up finding it on an international eBay site, which means international shipping, which can totally suck, but it was one of those items that you start to want so much that it's worth it in the end. And this was, because I LOVE Hell Bunny cardigans, and I especially love the spiderweb design. Hell Bunny cardigans are really nice quality, and they retain much of their original value, I've found. The couple I had that were too big I was able to sell for a good 2/3 or more of their original price.
So, here are
those same black and white shoes again
. Sorry I don't have any more info on them. I think that if I did find them, I'd probably buy a second pair! They're that comfy. Speaking of shoes, I snagged an awesome new (to me, they were used) pair of Chelsea Crew shoes on eBay for less than $20 shipped that other day! I'll get to show them off here soon, but I love when stuff like that happens.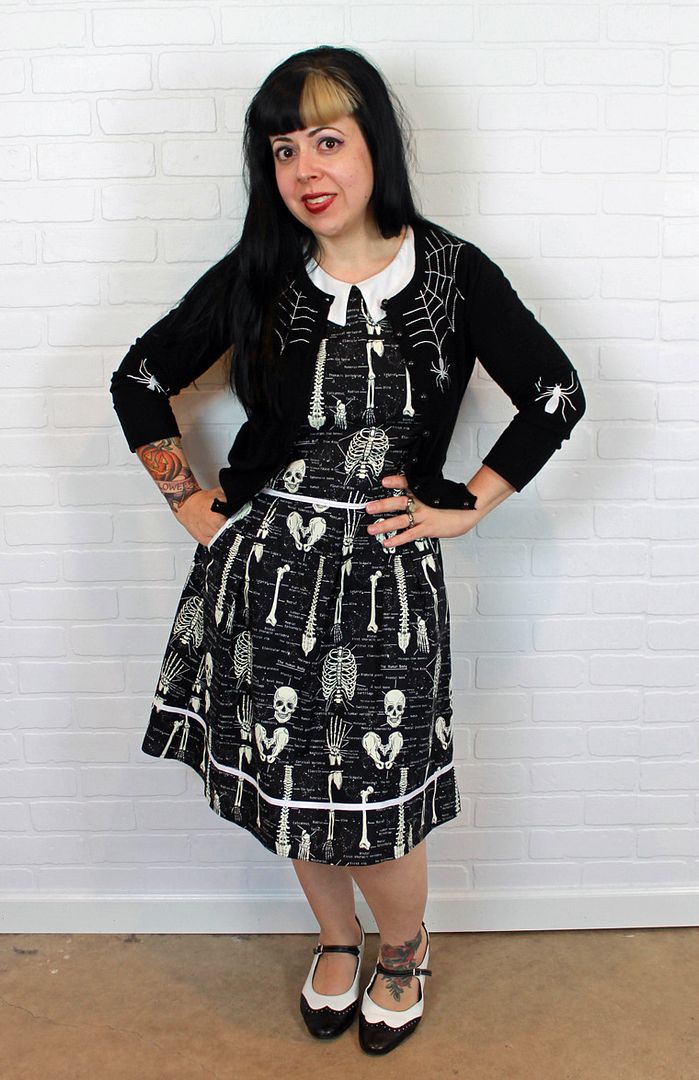 Dressmakers and fashion designers everywhere need to understand the importance of pockets in their skirts. Especially the larger, fuller ones that I am favoring at the moment - seems silly not to, right? All I need is a place for my phone and my lipstick. Otherwise I feel naked without a place to hold my phone on me. And purses are cool and all... but sometimes I just wanna be without one. This dress has pockets, so we're cool.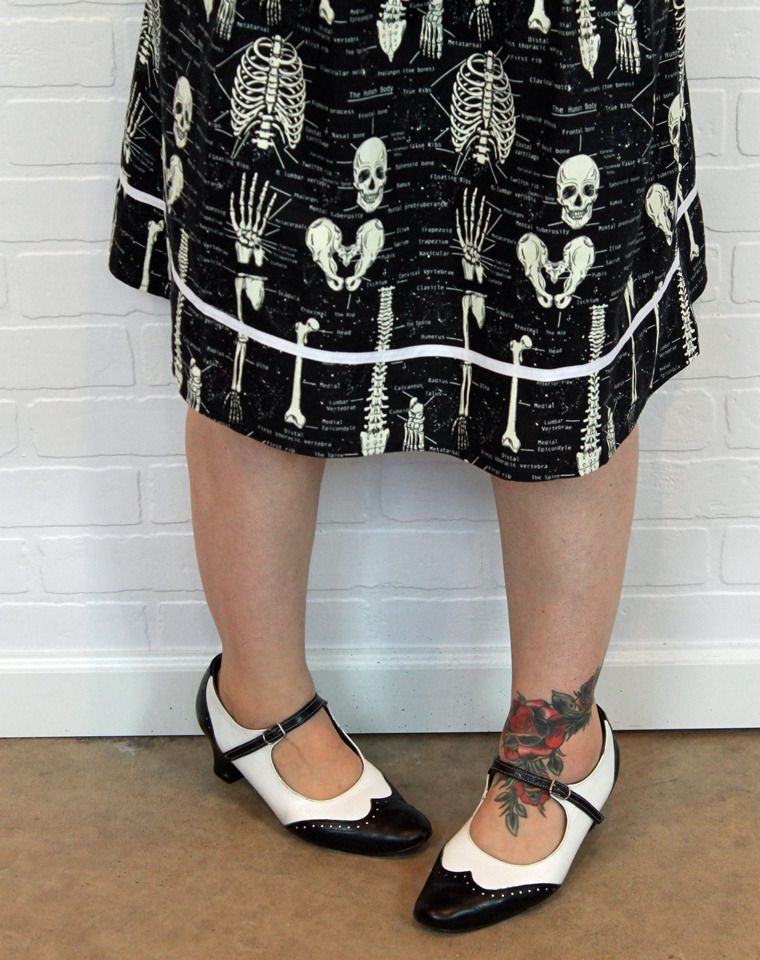 As soon as Halloween is over, I am imposing a strict budget on myself. I am thinking that my next hobby might have to be extreme couponing. There's got to be a better way to channel my obsessive hobbying into something good! :)
Rock On,
Jen @ Hell Razor