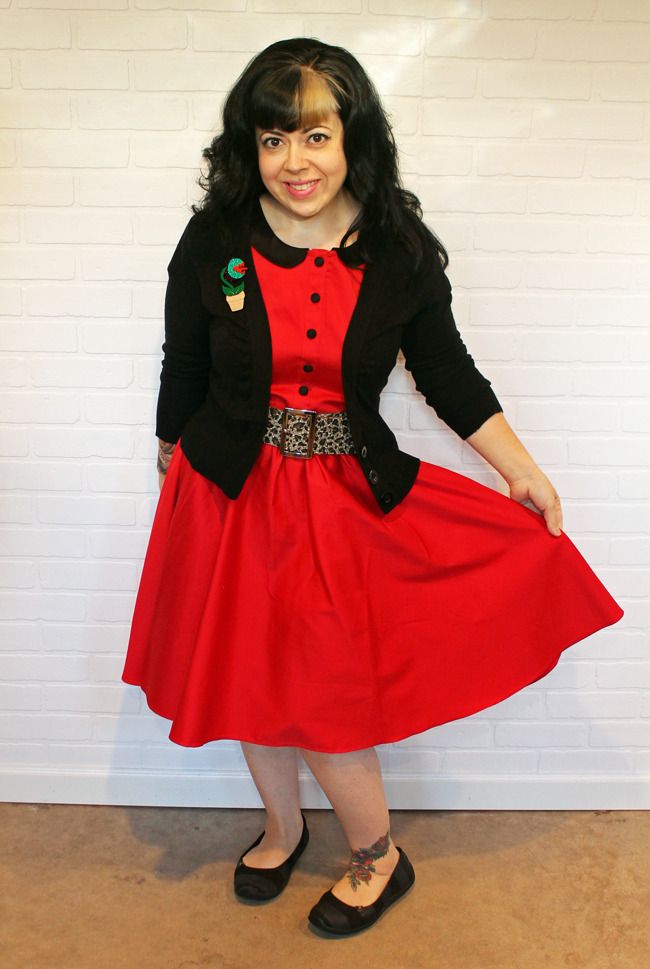 dress - Pin Up Couture (via Amazon) / shoes - Dr. Scholl's via Zappos / belt - thrifted / cardigan - old, DIY'ed / Audrey II brooch - Heidi and Gretel
So, this day was a slightly more successful attempt at a wet set. Still not perfect, but OK. I actually can't wait until it gets colder so that the humidity goes away and I can just use hot rollers on my hair - I like the set on those the best, but when it's humid, they last like 15 minutes before flattening out on me. Whomp whomp.
Good news, guys! It turned out that this day was picture day at school! I didn't even realize, but hey, decent hair and OOTD for just such an event is basically unheard of! Hopefully the photo itself came out okay (think driver's license photo), so my fingers are crossed.
I DIY'ed this sweater years and years ago using felt and black thread before I had the financial means/knowledge of brands like Hell Bunny cardigans. I still wear it and love it to this day. It started to pill from washing over time (even though I use the delicate cycle and hang to dry), but I bought one of those sweater razor anti-pilling gadgets and it worked beautifully to restore it to its original glory! Seriously, I can't recommend
one of those enough - it's less than eight bucks
on Amazon!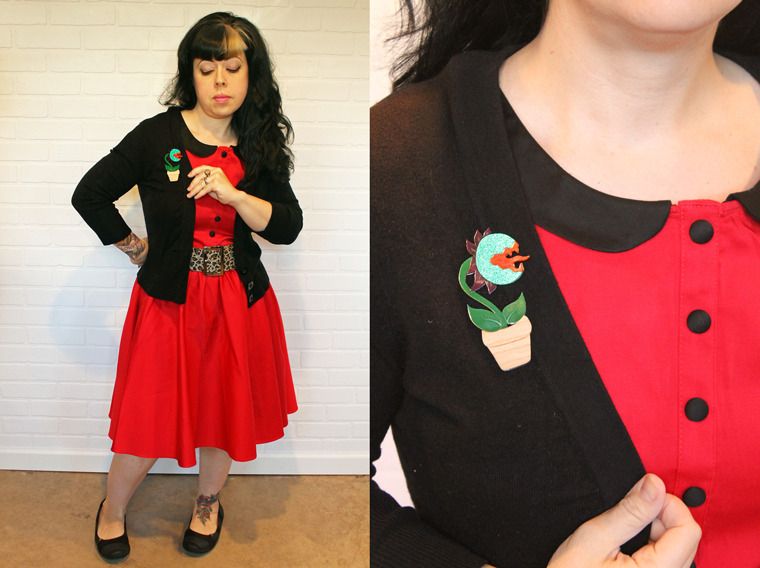 Ok, you all know about
my love for Heidi and Gretel
since I wear and talk about her stuff almost ALL the time, but
this Audrey II brooch
is the coolest thing ever! Annnnnd, I won an ebay auction for the
Pin Up Girl Clothing Hot Rod Honey dress in venus flytrap
, so a whole themed OOTD will have to be forthcoming soon, right?
Sometimes I come across awesome stuff at the thrift store and I don't know what to do with it. Like this wide leopard print belt. I almost didn't buy it, because I was all "oh I don't have anything to go with this." But I bought it anyways, because two dollars. Then I saw someone online wearing a leopard belt on a red dress and the lightbulb moment occurred! I love this combo so much!
This dress, by the way, was
$40 on Amazon
and I was pretty sure it wasn't original Pin Up Girl Clothing... but the tags look legit, and I think it's just the old style of Dee Dee dress before it was
re-imagined for the Junebugs and Georgia Peaches line
. I mayyyyy have snagged the mint version during the Labor Day 25% off sale, along with some other things even though I really should stop freaking shopping. Ughhhhh.
Rock On,
Jen @ Hell Razor