I was beyond stressed and then beyond excited to win this dress on eBay. Usually I have a very hard time winning stuff on eBay. My stuff gets sniped for like .50 over my high bid at the last 30 seconds. I get so mad. But in the case of this dress, I just dropped a ridiculously high bid on it and crossed my fingers. Of course, it went darn near my limit, but I won nonetheless. So that was good. But oh the anxiety up until the final second!
Pin Up Girl Clothing is very nice quality, and has good resale value - you can typically get your money back if you choose to sell. I don't plan on it, and the few pieces that I do have are altered. As in, shortened for short girls like me.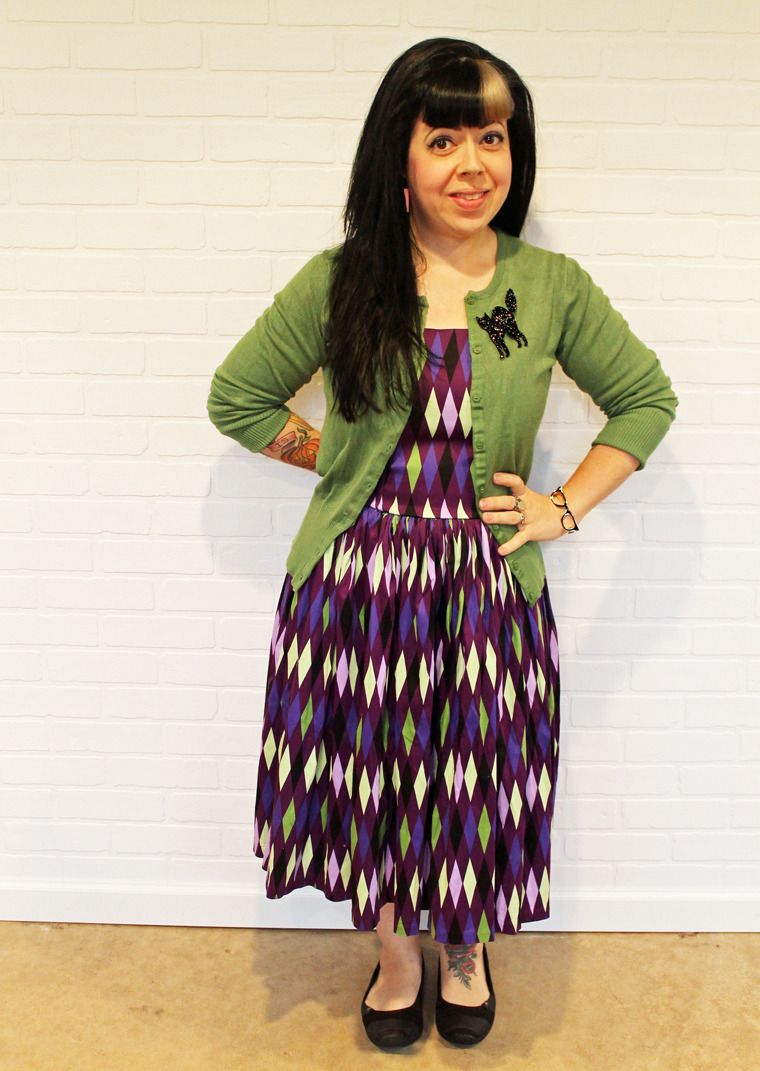 Oh, except this one. I kept it the same - for now. I seem to do ok with it, and it seems to be shorter than the skirt version, which interestingly enough, I also own. I haven't worn it or altered it yet though... I'm hoping to trade it for the same skirt in a different colorway. There's a black/turquoise/magenta version I'd love to own. In fact, there's an online trading community through Facebook and I've had it up there for a while now... but no success yet. Whomp whomp. It's now become a new collector obsession.
I wore this on the first day of school because it feels super special and it's good to feel special on the first day. I also wore my pink LEGO block earrings (picked up at a garage sale in Michigan - someone had hand-made a bunch and was selling them to make money for Relay for Life) because I felt like they complemented the pink diamonds on the dress. And because they're fun.
Now that I've begun to acquire a rainbow of cardigan options (thanks, thrift stores!), my black brooches (like this awesome glitter cat from
Heidi and Gretel
) are more easily showcased. Check out my collection so far:
Also for the first day of school, I wore some of my other favorite jewelry pieces: my Kate Spade glasses bracelet, and my Alicia Hannah Naomi "Ice Age" ring.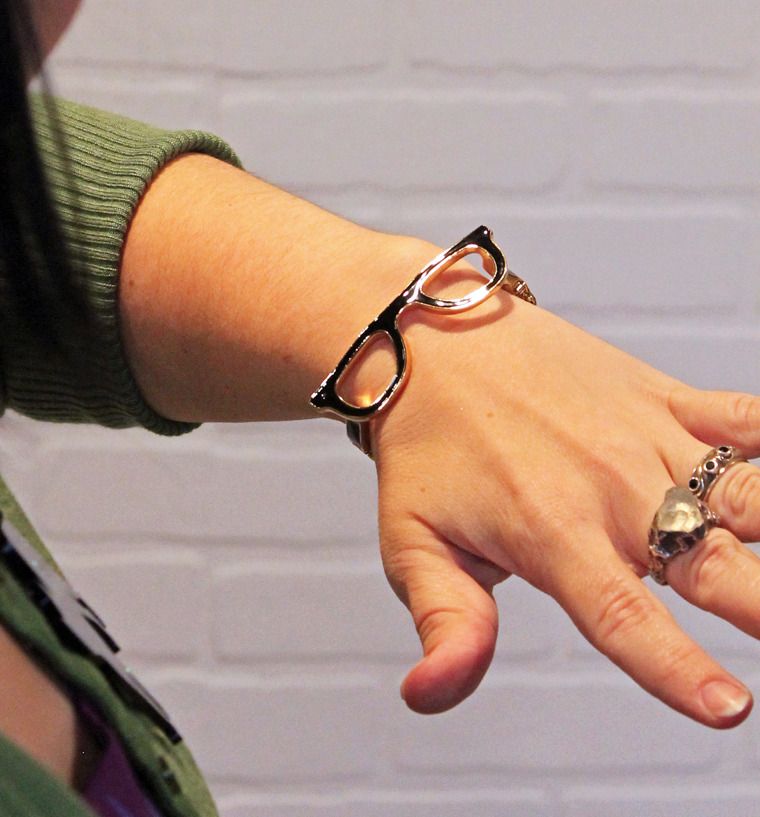 Having all of my favorite things on at once makes me feel super confident to tackle a new year of... stuff!
Rock On,
Jen @ Hell Razor