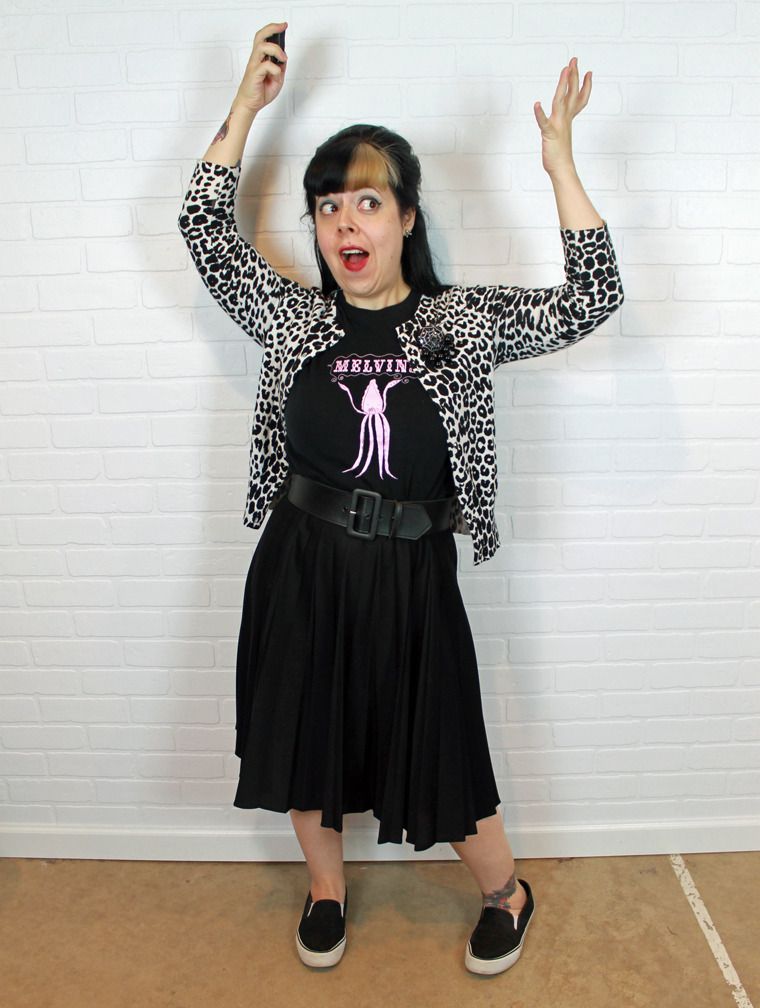 I decided to start off with this super nerdy excited photo of myself in celebration of my new PHOTO LIGHTS! I had an unexpected Amazon credit to spend, so I decided to pull the trigger on a
set of photo lights
that had been sitting on my wish list for months now.
Amazing! I can now get decent lighting at any time when I shoot indoors! I'm not an expert by any means, but I can tell that even this tiny tweak has made a difference in quality already.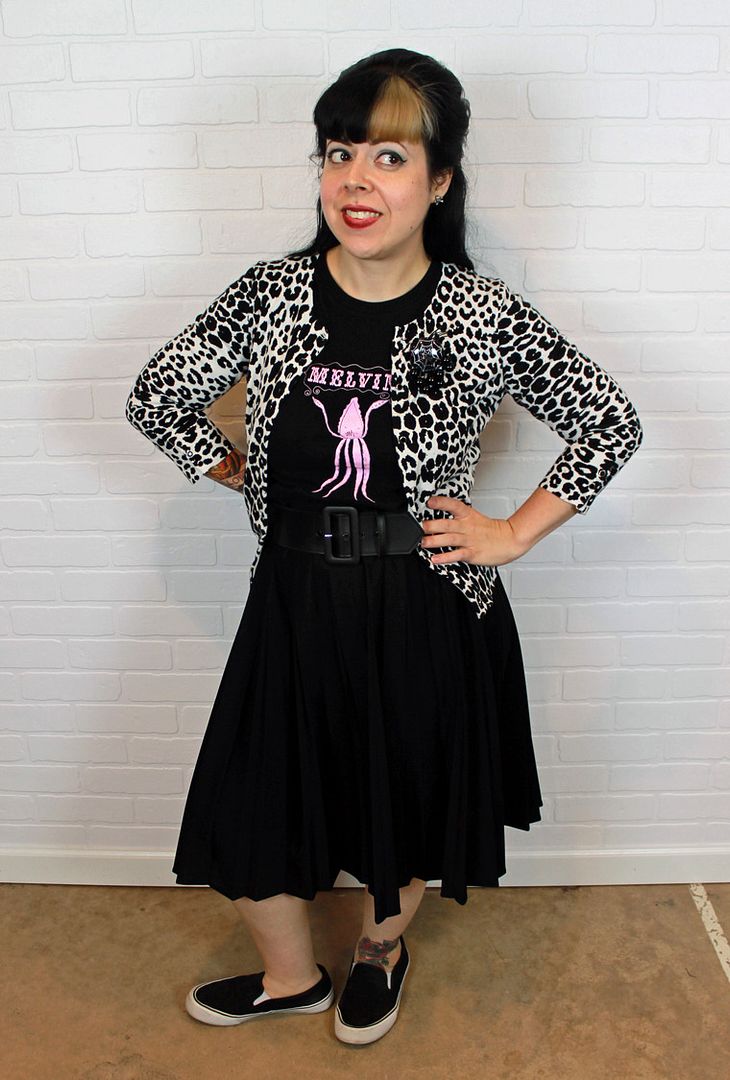 skirt - thrifted / cardigan - thrifted / Melvins tee - @ Melvins concert / spiderweb brooch - Luxulite / belt - Pin Up Girl Clothing / shoes - Target / earrings - Claire's (old)
So, I've been rocking Halloween pieces for days now. Most people just don't even bother to comment anymore, as Jenny wearing Halloween stuff = Jenny wearing "regular" clothes, which is super fine by me. If someone ever DOES comment on my clothes, I actually get super self-conscious and awkward. Here on the blog I can be all "blahblahblah" about my outfits and junk, but in real life I feel like such a mess sometimes in normal human conversation. It is something that I am always working on.
I am pretty proud of the thrifty-ness of this outfit today, though. My Melvins shirt is an old fave from like 2007 (?) and my skirt and cardigan are both thrift store scores via
Savers
. The cardigan might be from Express originally (?), and the skirt is for sure vintage-y old. I actually have to pull it over my head and shoulders to get it on, as it has no zipper or closure on the waistband. And, I am so short that I utilize the old rolled-waistband trick to shorten it a bit, but you can't tell because I belted it. Good ol' Catholic school uniform fashion tricks, LOL.
Some people tell me that they can't find good stuff at thrift stores, but my trick is that I go EVERY Sunday and browse. Sometimes I score a big haul of cool stuff, sometimes I walk out with nothing. It's very hit or miss. Also, if you go in with an idea of what you're looking for, it helps you narrow down your search area. Otherwise, it can be very overwhelming. I go past the area where Pyrex is typically put out, but I have found NOTHING for months now. That sucks, but I have been pretty successful in my belts and cardigan searches though! I'm also pretty good at scoring single pillow cases in fun cartoon themes for Iggy.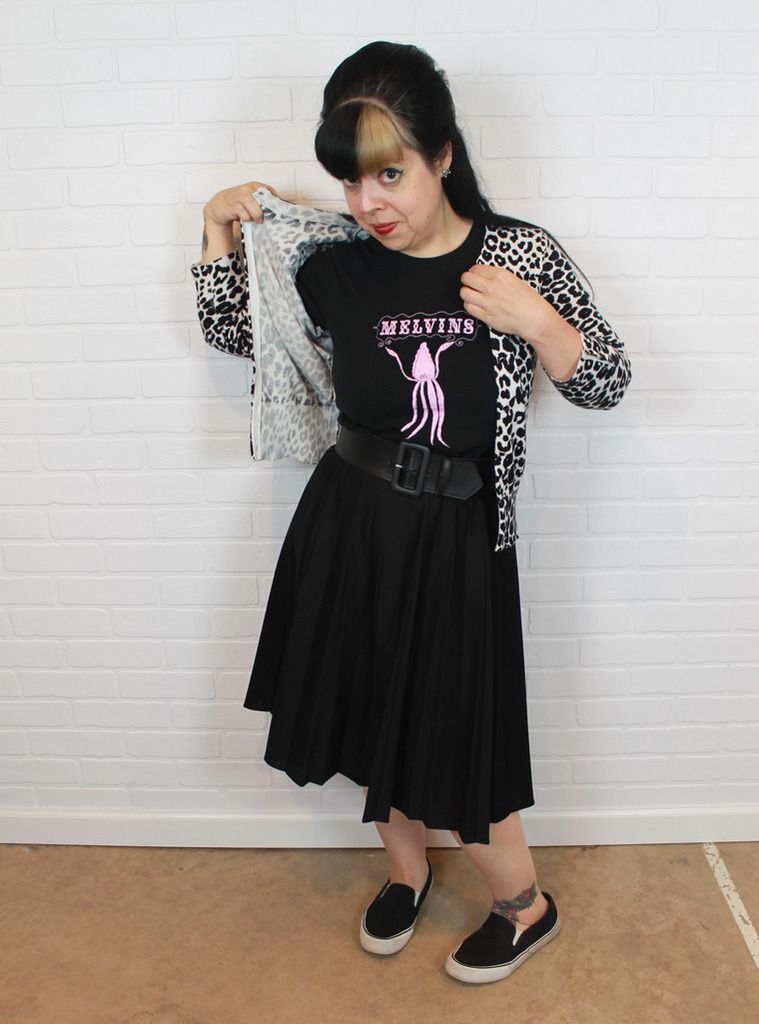 I bought the black skirt not only because it was inexpensive, but I figured it would be a good substitute for a more expensive black circle skirt, like the
Jenny from Pin Up Girl Clothing
. A black skirt is one of those staple pieces every girl should have, but no one wants to spend the money on it (especially when you could get an awesome novelty printed one instead for the same price)!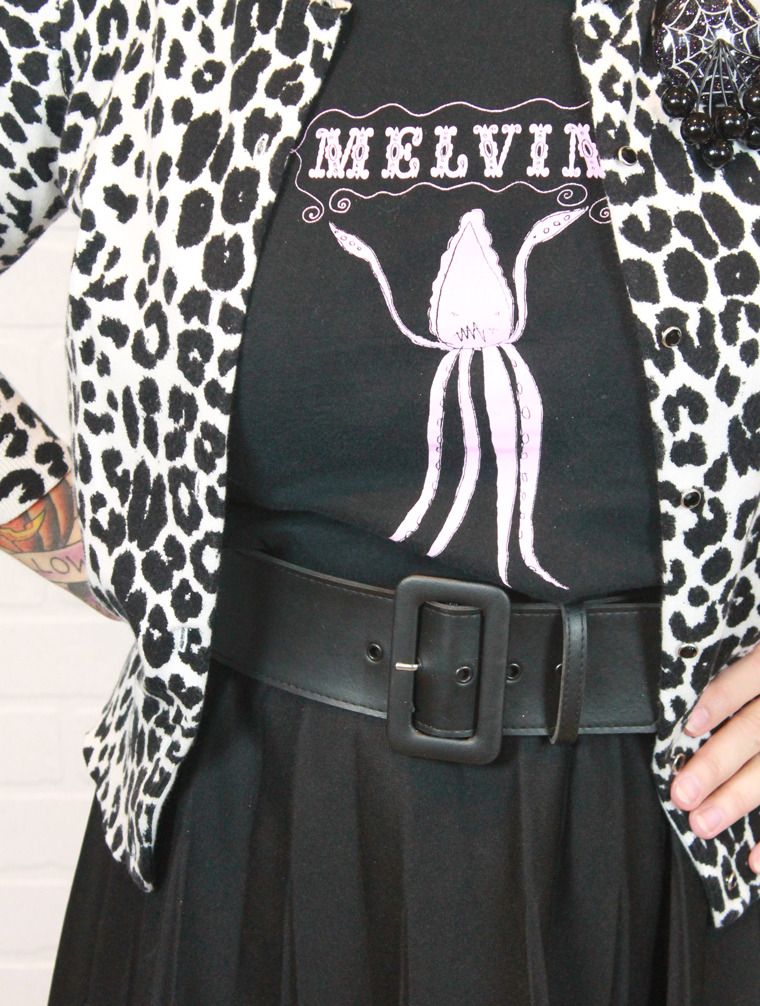 I've started to acquire a small group of patterned cardigans in different animal prints (ok, ok, just pretty much leopard print, but in different colors and pattern sizes...) and at first I am leery because I'm not sure what to pair them with, but then I'll put on a pretty plain dress or skirt/shirt combo, like here, and a patterned cardigan is just the thing to bump it up! And in this case, the black/white theme is maintained, too. Leopard is like a neutral, right?
I have this super old pair of skull and crossbone earrings I purchased at Claire's WAY back when, like over ten years ago. There really isn't anything special about them at first glance, but every time I wear them, I feel like it's just the tiny touch of jewelry that my ears need without overwhelming my accessories game. It's hard to put into words why I love these so much, but I'll probably never give them up!
My brooch is one of my Luxulite designs from
my brooch collection
, which I detailed last week. I can't wait to wear all of them! The Luxulite Halloween designs this year are amazing!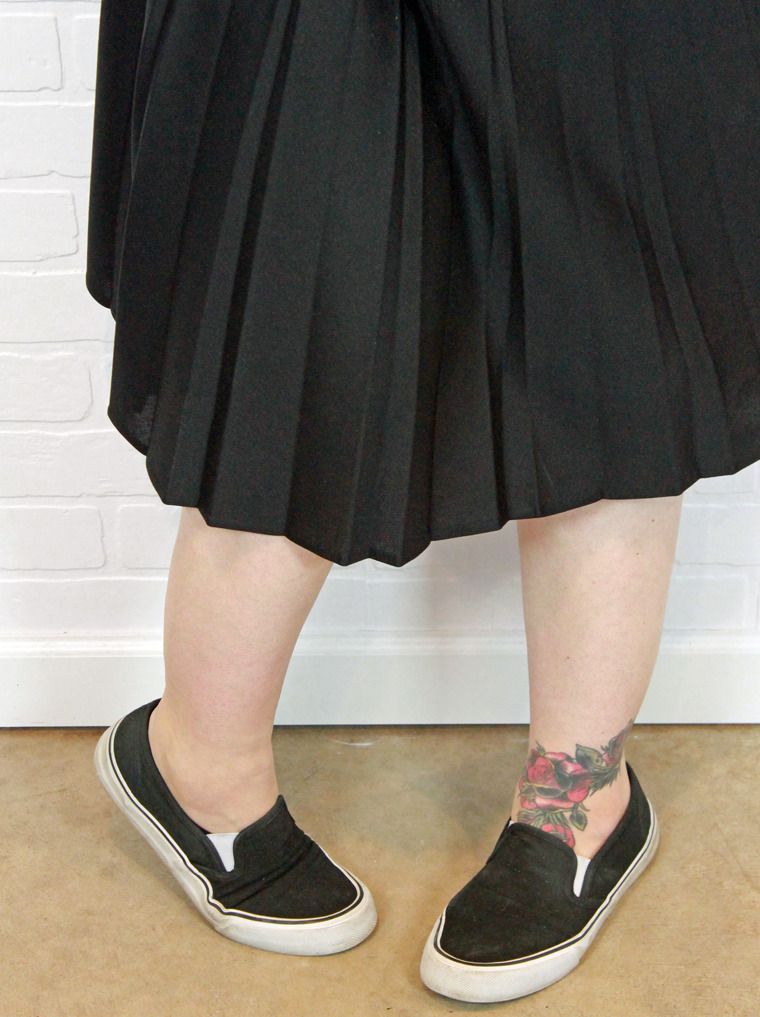 I kept this picture of my shoes in because I thought it was funny how dirty and dusty they are, but I am not willing to give them up! If I can work sneakers into my outfit for the day, my feet are so so happy by the end of the evening!
Evidence here
.
My point here is that I'm not dressing up these OOTD shoots for the photos. I actually wear/wore these combos. Keeping it totes real. :)
I don't think I've ever taken so many different poses for an OOTD shoot before. The excitement over these photo lights is real.
Rock On,
Jen @ Hell Razor