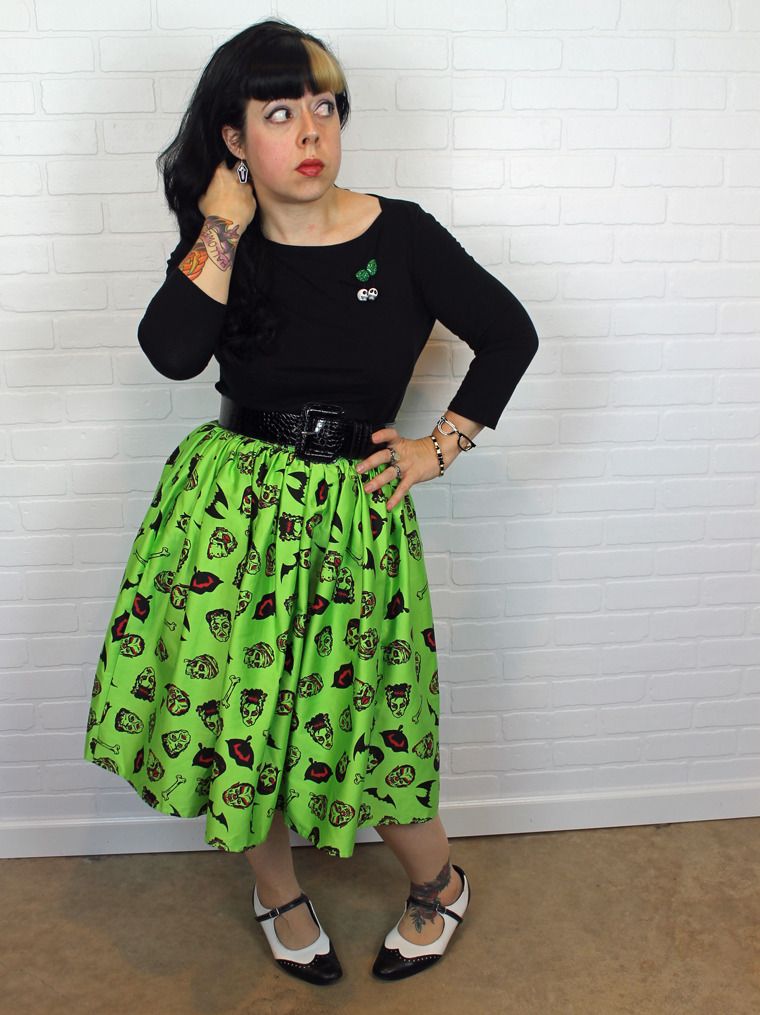 skirt - Pin Up Girl Clothing / shoes - unknown (old) / shirt - Target / brooch - Luxulite / bracelets - Kate Spade / earrings - Wal-Mart (seriously!) / belt - thrifted
So, my outfit on this day was very fun, because I had been WAITING for this skirt to become available on the Pin Up Girl Clothing website for what felt like for-ev-er. But it finally came in and I got one! This skirt looks like the Jenny skirts, but it has POCKETS and it's slightly shorter, which is AMAZING because it means that I got to wear it straight out of the package - no hemming! And yes, I'm using a lot of ALL CAPS, but it's serious how excited I am over this skirt. Oh yeah, it's called the "Deadly Dames" skirt.
I've talked about how I keep wearing the same two pairs of black shoes with all of my outfits, so I'm making a very concerted attempt to get some others and put them into the rotation, too. So hey new shoes - well, not new... but new to you, perhaps? I've worn them
here
before. Feels like a lifetime ago!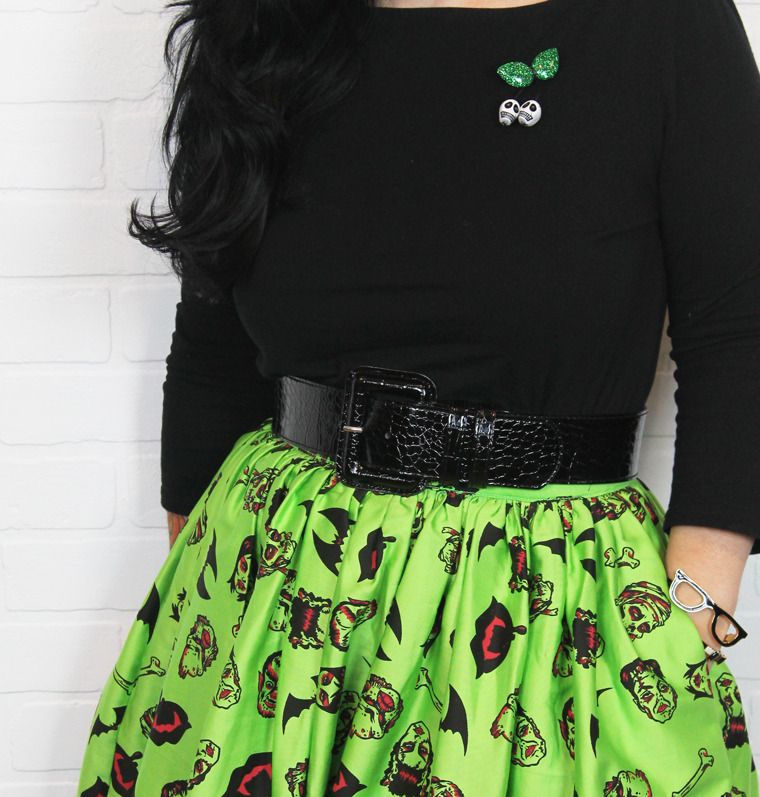 My
Luxulite
skull cherries brooch was the perfect accessory for this skirt, as it picked up the green from the skirt, and kept the Halloween theme going. I'm actually super excited for all of these new pieces that seem festive now, but to become year-round pieces after Halloween is over. I mean, this is green and red - therefore, could TOTALLY double as a Christmas skirt, no? Yes!
Also, I super love this $2 thrifted patent belt from Savers. If you haven't gone belt shopping at the thrift store, start now! You'll be pleasantly surprised at how much you can find (and the array of colors!) for not too much change!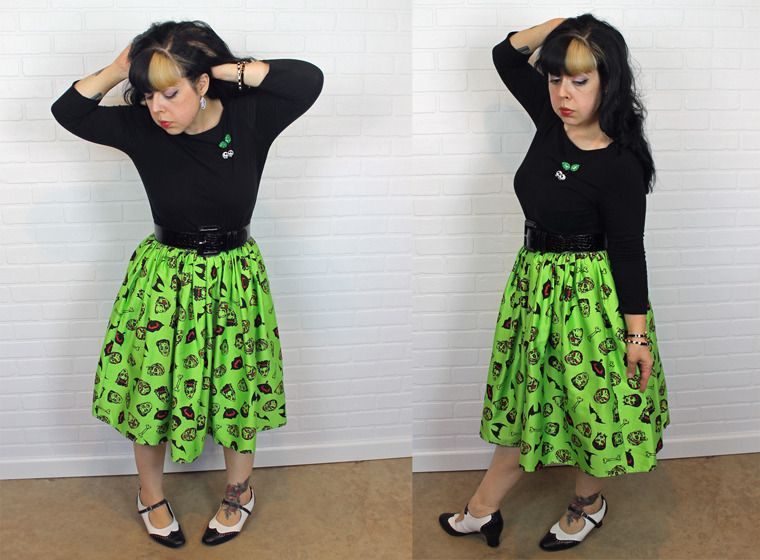 So I'm almost embarrassed to admit that my earrings are totally from Wal-Mart and I probably paid like $3 for them (and contributed to a culture of underpaid and undervalued workers - I feel like such a schmuck when I go in there)... but I was enamored by tiny dangly coffins with cutout crosses (I think the best pic is in the top photo), and I bought them and I wear them anyways.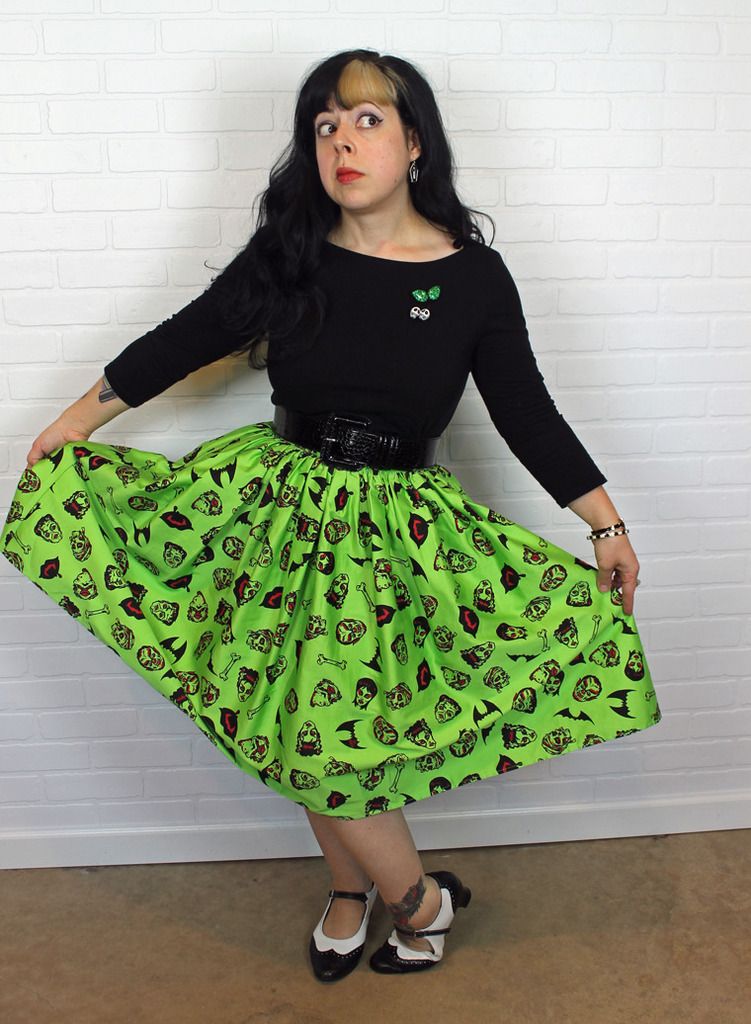 Also, this day was yet another failed attempt at a wet set. Sometimes I get it to look really cute, actually, but then I go out and it falls completely flat! Whomp whomp. So, I ordered some setting lotion on Amazon which I will try out soon - since that is what I see other pin-up-style ladies using when I researched the matter. Also, I think I'm gonna hack off a bunch of length on my hair to see if it's maybe the fact that it's ridiculously long and heavy that's contributing to my difficulty.
So, I did some research on these shoes, since I always get questions about them when I wear them. They're actually "dance" shoes from a brand called JB Steel, and I can find hardly a trace about them online anymore. However, I did find a brand, called
Aris Allen (here)
, that sells official "dance" shoes - which is my world simply translates to "comfy," and they have some similar styles as well as some other cute spectators that I now want to buy. Oh internet, I just can't quit you.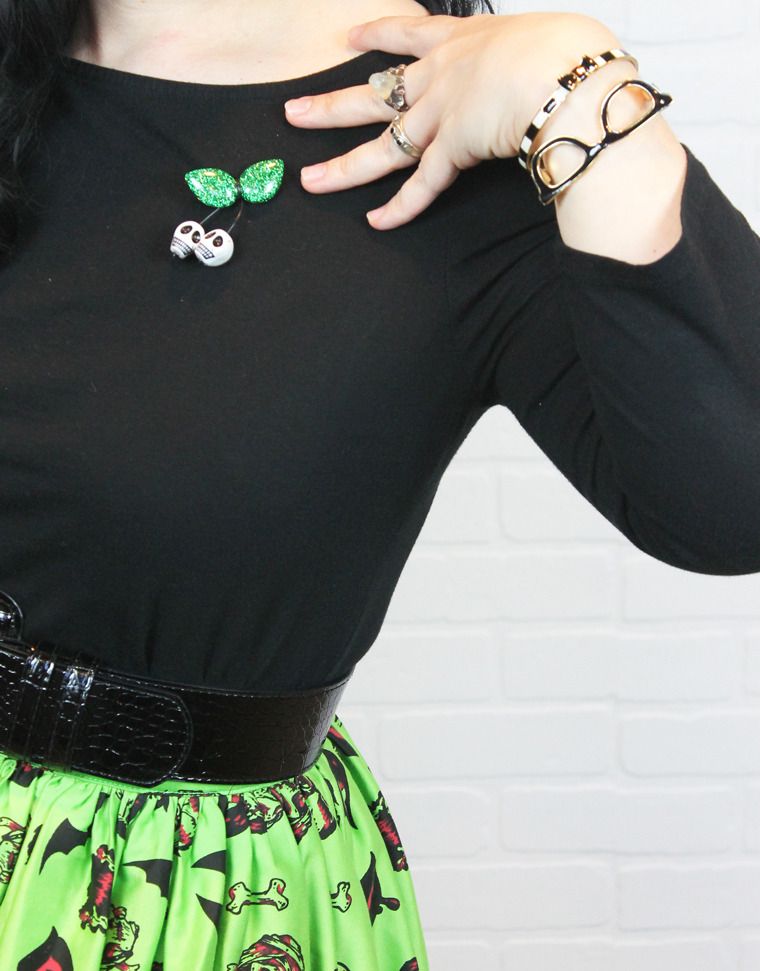 Bracelets are by Kate Spade - one via the outlet mall, and the other via an eBay splurge. The splurge bracelet? Why, the glasses, of course! I'm such a sucker for certain motifs like that.
Rock On,
Jen @ Hell Razor