Something about me that you may have caught on to is that I become kind of an obsessive collector. I latch on to a new "thing," and then I have to get ALL THE THINGS and it becomes a hunt. Past examples include:
Monster High dolls
, Anna Sui for Target clothing,
planners
and Target dollar spot items,
Nine Inch Nails on vinyl
, Pin Up Girl Clothing dresses and skirts,
Lego minifigs
, cardigans in a rainbow of colors,
funky/retro glasses
,
religious art
,
Pyrex
, plastic Halloween decorations... and probably more I'm forgetting right now!
So, here's the latest collector obsession: brooches! Maybe because I started collecting cardigans, I feel like it's a great accessory to complete an outfit. And so many of my brooch pieces are handmade and/or help support small businesses, so that's a plus! I'd like to show you a bunch from my collection today, and give some love to some of my favorite shops.
I thought I'd start with the shop I talk about the MOST here on the blog:
Heidi and Gretel
! You can see from the picture above that I've acquired a sweet venus flytrap brooch since the last time I formally discussed Donna's shop, and to be perfectly honest, I have a big order for more coming in, now that the Halloween line has been announced! So... once that comes in, my collection of Heidi and Gretel is due to double in size! I'm sure to show you when that happens. :)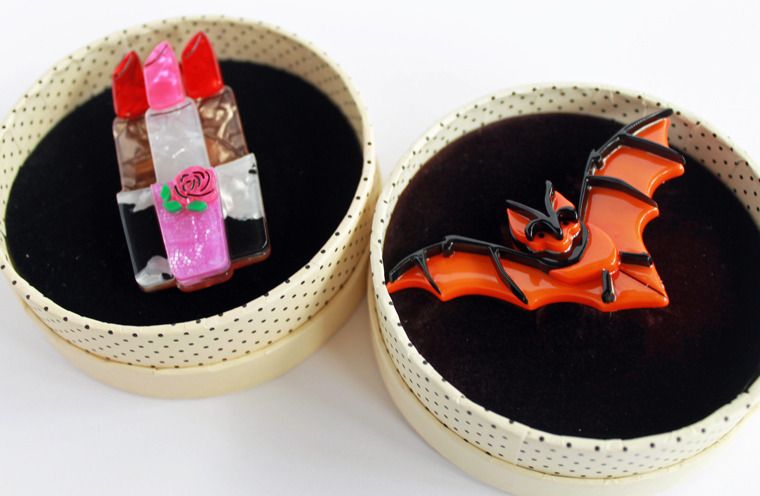 Another shop that is pretty popular is
Erstwilder
. I do love the designs in this line, but I held off on buying any for a while. I currently own these two brooches, above, with
one more in transit
. On my wishlist is
Cara the Halloween Kitty
, but this one is darn near impossible to find...!
A newer (to me) shop is
For The Love of Vintage
, which is where I got this sweet goth black 666 "conversation heart" style brooch. It's from her
Outcast Collection
, which also has a heart that says "Goth." It was sold out when I bought my 666 one, but I may need to go back and snag it along with a
donut brooch
as well!
Another one of my all-time favorite brooch makers is
Luxulite
! I've worn her brooches for
about a year now
... in fact, the pumpkin brooch is from last year's Halloween collection! When this year's collection was made available for pre-order, I kind of went crazy and ordered a whole bunch of pieces. I had the purple/skulls brooch on order, and THEN saw the spiderweb version! So, of course, I went back and ordered more. I'm a good customer like that, LOL!
Lastly, another new-er-to-me shop is
Creep Heart
. Ella Mobbs makes super cool illustrations that can be purchased as prints, phone cases, or the most amazing jewelry! This brooch has a mirrored layer, but some of her brooches have a clear acrylic layer that creates a "ghost" effect on her designs. So I am sure that I'll have to go back and place another order, specifically this
spider brooch
. Love!
I have come across a bunch of other awesome shops online that I'd love to purchase from in the future, but these are my current faves and I think you'll love them, too! Recommendations for other shops? Let me know!
Rock On,
Jen @ Hell Razor