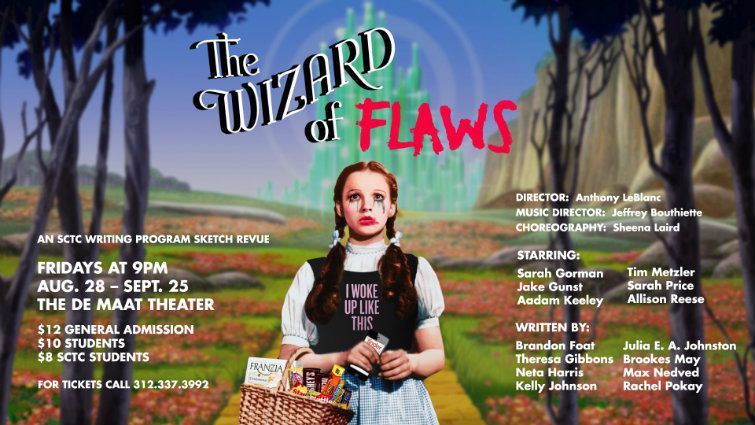 Hey guys!
My friend is one of the writers for this show at Second City! I'm so happy for her and wanted to share her hard work with everyone. Check it out!
Following the yellow brick road may lead you to the Emerald City, but there's no guarantee you'll like what you find once you arrive. This show's unlikely gang of misfits pulls back the curtain on success, love, and self-acceptance. Because we all woke up like this.
The Wizard of Flaws
A Second City Training Center Writing Program Revue
Featuring: Sarah Gorman, Jake Gunst, Aadam Keeley, Tim Metzler, Sarah Price, and Allison Reese
Written by: Brandon K. Foat, Theresa Gibbons, Neta Harris, Kelly Ann Johnson, Julia Johnston, Brookes May, Max Nedved, and Rachel Pokay
Directed by: Anthony LeBLanc
Fridays at 9PM starting August 28th
Friday, August 28th at 9pm
Friday, September 4th at 9pm
Friday, September 11th at 9pm
Friday, September 18th at 9pm
Friday, September 25th at 9pm
UPDATE: The Friday, 8/28, show will be held at the Cards Against Humanity Theater, 1917 N. Elston Ave, Chicago. Location for future shows TBD.
Buy tickets now!
http://www.secondcity.com/shows/chicago/the-wizard-of-flaws/
Until next time!
~Step @ Calamity Layne