This weekend I participated in an awesome local vintage and craft market at
Friendly Lounge in Berwyn
. Prior to coming here, I didn't even realize that this cute little coffee shop existed! They kept us caffeinated and filled with yummy snacks (seriously... I had a vegetarian burrito that was so good!) from 10 am to 4 pm on Saturday. My friend Jessy coordinates the event, which is a monthly occurrence on the third Saturday of every month with rotating vendors - so there's always something new and fun to see!
Friendly Lounge is a cozy coffee shop/cafe/hangout spot that is attached to the Friendly Tap next door (that means Bloody Marys later in the afternoon - yay!). Six handmade vendors and one vintage vendor gather here to sell their goods. This month's vendors were:
Jessy Laubis Handmade
Megan Lee Designs
Sabine Krauss
Honky Tonk Star Vintage
Vayas Homegrown Health & Beauty
Sheriff Peanut
Hell Razor
(that's me!)
Although the space itself is small, I think we did an excellent job of putting our wares on display and still allowing for traffic flow! The day started out with weather lovely enough to open up the front window wall, although we ended the day with an epic downpour!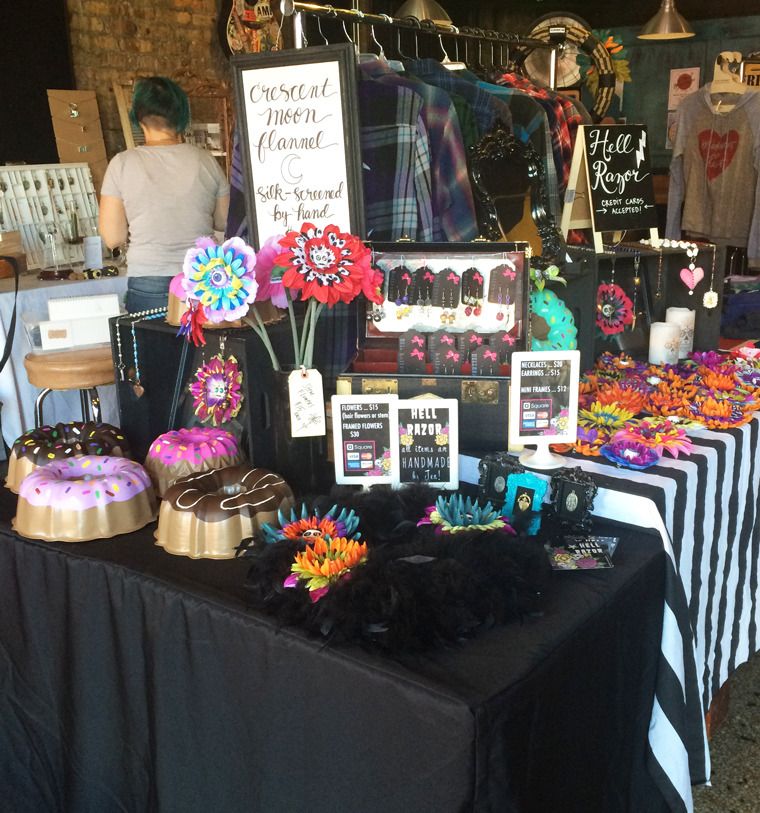 I'm pretty proud of my setup this time around. Every show I do has been completely different, as my space is always different. Sometimes an entire 10x10 tent, sometimes an 8 foot table, a 6 foot table, or even a tiny 4 foot table! This time, I had two cute table levels and a garment rack of
screen-printed flannels
.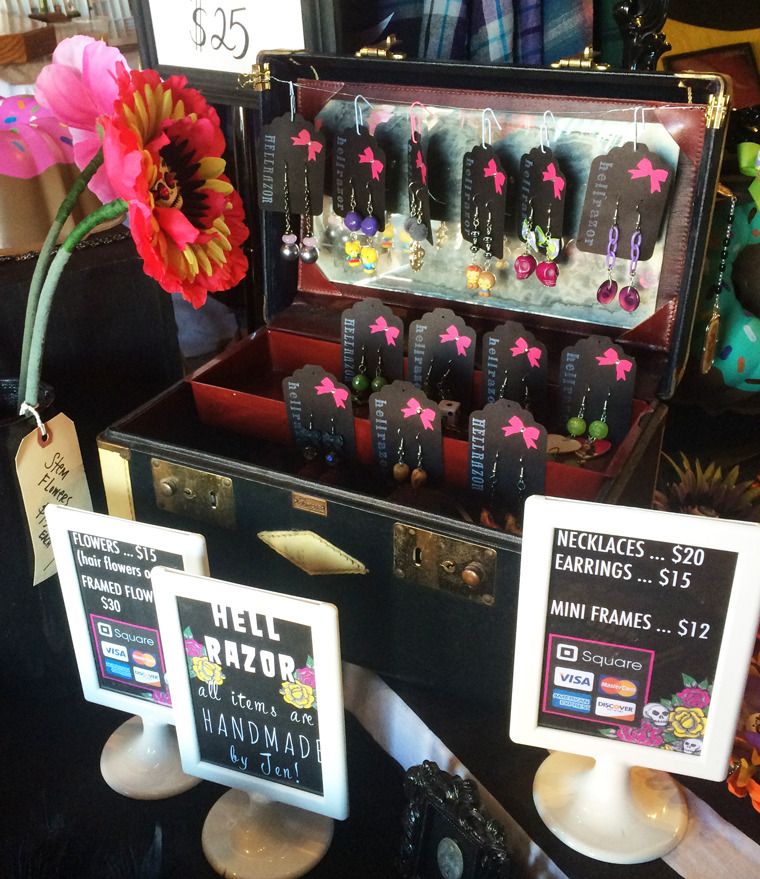 Some new items I had for this sale were
painted donut bundt pans
, and a few new
Halloween wreaths
, besides my usual hair flowers, jewelry, stem and framed flowers, battery-operated skull candles, and the aforementioned
flannel shirts
.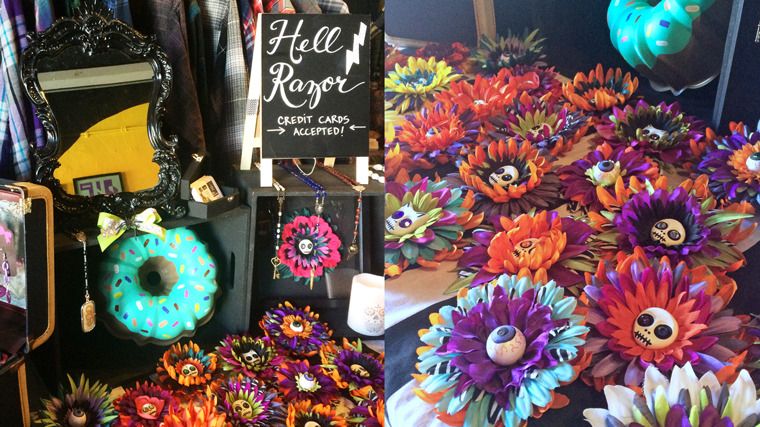 My "busy" season for Hell Razor is Halloween, so even though I participated in this month's craft + vintage market, I'll be back for the October 17th market! Check out some of the other cool vendors below:
My derby wife Megan swears by Vayas Homegrown Health + Beauty products. They're all-natural products that smell pretty amazing! I personally love the lip balms and linen sprays.
Megan Lee Designs is not new to the Betties N Brimstone blog. You would have seen me wearing her designs previously
here
,
here
, and
here
. They're so comfy!
Sheriff Peanut designs are ADORABLE. I think Nora's Chicago hot dog t-shirt and hand-stitched bibs are my favorites!
Jessy has shown up (in name or face) several times on the blog - most notably as my vending partner at the
2014 Brauerhouse Hearse Show
. Her hand-stitched fabric collage pieces (I own a sugar skull pillow, of course!) and funky ornaments (I have a couple of those, too) are super cool.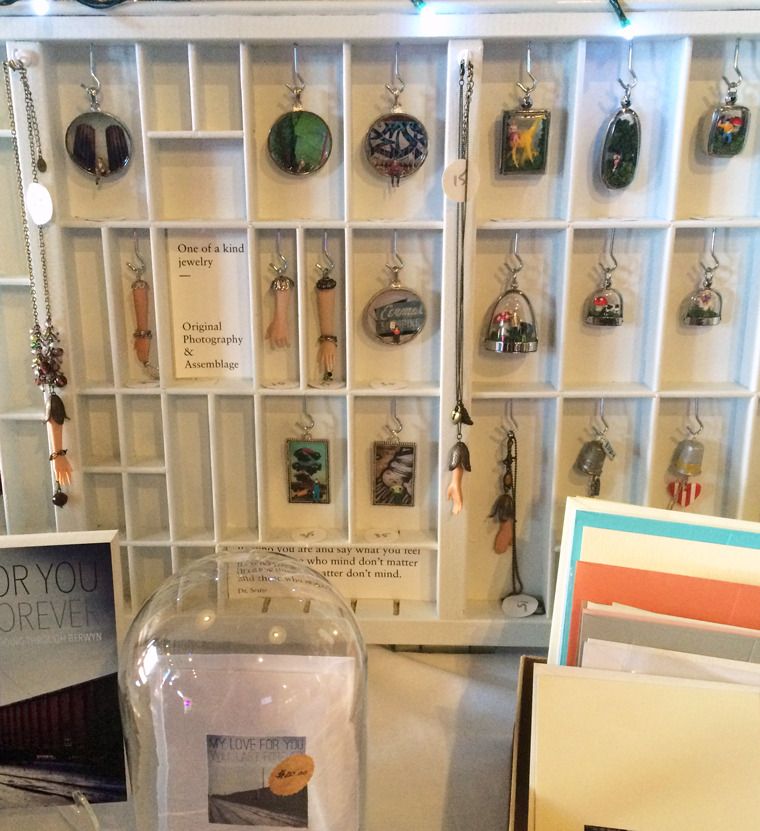 Sabine Krauss
(pssst... Sabine, do you have a shop link? I used your Instagram account here!)
Sabine's designs are so fun - I'd been dying to get one of her doll arm necklaces ever since I crossed paths with her last holiday season. Today was the day! Woo hoo! She also sells tiny terrarium necklaces and photography - most notably of local places. Way cool.
The hardest part (for me) of doing these kinds of shows is that I typically end up spending more money than I actually make! Between awesome snacks and drinks from Friendly Lounge, plus a beautiful vintage dress from
Honky Tonk Star
(to be featured in a future blog post, I'm sure!) and a doll arm necklace from Sabine... let's just say that I didn't hold back!
The Friendly Lounge Vintage + Craft Market is the third Saturday of each month, from 10 am to 4 pm.
Upcoming dates include:
- September 19th
- October 17th
- November 21st
Hope to see you there!
Rock On,
Jen @ Hell Razor