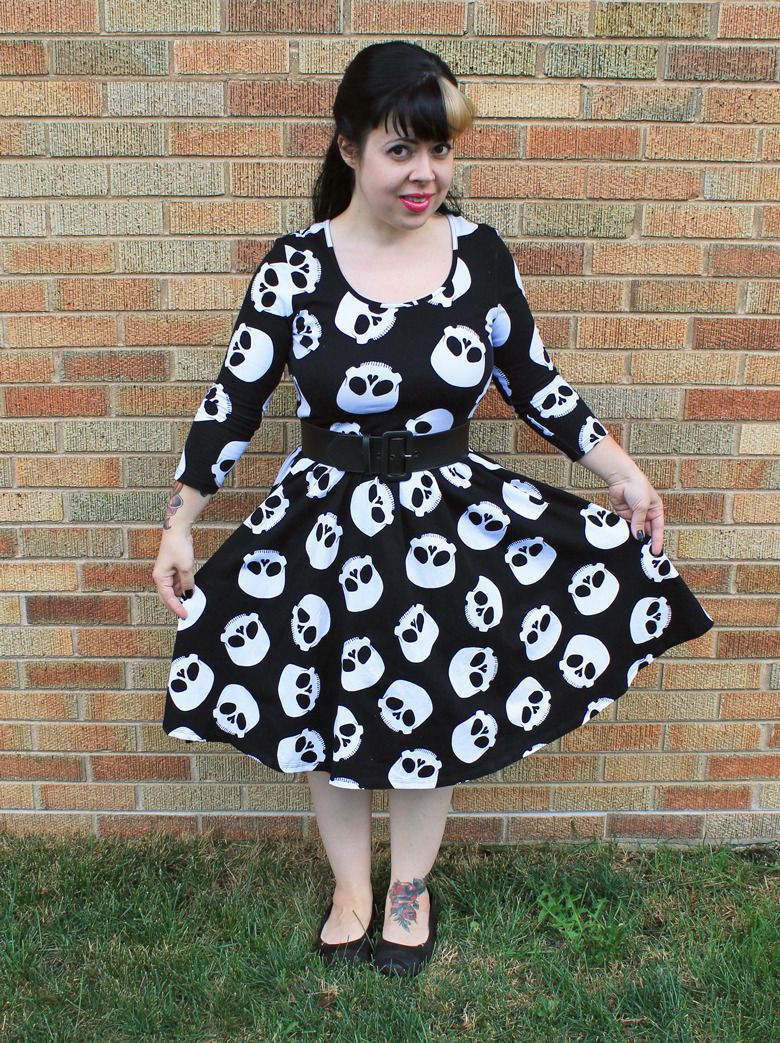 dress - Deadly Dames via Pinup Girl Clothing / shoes - Dr Schools via Zappos / belt - (came with dress) / lipstick - Stila Stay All Day Liquid Lipstick in Bella / socks - Sheec No-Show via Amazon / petticoat - Malco Modes via eBay
My new favorite fashion silhouette is the retro circle skirt shape, so it should come as no surprise that one of my favorite online shops is
Pinup Girl Clothing
. They have a cult following for their vintage-inspired designs - down to even a special swap/sell community on Facebook, which is where I scored this dress for under full retail price - although many of the pieces DO sell for retail or pretty darn close to it. That's how popular they are.
Iggy wants to show you his new Paw Patrol figure. I can't stand that show.
I've been stalking the site for the awesome purple Venus Flytrap print version of this dress, but I'm glad that I snagged this one, too, because it is a perfect fit as-is! I actually own a couple of other P.U.G. pieces, but they're currently at the tailor getting hemmed and adjusted to fit a short girl frame... so I can't wait to show you those once they're done!
I love the belt on this dress. It's super sturdy, and it pretty much feels like you're wearing a corset. I appreciate the feeling of being properly "pulled in" all day, contrary to what you might think. It's not uncomfortable. Just a reminder to keep good posture!
I wore this out to a "Touch A Truck" event on Saturday... it was actually way too hot for this dress, as evidenced by the fact that I sweated my butt off, and now I need to take this to the dry cleaners. Whomp whomp. But I felt very cute wearing it.
Also: new lipstick alert! I've been stalking Sephora online for the new
Kat Von D studded kiss lipstick in NaYeon
, but until then, I snagged this
Stila hot pink shade
from Ulta the other day. I even got the super nice sales girl to put some on me to try it out first. I'm a good customer though, so it's totally worth it. I ended up buying a lip primer to go with it that I probably wouldn't have even thought of otherwise. Seriously, if you see me in a store and you work on commission, come and talk to me, I'll probably buy more from you than I was planning on!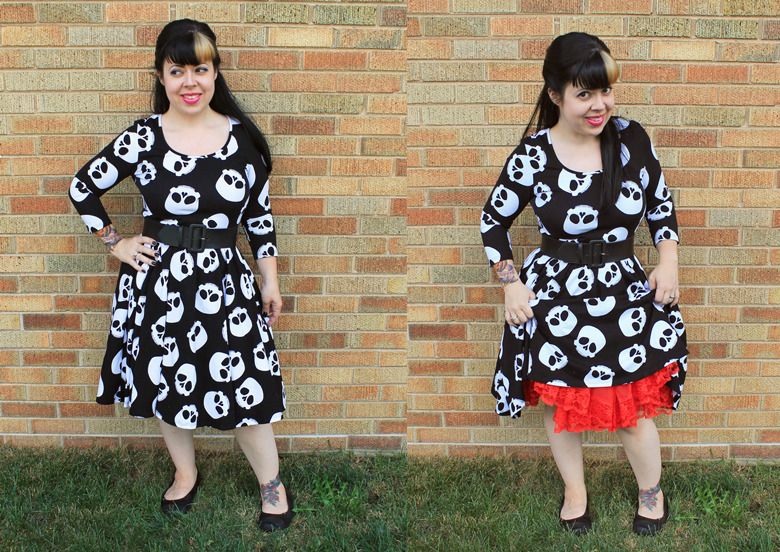 The other thing that was super nice is this red
Malco Modes 580 petticoat
that I scored on eBay along with a black one - I was able to get a good price on the pair together. I love these petticoats as opposed to the cheapy ones on Amazon. The cheap ones are very scratchy, and lay weird. I think that this red one is older, as it's not as puffy as the black one, but I think it's perfect for wearing out as everyday fashion and not feeling ridiculous amongst the non-petticoat-wearing public. :)
The other great benefit of higher quality petticoats like this (
Domino Dollhouse sells the good kind too!
) is the ability to shorten the waistband by pulling the elastic and moving it down (up?) into one of the other rows stitched along the waist. I made mine as short as possible, and they're now the perfect awesome length for my shorter dresses (like this one).
This print is amazing. I think it counts as yet another Halloween-y dress to add to my collection of Halloween themed fashions (and boy do I have more to share with you!) And the dress is a stretchy cotton/spandex-y material. Super comfy!
You can't see my socks here, but that's the point, and I wanted to tell you about them. I just bought them on Amazon. They're called
Sheec
, and they have rubbery sections on the heel and the ball of the foot to keep them from slipping out and peeking out of your shoes. I love that!
Currently on my P.U.G. wishlist:
this monster print skirt
and
this venus flytrap dress
. I was looking for
this purple harlequin skirt
, but I (think) I've successfully found one from an online shop in Holland. Fingers crossed it arrives safely and fits!
Side note: my hair is extremely non-pin-up-y in these photos. Anyone have any simple hairstyles I could try out for my long, straight hair that would be more suited to a rockabilly style?
Rock On,
Jen @ Hell Razor