It's back to school time! One of my most loved/hated things about going back to work is packing my lunch. It's fun when I have good things to eat for my lunch, and I don't have to think too much about what to pack. I like making it look cute using my bento boxes and accessories. But I also hate packing lunches when I'm short on time, or when I have an evening event and get home late. It also stinks when I have lunch "block," and can't figure out what to bring/what to pack in my lunch.
The fact that I photograph my lunch after packing it is actually kind of helpful, as I can look back and see what I took, and get ideas for the future. One of the things that I notice seem to trend is that I utilize leftovers, or elements of the previous dinners, to fill out my lunch boxes. Here are some recent lunch collections: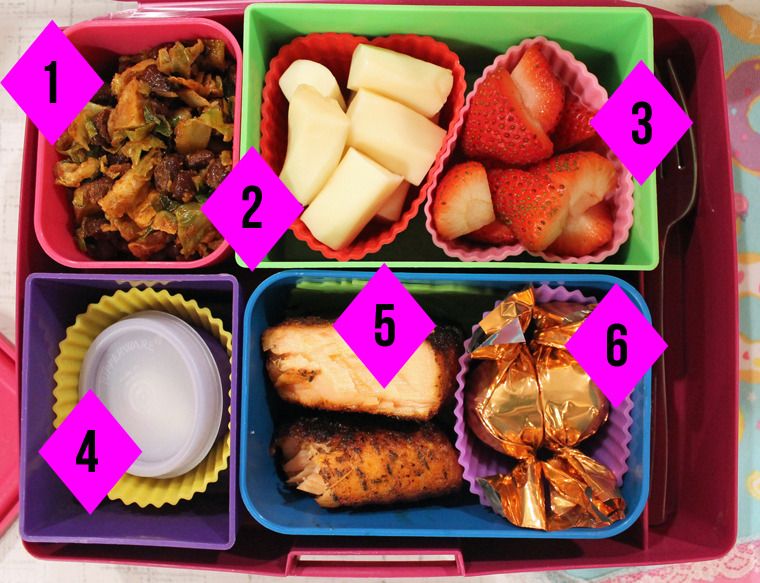 Shredded brussels sprouts with black beans and taco seasoning, aka leftover brussels sprouts taco fillings.
String cheese. Probably smoked string cheese from Mariano's.
Fresh strawberries! One of the best things about summertime.
Mini Tupperware O'Vitamins.
Leftover grilled salmon. I love leftover fish when it's cold - seriously!
Dessert: Trader Joe's Dark Chocolate Peanut Butter Salted Caramel Truffles. Oh yeah.
Raw cauliflower bits.
Granola in a tiny sauce cup (for the yogurt).
Mini Tupperware O'Vitamins.
Plain greek yogurt with a drizzle of agave syrup, for sweetness.
Tiny skewers, made from a cut up veggie dog, cheddar cheese cubes, string cheese (cut into chunks), and a couple of garlic-stuffed green olives.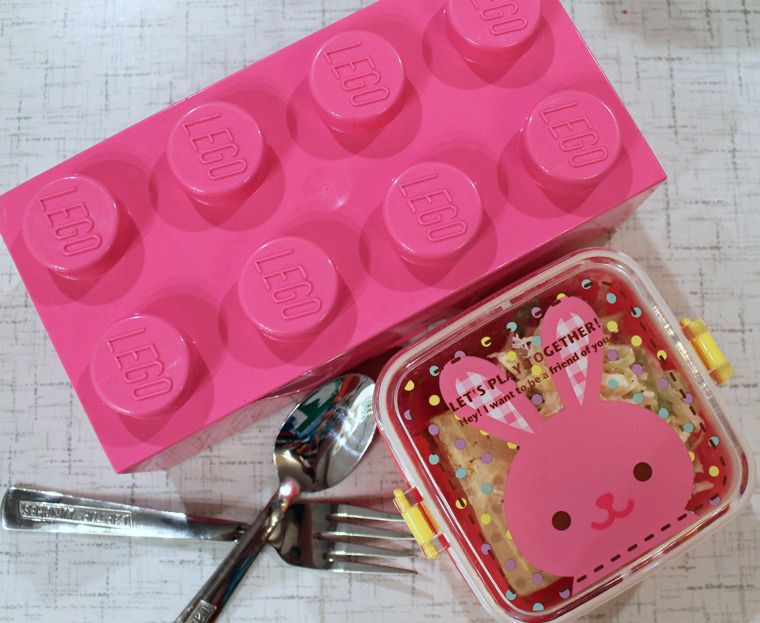 I thought I'd share the actual containers, closed, from this day's lunch. I have a LEGO bento box, and although I love it, the amount of food it holds is kind of lacking. I supplemented with a bunny snack box, which was a gift from Lisa. Here's what was inside:
PB+J Greek Yogurt from Trader Joe's. (Not as good as the homemade version.)
Hello Kitty rice crackers. (for the record, $10 online shipped is NOT a good deal. Find them at your local asian market and only pay like $3-4 for the bag.)
More smoked string cheese. I think I single-handedly keep this place in business.
Mini Tupperware O'Vitamins.
Leftover homemade cole slaw.
Leftover teriyaki tofu (from Trader Joe's) - from this Teriyaki Tofu Sliders recipe, along with the cole slaw.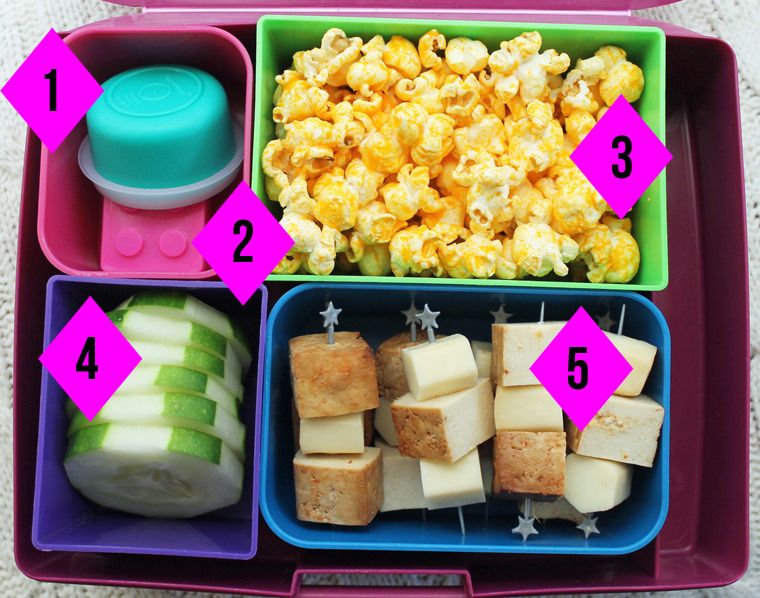 Mini Tupperware O'Vitamins.
Tiny LEGO-inspired container, filled with some salt (for the cucumbers).
Cheddar Cheese popcorn. Guilty pleasure.
Sliced fresh cucumber. I like to peel them so they're stripey. Because it's fun.
Teriyaki tofu and smoked string cheese mini skewers. I actually buy this tofu (it's from Trader Joe's) quite a bit, because I can eat it right out of the package and it packs well for lunch.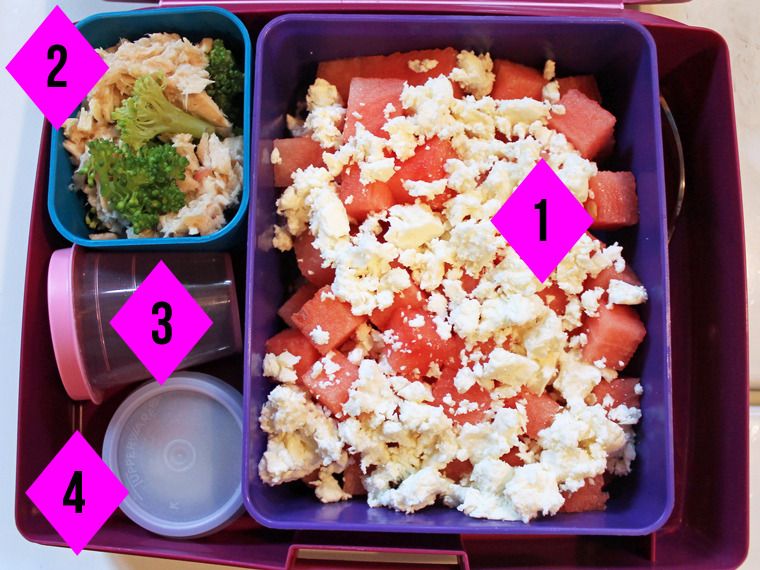 Cubed fresh watermelon and crumbled feta cheese.
Tuna fish (leftover from a can I didn't finish) mixed with some cooked broccoli.
Balsamic vinegar. I drizzle this on top of the watermelon/feta mix, and it's freakin' DELICIOUS. This salad needs its own blog post, it's so good.
Mini Tupperware O'Vitamins.
The Bento Report is a regular feature on the blog where I show you what's in my lunch for a few select days over the past couple of weeks. It's informational because I am a post weight-loss surgery patient who is also a vegetarian/pescetarian, but also fun because I love the idea of bento lunches and have fun making my lunch look cute and/or making it fit into unique lunchbox container constraints.
You can view past posts of my Bento Report series here. Information on where I buy bento boxes and accessories in this post here.
Rock On,
Jen @ Hell Razor