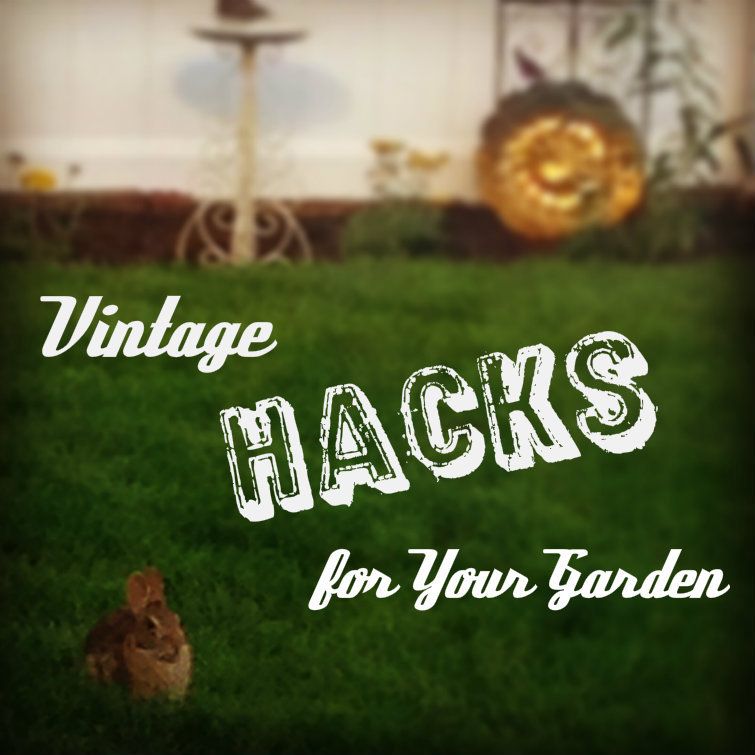 Hey guys!
Now that we ACTUALLY have a backyard, I'm on an outdoors kick. I'm slowly renovating my square of fenced-in grass into a "
wildlife habitat
." I mean...I grew up on 67 acres, so you're going to have a hard time convincing me that my tiny back yard constitutes as a "wildlife habitat," BUT if it's helpful to the area wildlife and environment, I'm all about it! One thing I noticed while starting up my "habitat" was how freakin' expensive lawn decor is. It's ridiculous...and most of it falls apart within a year. All of those sparkly, fun times for your garden can help attract different birds and bugs so I did want to invest in some, but I decided to take a trip to my local thrift store to look for anything that could be cheaper than $30 for one "gazing ball." Here are a few things I came up with!
1) Wildlife Waterers!
If you want to attract more wildlife to your yard, you're going to need to provide water. Birdbaths, butterfly puddlers, etc...Those things can run you some major cash (unless you can find them second-hand). So, I found the bottom of a 60s/70s green glass candy dish for $1.99 and a small footed crystal bowl for 99 cents at my local thrift store. Glue them together with some superglue and you have yourself a small, shimmery, and attractive wildlife waterer!
2) Gazing Globes
Gazing globes are popular garden decor and they are not super cheap. According to Wikipedia, "King
Ludwig II of Bavaria
, sometimes referred to as Mad King Ludwig, adorned his
Herrenchiemsee
palace with lawn balls. Thereafter, they became a fixture of European gardens and are associated with
Victorian era
English gardens in particular." Anyway, they are supposed to be shiny, but I don't really like the shiny finish, so I found a hanging light fixture globe shade in the lamp section of Goodwill for $1.99. If I wanted to get crazy with colors or anything I could spray paint it or glue glass pebbles to it, but I like the subtle white.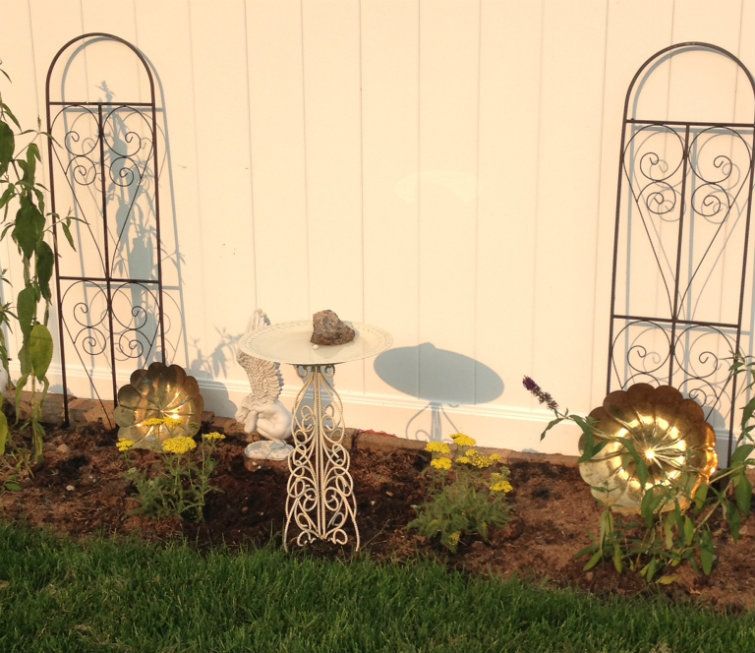 3) Wall Decor
These gold flowers are actually gold trays I found at the thrift store 3 for $7. I have plans to hang them from the fence, but I really like the way they reflect light.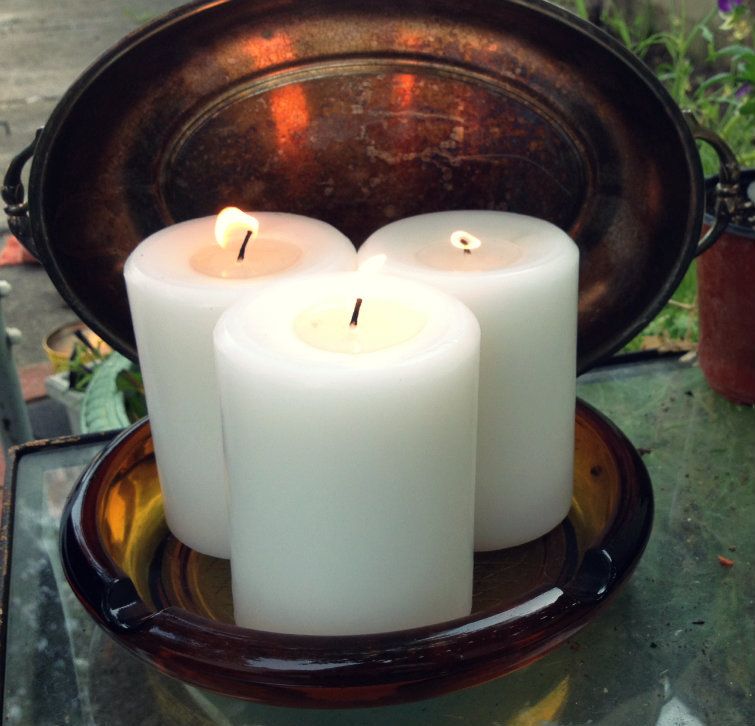 4) Pest Control
I really don't like using commercial chemical pesticides...I know it's not the most "effective" means, but I plant mint, lavender, and other pest repellant herbs around my house. For my patio and sitting areas like citronella candles to keep mosquitoes at bay. I find that the pillar candles from Pier One work really well and look attractive. I found a large vintage ashtray that was big enough to hold 3 pillar candles and I used a vintage silver tray propped up in back as a wind blocker. Looks pretty and worked for an evening outside with a glass of wine.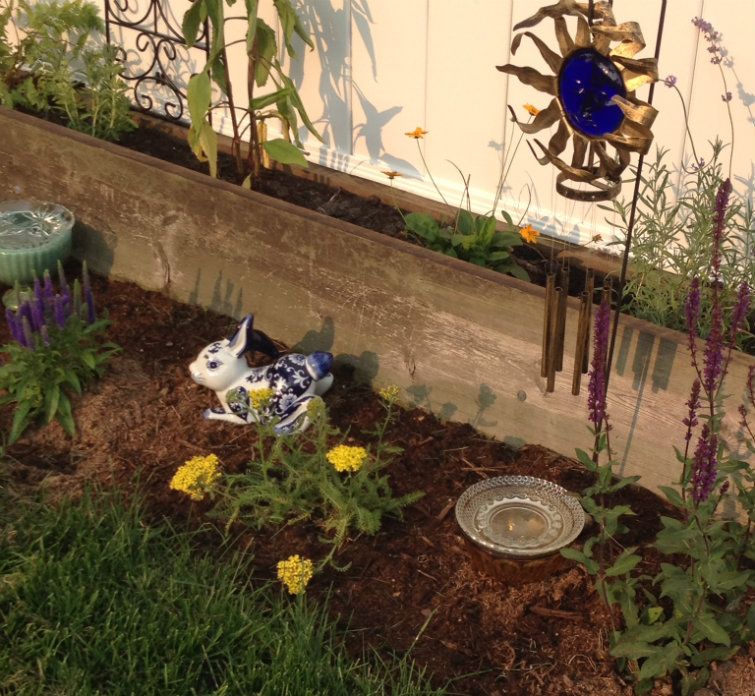 5) Lawn Ornaments & Friends
I found this blue china patterned bunny in the home interiors section of Goodwill. Second-hand trinkets can make great lawn ornaments. You don't have to spend tons of money on lawn gnomes, just take a trip down the home goods isle at your local thrift store and use your imagination. You can come up with some fun and "outside the box" decor ideas that won't make you think of your grandma's garden.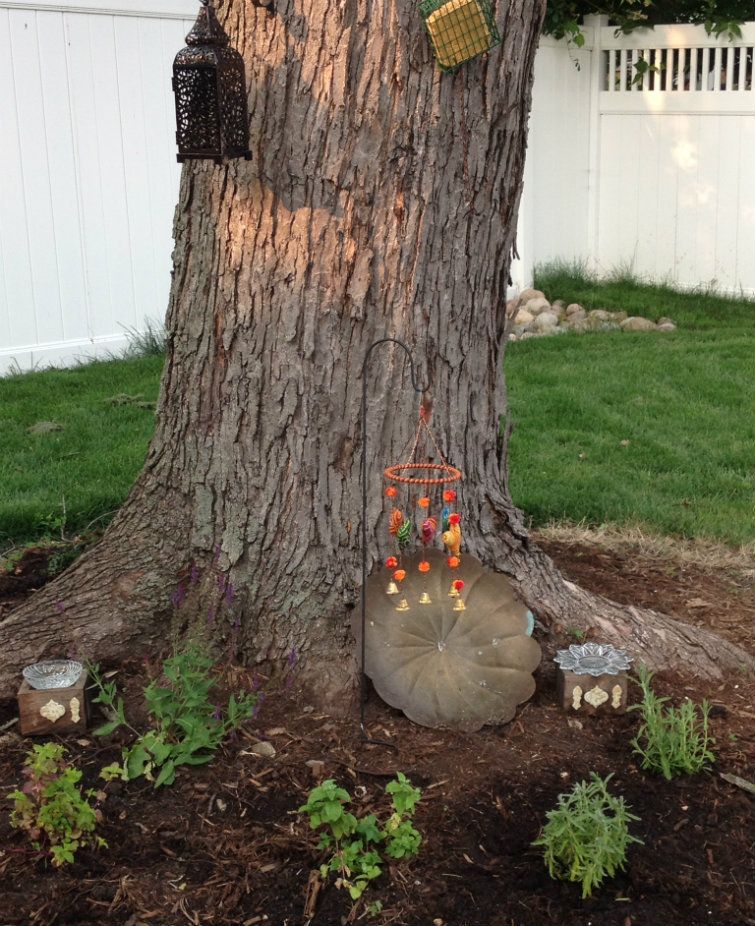 Attracting wildlife to your backyard is entertaining and educational for all members of your family...Especially kids! Who doesn't want to see more fuzzy and feathered friends in their back yard?! For more tips on creating your own wildlife habitat, check out the
National Wildlife Foundation's website
!
Until next time!
~Steph @ Calamity Layne