Today's #OnWednesdaysWeWearArt theme should be pretty obvious... it's Margaret Keane's "big eyes" paintings! I've had this awesome dress for a while now, but never photographed it for the blog, and in brainstorming some #OWWWA topics, this was an obvious choice.
The dress is NOT covered in Margaret Keane paintings, mind you, but a Keane-inspired pattern of paintings by
Megan Besmirched (of the shop Salty Dame on Etsy)
. I love that the spirit of the Keane paintings is alive in the pattern of this dress, but in an updated, modern, "ladies of today" sort of way.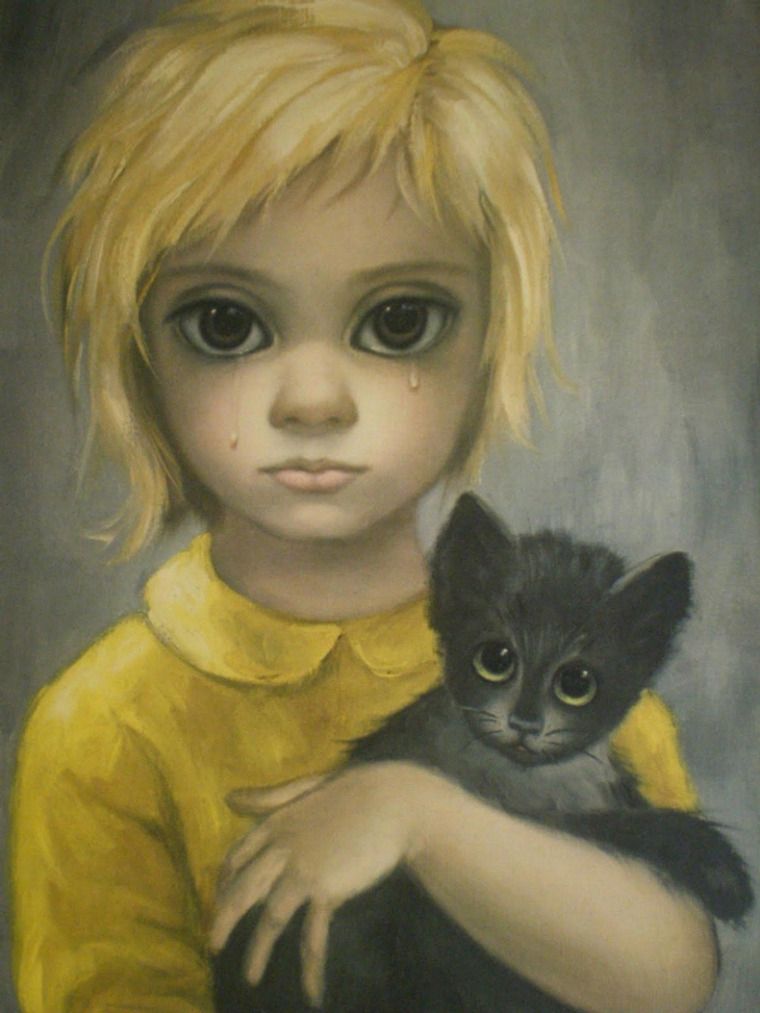 For those unfamiliar with the story of Margaret Keane, she was a painter who gained popularity in the 1960's... sort of. Her paintings gained popularity, but it was her husband, Walter, who claimed to be the artist behind them. If you haven't seen the
Tim Burton film, Big Eyes
, that tells the story behind Margaret and Walter Keane, it's definitely worth checking out. Pretty interesting stuff.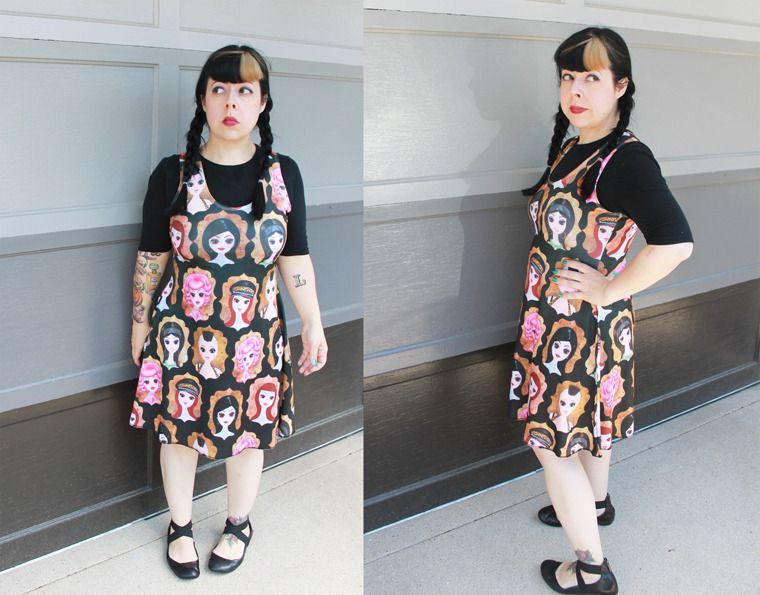 One of the interesting concepts behind these paintings is that they're super sappy, and dare I say, cheeseball in nature... which is also exactly what makes them awesome. They're not "high art," but also, they are? Just try to go out and buy an original. Good luck with that.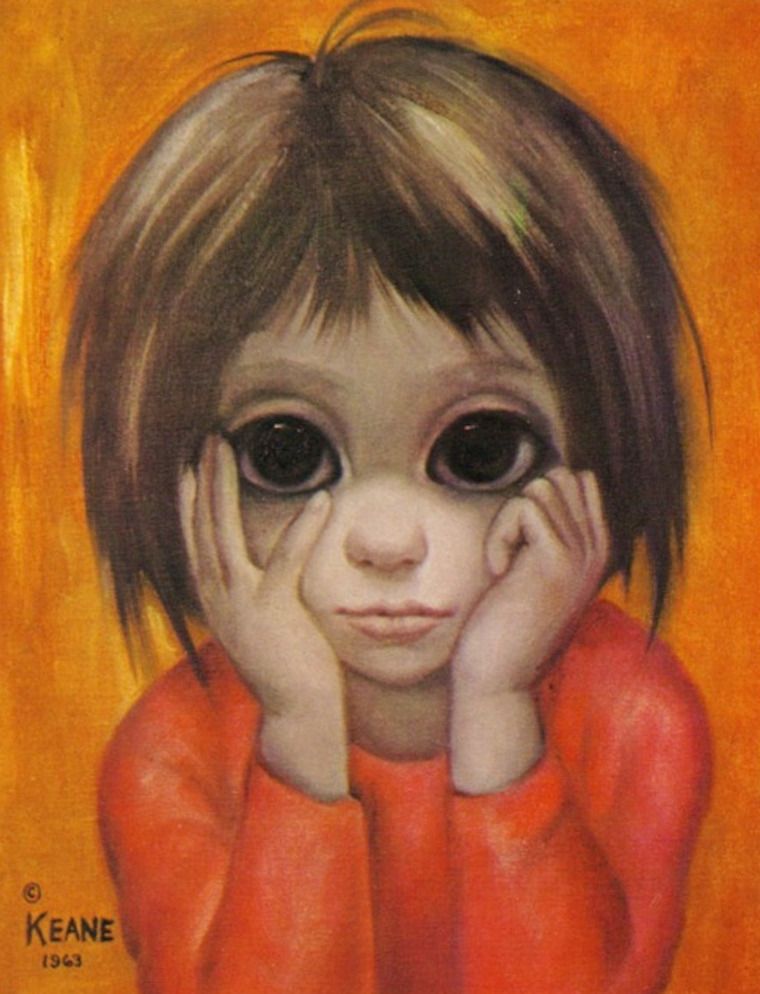 The big eyes are so sad. And cute. What always kind of bugs me is, once you know it was a woman who painted these, it made a sort of sense to the whole topic. When everyone thought that Walter was painting them, didn't it seem kind of creepy? I don't know, I hate to be all gender-biased about it, because men and women can paint whatever they damn want, but something about these paintings just screams lady painter to me.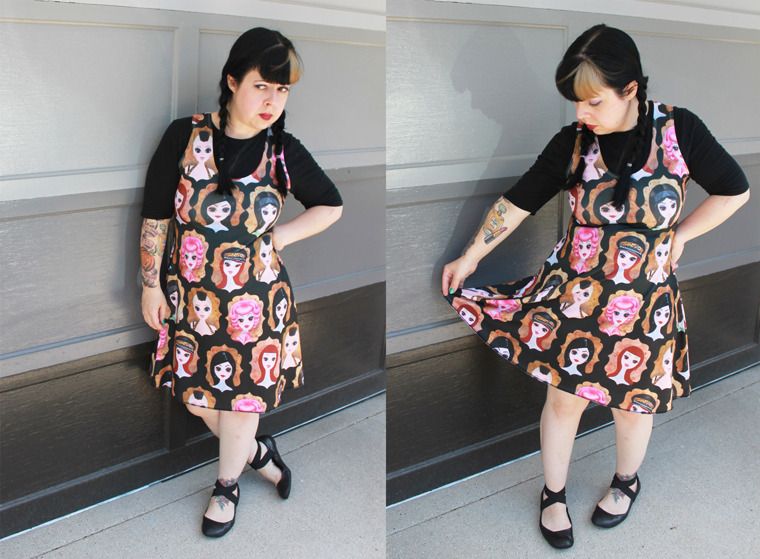 I think my favorite thing about the girls on this dress are the blue tattoo outlines on them:
So, let's talk about this dress. It's awesome. I did do a slight alteration on it... I shortened it about two inches or so, since I am a shorty, but I just ran the serger along the bottom since the whole thing is made out of a stretchy polyester material. I think that it worked well. I like wearing the black shirt underneath because it helps to break up the pattern.
Now, hopefully by the time you're checking out this blog post and you're all like "OMG I need to get one of these dresses for myself!" - Megan will have re-opened
her Etsy shop
, but I have this horrible knack for writing about stuff on the blog only to find out that the shop is temporarily (or permanently) closed and the awesome stuff I'm writing about isn't available. That sucks. So as of the time I'm writing this,
Megan's shop
is closed, but hopefully it will be open soon, and if not, you can always sign up to get an alert when it is.
Above: more sad Keane paintings, including one instance where a clown is slightly less creepy than normal clown times. And then, an awesome YouTube interview with Margaret Keane:
Below: other items I snagged from
Megan Besmirched's Etsy shop
: a zipper pouch and a round magnet.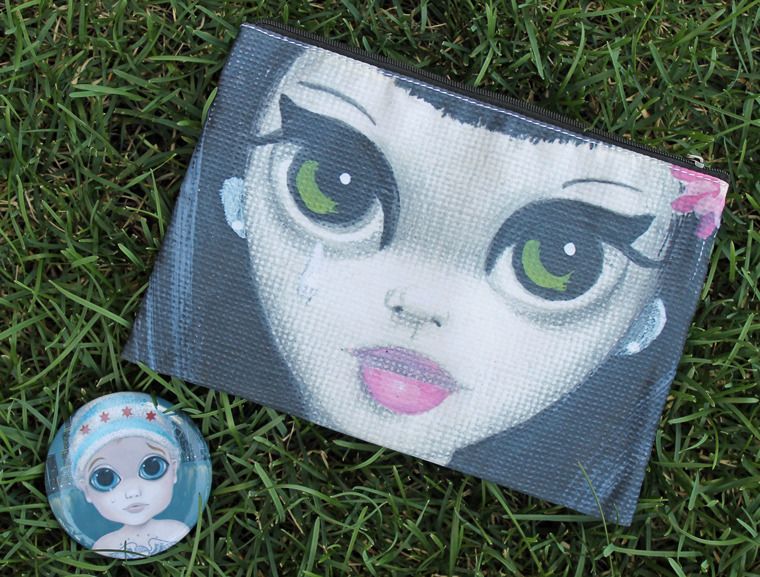 Rock On,
Jen @ Hell Razor