Sometimes you find a product so cool that you just want to share it with the world. That's how I feel about
Heidi and Gretel
brooches. I've officially been blogging here since 2010 (whoa that's long!), and I've been an avid blog reader for longer than that. I found Donna way back when... I used to read her blog! Although her blog is no more, we stayed connected via
Instagram
, and I was super psyched when I saw that she had started her own handmade company, making super cute brooches like frosted pretzels and toadstool mushrooms. I admired them from afar (Donna is in Australia, so shipping is often prohibitive...) and remained a fan until one day I could not resist any longer... Donna made a ROLLER SKATE!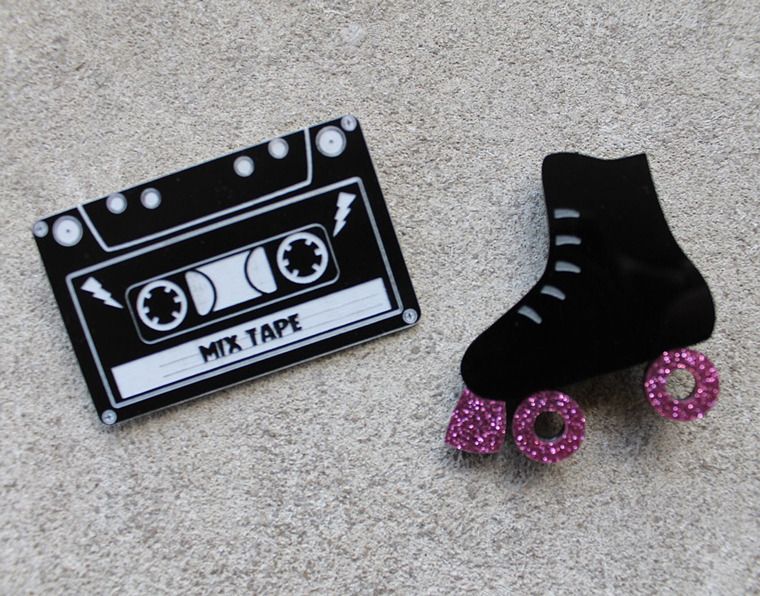 Well, how could I possibly pass up the world's cutest roller skate brooch? To justify international shipping costs, I added a few other pins to my order, and then SURPRISE, Donna tossed in one of these awesome mix tape pins, which I was totally drooling over but appeared to be out of stock at the time. Happy day!
Donna is super active on
Instagram
, and I love that if you post a photo of yourself wearing her creations, she'll re-post and give you a shout out! It's good to support small businesses that are friendly and super excited about their customers.
Another really awesome part of Donna's handmade gig is that profits from her shop go to her disabled brother, Scotty, to help fund his transport needs to his day program. As though you needed another reason to shop at
Heidi and Gretel
... but bonus!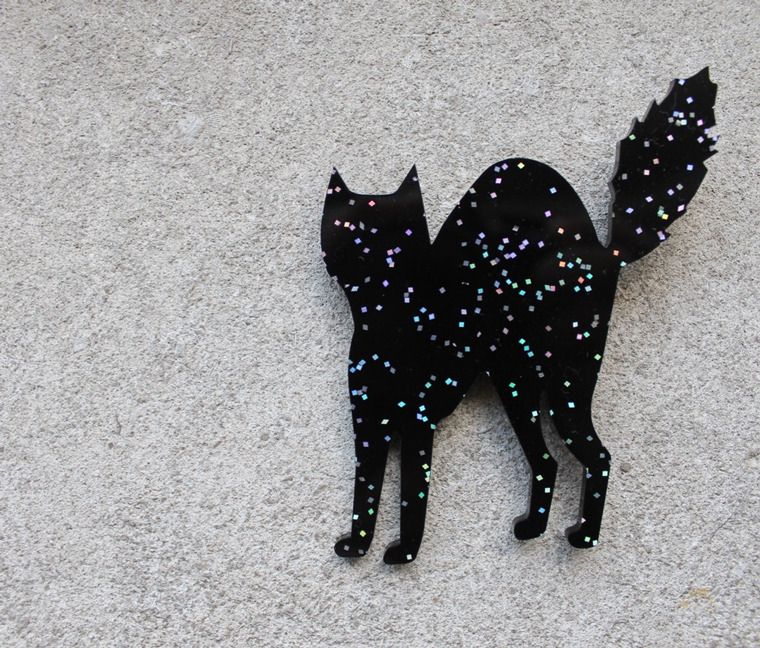 Part of my brooch haul included this awesome cat pin, which is so Halloween, and therefore right up my alley! I wore it to the food truck rally (discussed in
my last post here
) - you can sort of see it in the photos below.
I do love that many of these acrylic pins are LARGE - I'm such a statement jewelry girl, I don't want tiny pins getting lost in the mix. The biggest problem I've had with the cat pin is that I own so much black, I have to find a good colorful clothing item so that it gets noticed!
The last pin in my purchase was this green glitter crescent moon. Again, very Halloween-y. This was the easiest one for me to wear since it stands out on pretty much whatever I wear: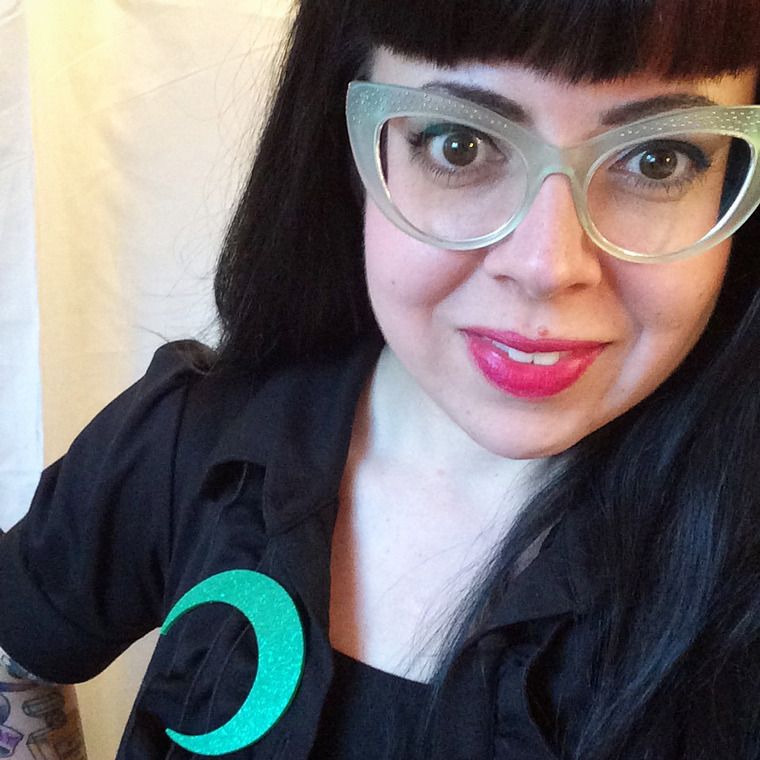 Please note: I was not compensated for this post in any way - I just really love Donna and her creations at
Heidi and Gretel
! I know sometimes it can be hard to decide if purchasing from international shops is really worth it, so I can tell you with 100% confidence that it totally is! Do it!
Rock On,
Jen @ Hell Razor
now playing: