The Pumpkin Queen hates ironing. So suck it.
I was just whining to Todd a couple of weeks ago that Michael's didn't have their Halloween stuff out yet. #HalloweenPeopleProblems. I bought this orange and black dress from
eShakti
in early June - way way way before any Halloween anything was in anyone's minds. But I bought it specifically BECAUSE it looked like Halloween, and I was like "ooh I'm gonna wear this year-round!"
And I do. Because Aw Yiss Halloween.
dress - eShakti / shoes - Alica + Olivia for Payless (old!) / tights - We Love Colors / parasol - Amazon
You saw my super awesome goth parasol in my
Tim Burton/Hearse Show OOTD post
, but I actually took these photos first. Whatever, I'm disorganized sometimes. And you can't get enough parasol action when it's awesome like this one, so... yeah.
Oh - I wanted to talk about how this dress was one of two that I purchased, plus a skirt, and I had them all made using the CUSTOM measurement option, and they fit perfectly! I don't think I'll ever order without this option - for $7 additional, you seriously can't go wrong, especially if you're a shorty girl like me with some non-standard measurements. This fits like a dream! And I wrote all of my measurements down in a little notebook so that if I order from anywhere else now, it's super easy to customize or to estimate my size. Why didn't I do this earlier?!
My older shoes are now typically too big on me. Where I used to be a size 9, I am now a size 8, sometimes 7-1/2. Can you see how much they stick out in the back? However, I'm not sure that I can bear to part with these shoes. Random trivia fact: I wore these shoes
on the blog before, back in 2013
.
I also find it amusing that the text for these outfit posts is usually just me pointing out everything that's wrong in the pictures. HEY DID YOU SEE HOW BAD THIS THING LOOKS?!!!
Another couple good tips (besides the custom measurements option) when shopping at eShakti is to sign up for emails so that you get coupon codes for anywhere from $20-$35 off, and also a little-known fact is to use your phone or iPad to place your order, because all orders placed via their mobile site get an additional discount! I found that out by accident, actually... I'm just a big online window shopper via my iPad, and what a nice surprise!
eShakti has really good sales fairly regularly, so if you keep an eye out for a sale, you probably won't need to wait long. I was able to get two dresses and a skirt, all with custom measurements, for $150 shipped. That is awesome.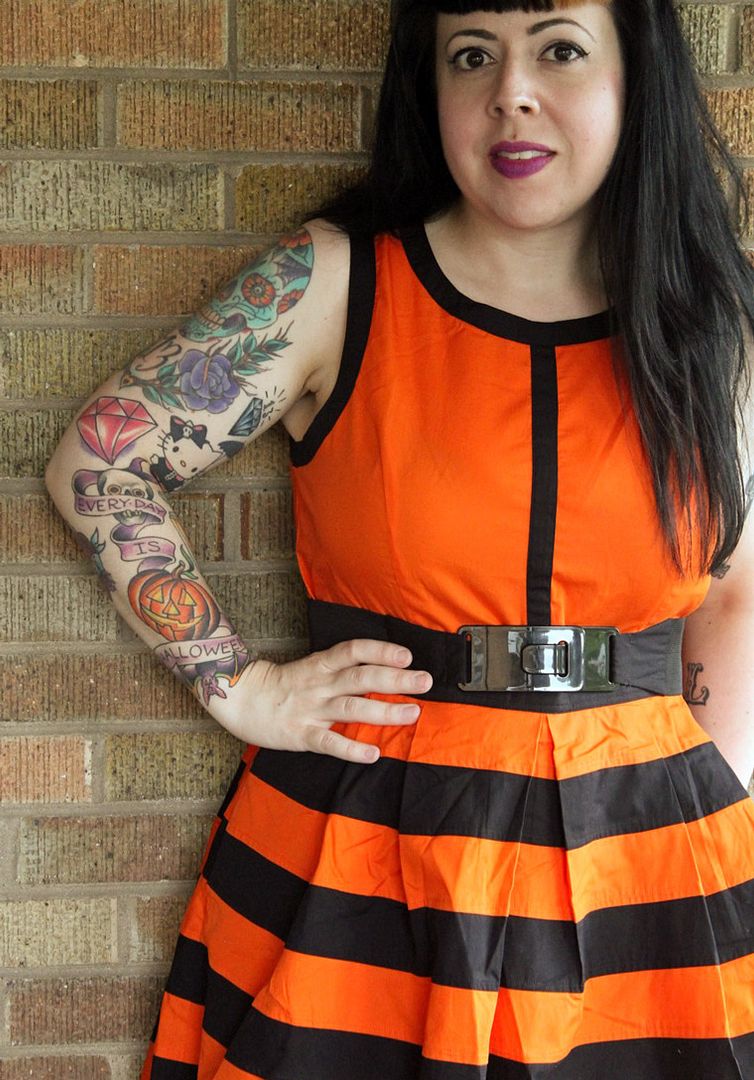 I have worn eShakti on the blog before
: this is the dress that I was given c/o a while back. However, this current post is not sponsored, nor was I given any of my current dresses for free. I do really like the shop and I'm a very satisfied customer, so I thought I'd share now that I've done the full custom route.
Both
Lisa
and
Steph
have written about their eShakti experiences before on the blog, too. Oh yeah, I also bought a cute
black tulle ballet-style skirt
from them a while back, too. Also Halloween-y. Of course.
Here's the
link to the parasol from Amazon
, if you're interested in your own umbrella awesomeness. :)
Rock On,
Jen @ Hell Razor
now playing: