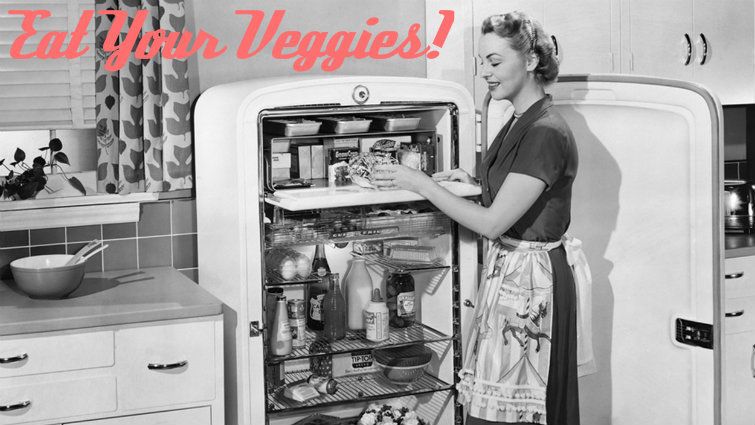 There is nothing better than farm fresh food. I've been cooking with primarily CSA (through
Beets+Beats
) & garden veggies for the past few weeks and I can really tell a difference in quality from store-bought produce. Anyway, I've been receiving beets, kale, and garlic scapes (along with many other items) in my CSA goodies over the last few weeks and it's been kind of fun figuring out how to use everything for dinners. This is my favorite combo so far! Roasted Beets over Barley with Kale & Mushroom Beef Stir-fry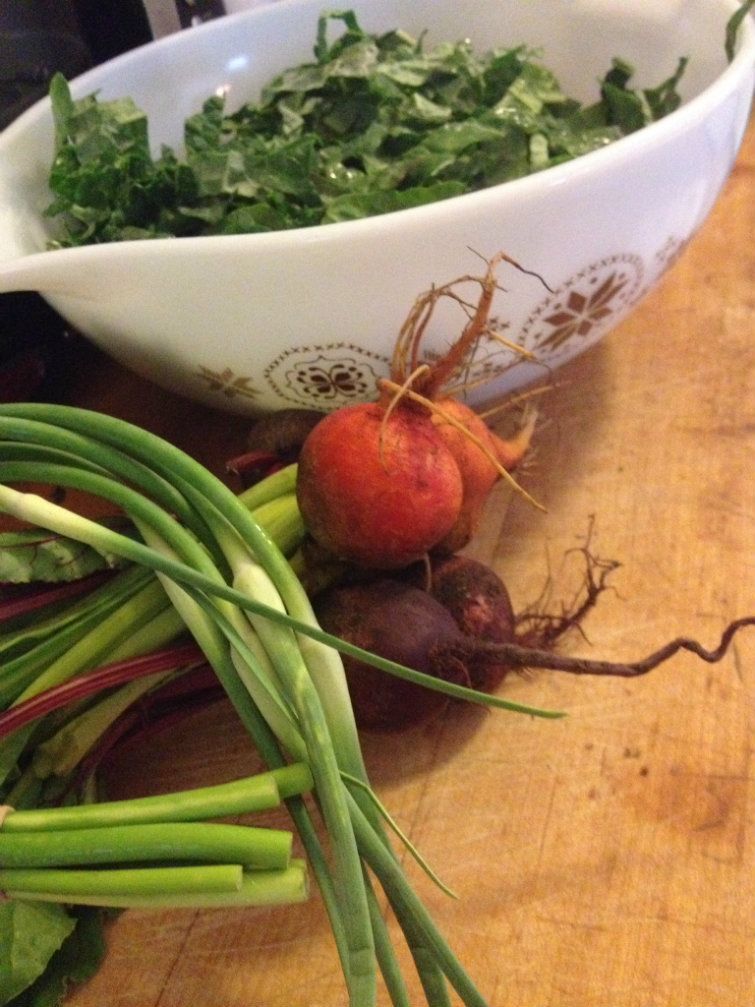 The first thing you will want to do is roast your beets (it takes a while)...This is how you do it:
- Pre-heat oven at 400F, cut leaves off (good for other uses!)
- You can either peel outside of beets or keep the skins on while they roast...although it's hot and you get red fingers.
- Loosely wrap beets in foil. I like to our olive oil and spices around them if they are peeled.
- Roast for 50-60min (told ya)
- You can check after the first 30 mins then every 15-20 mins after...I tend to leave them in for 45 and then check
- Beets are done when they are punctured by a fork and they slide off
While your beets are cooking, you can start your stir-fry. This is
the best recipe
I've found it's from
Gimme Some Oven
...I used fresh ginger and it TOTALLY made the dish. I kind of altered it a little, I used some garlic scales from my CSA mixed in with the Kale and then used mini bella mushrooms instead of shiitake... Anyway...here we go:
Ok, this is how I did it...
You will need:
MARINADE:
1/3 cup soy sauce
1/2 cup vegetable broth
3 Tbsp. rice wine vinegar
2 Tbsp. corn starch
2 tsp. ground ginger
1/4 tsp. black pepper
What you do:
"Add all marinade ingredients to a bowl and whisk to combine. Pour marinade into a large bowl or ziplock bag, then add in the steak and gently toss to combine. Cover/seal and refrigerate for at least 15 minutes." (I did this right after I put the beets in the oven)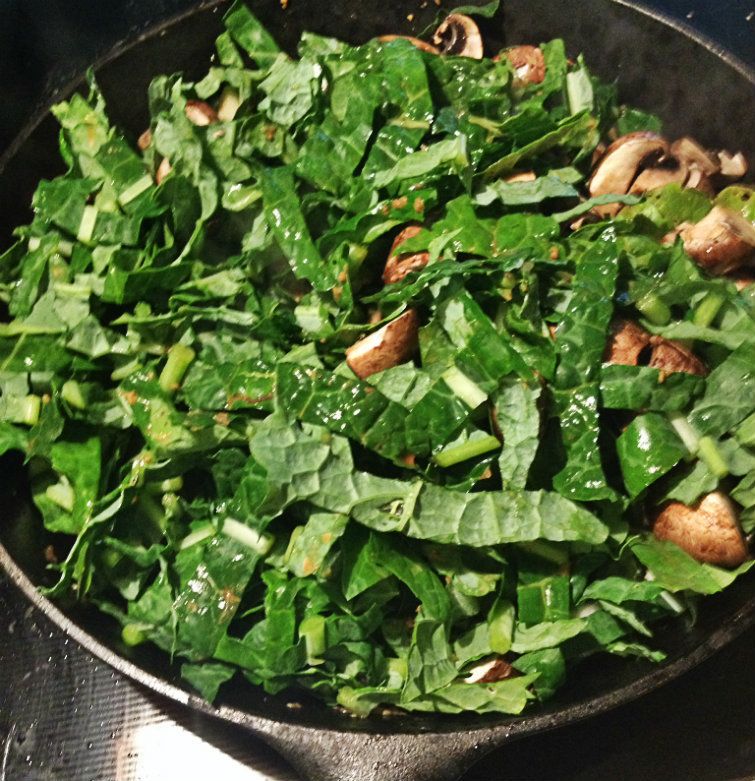 You will need:
STIR-FRY:
1 lb. thinly sliced steak (I used the cheapest steak I could find and cut it into pieces...cuz I'm poor).
2 garlic cloves, minced
2 Tbsp. olive oil
A package of baby portobello mushrooms
3 cups chopped kale
2 garlic scapes, thinly sliced
What you do:
Once steak has marinated, heat 1 Tbsp. oil in a large sauté pan (I used a cast iron) over medium-high heat. Remove steak from marinade with a slotted spoon,
reserving the marinade (super important)
and add to saute pan with garlic. Saute for about 2-3 minutes until browned, stirring occasionally. Remove steak with a slotted spoon and set aside."
Add mushrooms, kale, Garlic scapes
and reserved marinade to sauté pan
. Stir to combine and cook for 3-4 minutes, until the kale is wilted, the sauce has thickened, and the mushrooms have cooked, stirring regularly so that sauce does not burn. Add in the steak, and toss to combine."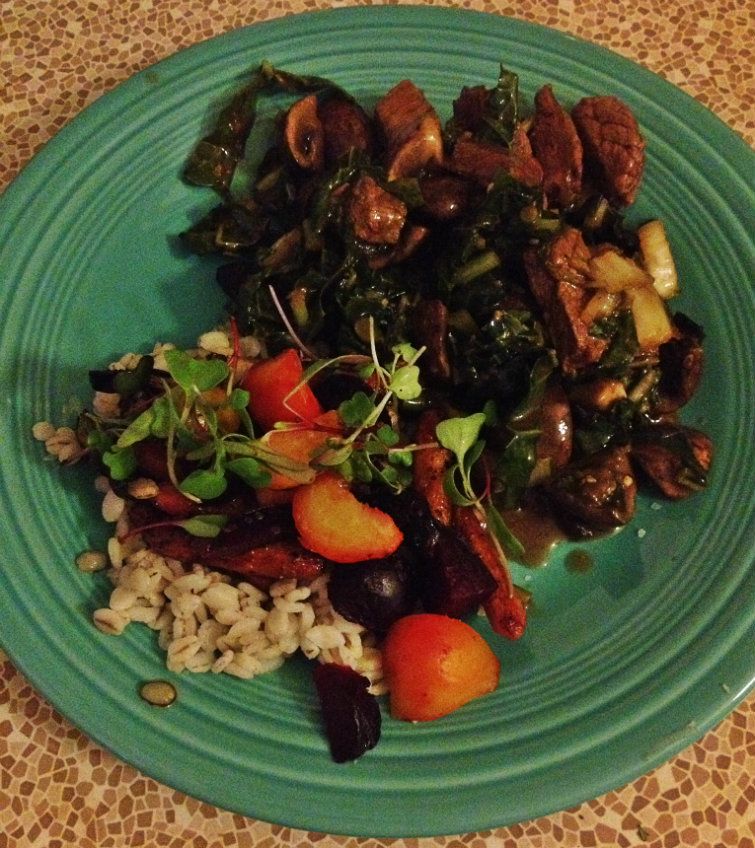 I served it alone with the beets and barley, but the recipe says you can serve it over rice or quinoa. I garnished it with seem mircogreens (also from my CSA veggies) and tucked in!
A delicious and healthy family dinner!
Until next time!
~Steph @ Calamity Layne