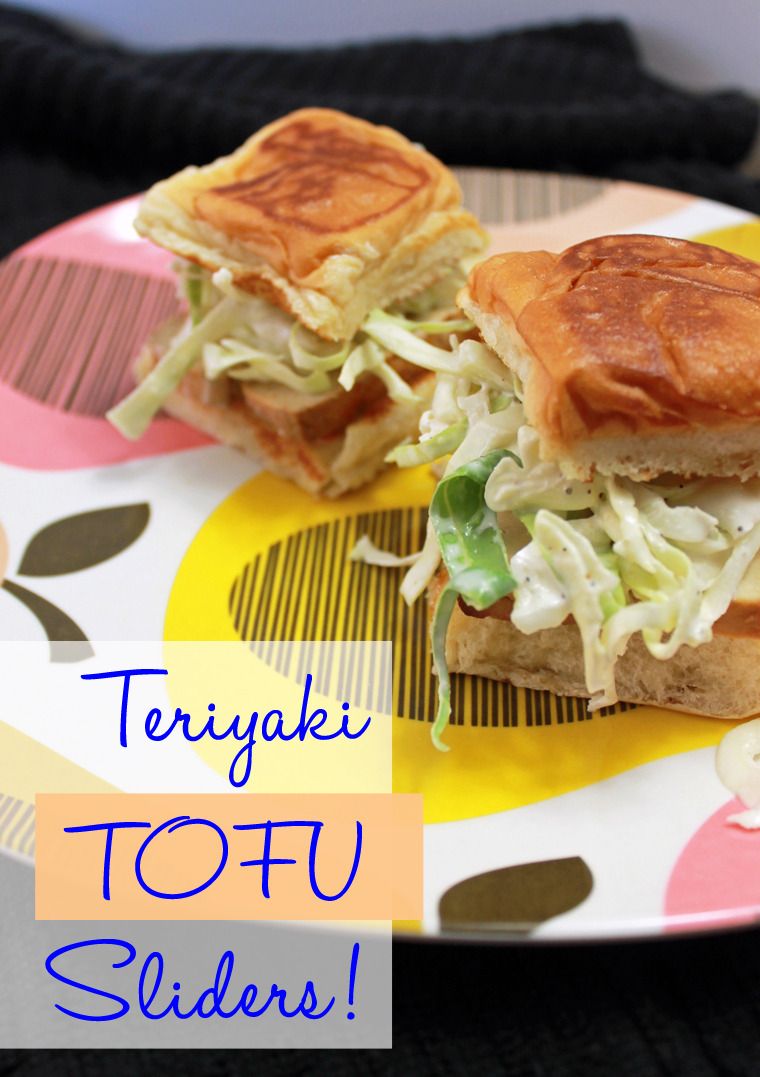 At the
food truck rally
a few weeks back, Todd had a delicious teriyaki tofu slider. What do I do in these instances? Try to figure out how to do it on my own! And I've come up with a pretty delicious version, actually! We've made these at home several times since then, and I thought I'd share my recipe with you.
These mini sandwiches are great because the only real "cooking" you have to do is to toast the bread, which I suppose you could skip, too, but then the texture is slightly more squishy/gummy. But because of the lack of cooking, this makes a fantastic summer recipe! Also, these would be a fun party food since they're mini. They could serve as an appetizer or a main dish. Make as many or as few as you like.
The basic recipe is this: teriyaki tofu on a toasted Hawaiian roll topped with coleslaw. So, you could just buy everything pre-made and assemble. However, I've got a great (and super simple) cole slaw recipe that I like to use here. It's the perfect mix of acidic and creamy, and tastes super fresh. Check it out below:
Super Fresh Coleslaw
(adapted from
here
)
Ingredients:
1 bag Shredded cabbage (or pre-shredded coleslaw mix)
A handful of shredded carrots (totally optional, I actually didn't even use them here)
1/3 cup mayonnaise or Vegenaise
3 tbsp white wine vinegar
1 tbsp lemon juice (fresh or bottled - I usually use bottled)
1/2 tsp garlic powder
1/4 tsp black pepper
In a medium sized bowl, whisk together the mayo, white wine vinegar, lemon juice, garlic, and black pepper.
This is your coleslaw "dressing."
Dump your cabbage (and carrots, if using) into a large bowl, and then pour your dressing over the cabbage. Stir thoroughly.
That's it! Now, it's a good idea to let your coleslaw sit and marinate - put it in the fridge while you get all of your other slider ingredients together. You can even make this the night before, because it's one of those dishes that gets better the longer that it sits.
This cole slaw is great for other recipes, too, so if you don't use it all, re-purpose it the next night! I especially like it as a topper on fish or shrimp tacos, or as a (veggie) burger topping along with some BBQ sauce. You could also just use the coleslaw as a side dish on it's own, you know, like a regular person. :)
Now, onto the sliders. This part isn't really a recipe, just a quick how-to on how I assemble them...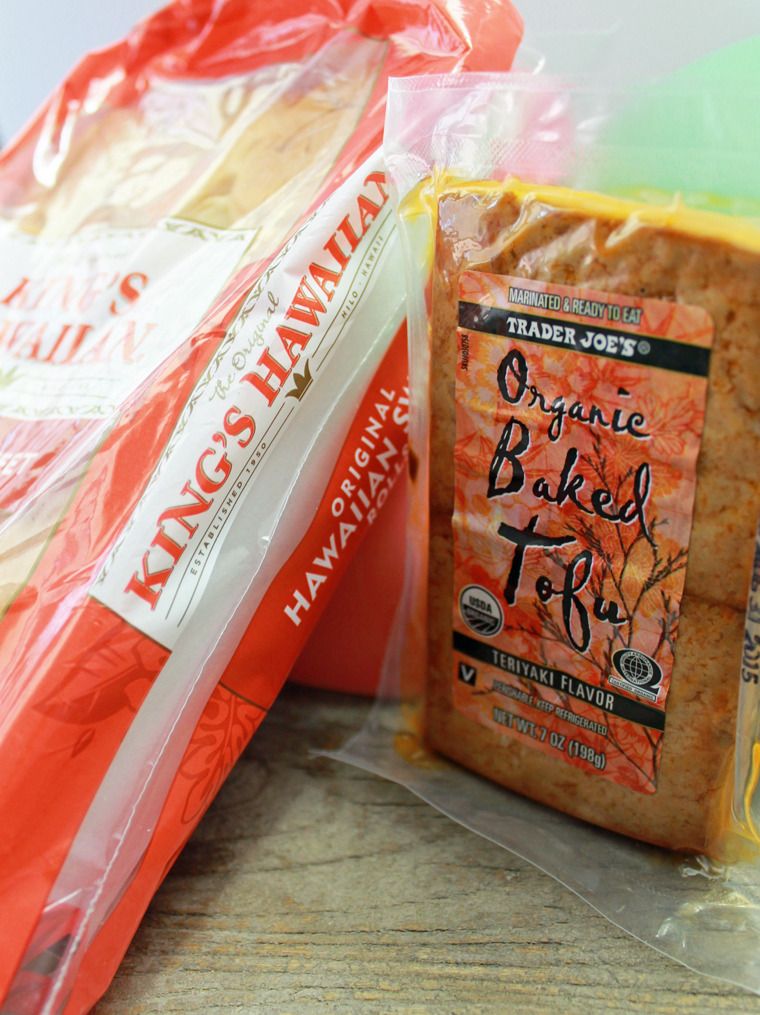 First, get some of those tiny Hawaiian rolls. As many as you want to make. But since I usually am making dinner for two, I typically make six tiny sandwiches, or only 1/2 of this 12-pack package.
Next, you need teriyaki tofu. I buy this pre-made from Trader Joe's (see photo above). It's in the refrigerated section by the fake meats. All I have to do is cut it up and put it on my sandwiches - no cooking required! However, you may not have a Trader Joe's near you, so you can also make your own teriyaki tofu using
a recipe like this
. I recommend making it ahead of time and keeping it in the fridge so there's less work at dinnertime. Also, if you're making your own teriyaki tofu, take into consideration the time to marinate (the recipe suggests overnight) and about 30 minutes to press your tofu before marinating. Do you have a tofu press? I love mine! I recommend a model
like this
, if you're interested. It's totally worth it.
Assuming that you don't have to make your own teriyaki tofu, you can just pull this pre-made stuff out of the package - it comes in little blocks like this (see above).
Cut it up into sandwich slices. I find that if I cut each block into eight slices (as shown above), two slices make a nice little square that fit the rolls almost perfectly!
Hawaiian rolls do not come sliced for sandwiches, so grab a knife and do that. Then, get a big flat skillet, like for pancakes or grilled cheese, and toast your buns with butter, as shown below:
I just butter the cut side and put it on the hot, flat pan, like I was making a grilled cheese. I suppose you could try using an olive oil spray or a margarine if you're trying to be healthier.
When your rolls are toasted, you can now assemble your tiny sandwiches:
Two tofu slices, then a forkful of your coleslaw that's been marinating in the fridge.
Oh yum. These are so good.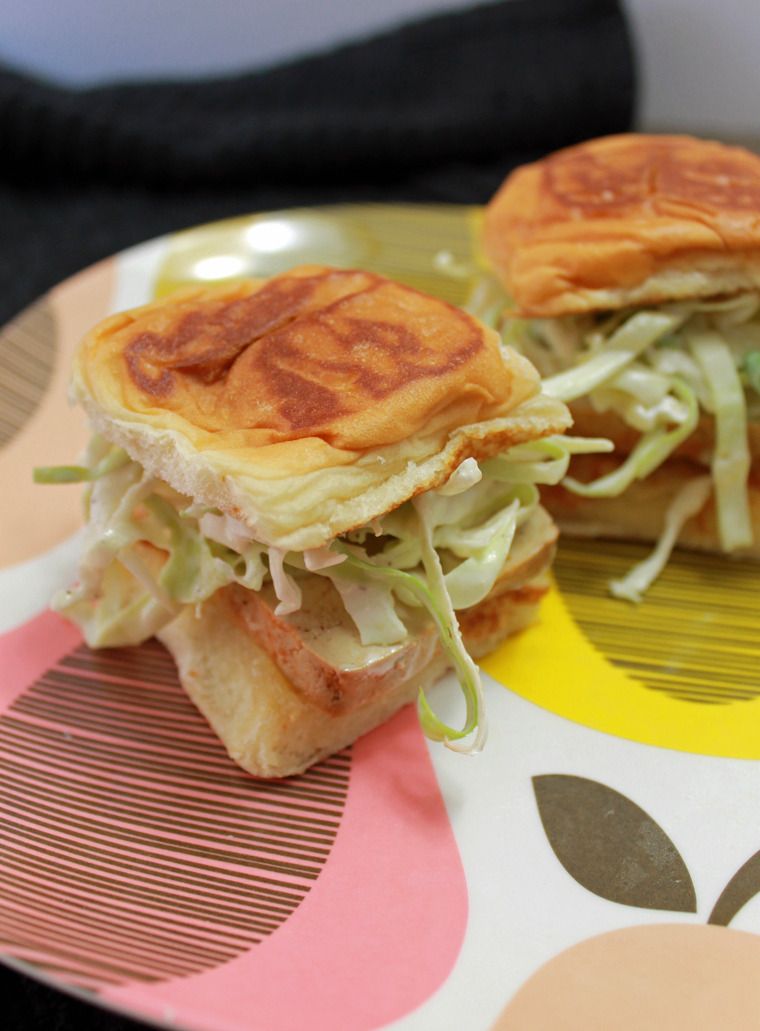 (Plastic Orla Kiely plate via a particularly successful HomeGoods shopping trip.)
You could definitely use this concept (tiny sandwiches) to make other versions, like tiny fish sandwiches using this coleslaw recipe, too. Speaking of, Trader Joe's actually sells fish nuggets that would work really well here. Or, instead of teriyaki tofu, try BBQ. So many options! Now go eat!
Rock On,
Jen @ Hell Razor
now playing: