One of the things that I tend to eat a bunch of (because it's loaded with protein) is Greek yogurt. Sure, you can buy them pre-flavored, but you have to watch the sugar content, especially if you're a
post-weight-loss-surgery patient like me
. One way to overcome this challenge is to flavor your own yogurt.
An easy way to do this is to add fruit, protein powders, and sugar-free sweeteners. But I like to challenge myself to come up with new fun flavors that make food fun. Thus, peanut butter and jelly yogurt!
I was inspired by the
PBJ yogurt from Trader Joe's
. I thought that I could make it a little more friendly for my nutritional needs. You can use this recipe as a foundation, and substitute your own desired ingredients as you like!
Here goes:
Jen's Peanut Butter and Jelly Greek Yogurt
Ingredients:
1 tbsp. PB2 Powdered Peanut Butter
1 tbsp. Sugar-Free Preserves, in your desired flavor (I like strawberry)
1/4 cup Fat-free Greek Yogurt
Crunchy stuff (optional): crushed peanuts, cereal, granola, or crushed pretzels are all good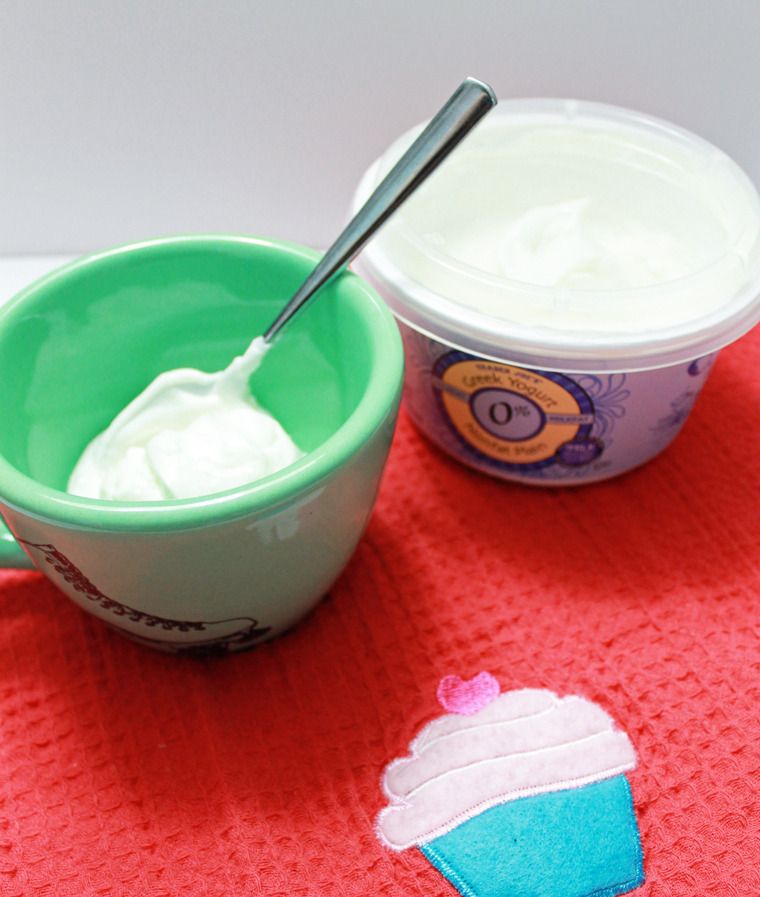 Directions:
In a small bowl or mug, scoop out 1/4 cup of yogurt. I don't actually measure, so it's probably somewhere between 1/4 and 1/2 a cup. Depends on how hungry you are.
Do you like my awesome roller skate mug? It's from
Circa Ceramics
. I love the size and weight of it. Nice and substantial, but lots of room for tea. Or in this case, yogurt. And it's easy for me to carry around the house, because handle.
Add 1 tablespoon of
PB2 powdered peanut butter
and stir into yogurt. You could technically use "normal" peanut butter... but this mixes into the yogurt really well, and has only 45 calories and 1.5 grams of fat per serving. And oh yeah, we're only using 1/2 of a serving. Also, PB2 comes in
a chocolate version
, if you are so inclined. I love this stuff.
(p.s. - I usually order mine online, via Amazon.)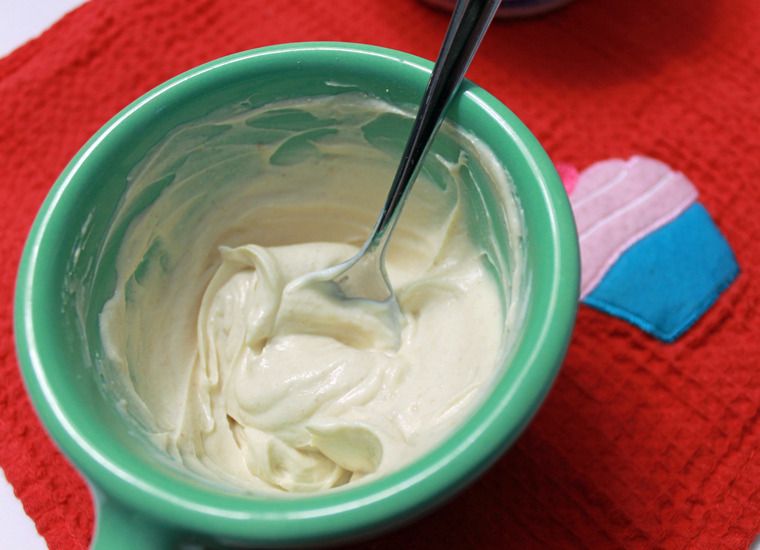 When you mix it all in completely, your white yogurt will now be a light beige. Peanut buttery.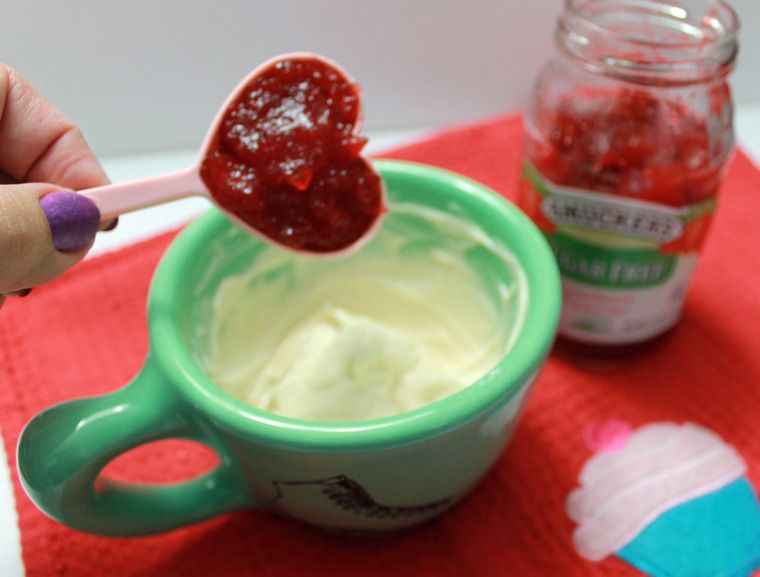 Now, add in 1 tablespoon of your choice sugar-free preserves. Again, you could use regular jelly or preserves, but I'm trying to keep the sugar content down here. Mix it in real well.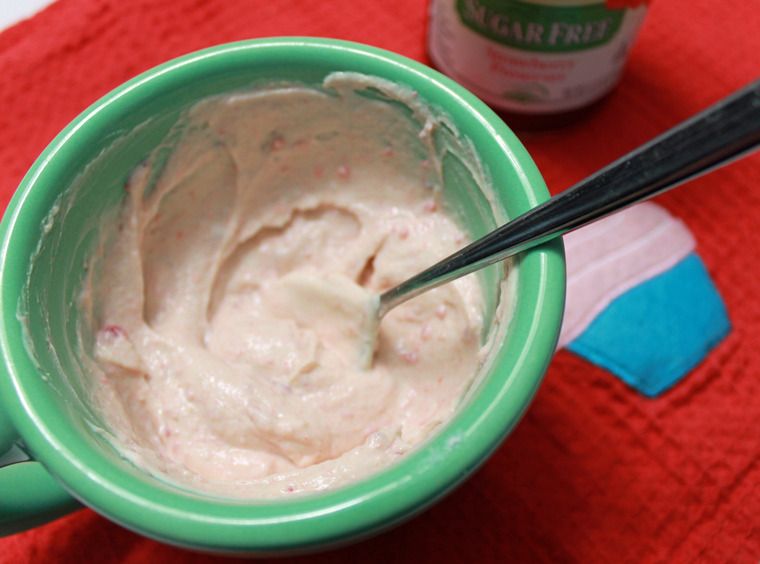 Your yogurt will look something like this (see above). The preserves should mix in pretty smoothly, with some small flecks of fruit. This is what will sweeten your yogurt, too. I like it just like this, but give it a taste test. You can add sweetener, like Stevia (if you're keeping it sugar-free), or some agave syrup (for those who don't mind sugar) and stir it in at this point.
Technically, your yogurt is "finished" at this point, if you like your yogurt smooth. But I like crunchy stuff in mine...
There are lots of options for adding crunch to your yogurt. Traditionally, this means granola. I've also used cereal (Cheerios has a protein version that's pretty yummy), and even crushed pretzels (this is particularly yummy in strawberry yogurt). But for this recipe, I'm going to go the crunchy peanut butter route and used crushed peanuts!
I bought roasted peanuts at Trader Joe's that were 50% less salt. I crushed them up with my brass knuckle meat tenderizer. Since I don't eat meat, I find other uses for these brass knuckles, like crushing peanuts or smashing garlic.
Sprinkle crushed peanuts liberally on top of your yogurt. Stir it all in, and EAT IT! So good.
Rock On,
Jen @ Hell Razor
now playing: