skirt - Heart of Haute / shirt - Target / shoes - Zappos / sunglasses - Marshalls / lipstick - NARS "Funny Face"
I've decided that fun skirts are my new favorite thing. It may have started with my
spiderweb skirt
, or the loss of my original
eShakti black tulle skirt
, but I'm constantly window-shopping for fun new prints, and stalking eBay for ones on my wish list (like
this one
or
this one
, but in purple) to suddenly become available.
When I decided that I finally wanted to pull the trigger on a true "circle" skirt, I searched high and low for just the right pattern and style before making my first purchase. I settled on this
Mandie Bee circle skirt in "Cats on Pink" from Heart of Haute
. Also, the overall length is 23 inches, so the fact that it is just slightly shorter than other circle skirts was really preferable to me (as a shorty short girl... not quite 5'2"...).
When my skirt finally arrived, it was actually too big, and I exchanged it for a smaller size - so the good news is that I can tell you that their customer service is super awesome and I was able to get this taken care of, no problem. I even had to call them to check up on my order (their entire shopping system was updated in the middle of my exchange process and I lost my order info!) but everything was super smooth and taken care of - I will definitely order from Heart of Haute again! Especially because I do love this skirt so much!
I don't have any fancy retro or reproduction vintage tops to pair with my circle skirt, so I just went with a simple scoop-neck t-shirt from Target (hey, for like $6 it can't be beat!) and I'm very happy with the end result. In the colder weather, it will be really easy to pair this with a cardigan and some tights. Seasonal fashion? Heck no, make it work year-round!
Pro tip: I wear black "bicycle" shorts under all of my dresses and skirts, or leggings in the winter. Although I do enjoy dresses, you never know when the wind might pick up, or you've gotta climb a ladder or sit cross-legged on the floor. Better to be safe than sorry.
Nope, I don't iron. Not if I can help it. Deal.
I'm still breaking in
these shoes from Kenneth Cole (purchased via Zappos)
. They pinch the top of my foot a little bit at the front end. But once they get broken in and stretch out just a smidge, they should be fine. I really like the ballet shoe elastic criss-cross at the ankle style.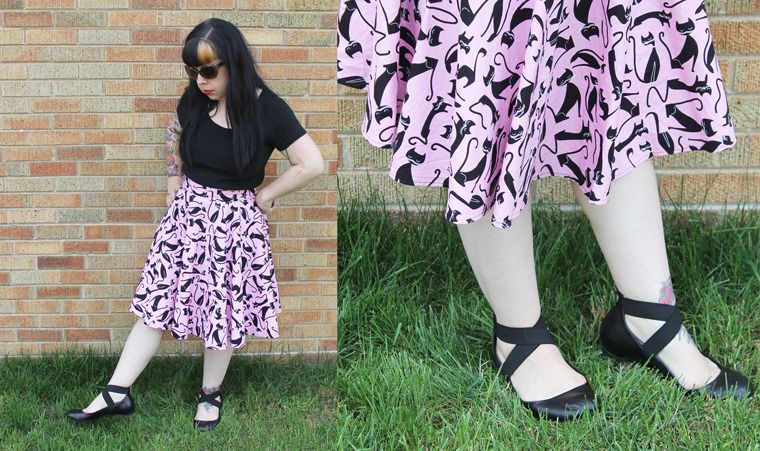 In other news: Hey check it out! I painted my nails! They had gotten longer than usual, so instead of cutting them down, I decided to just go for it and paint them a nice green color (Halloween witchy-vibes)... It lasted about 3-4 days before they chipped too much and I removed the polish altogether. I can't decide if I'll finally cut them, or if I should try a new shade, like purple.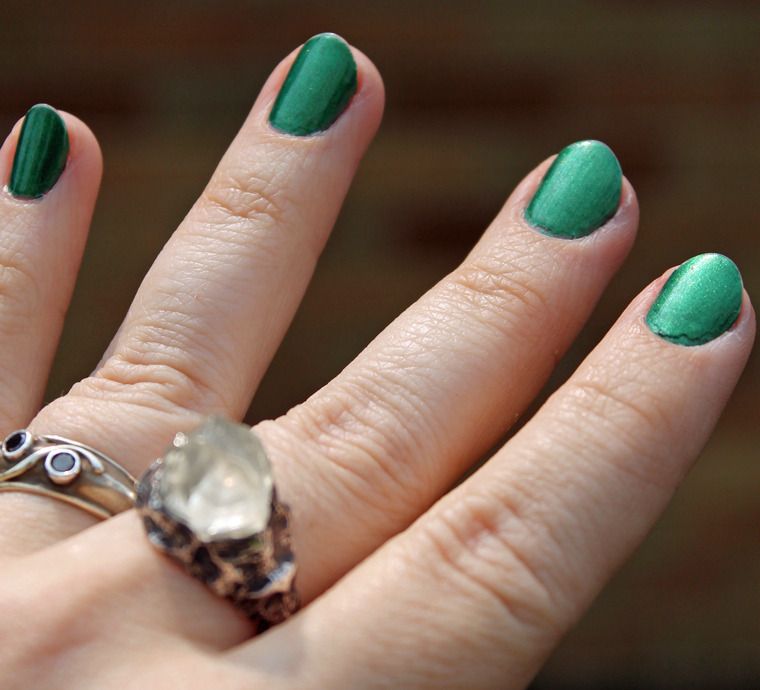 Ice Age ring - Alicia Hannah Naomi / wedding band (black diamonds) - custom
I've been trying to remember to wear my wedding rings and my favorite Alicia Hannah Naomi ring most days, with varying degrees of success. I can't sleep of shower with rings on, so I take them off and forget to put them back on each day. Gotta work on that.
Rock On,
Jen @ Hell Razor
now playing: