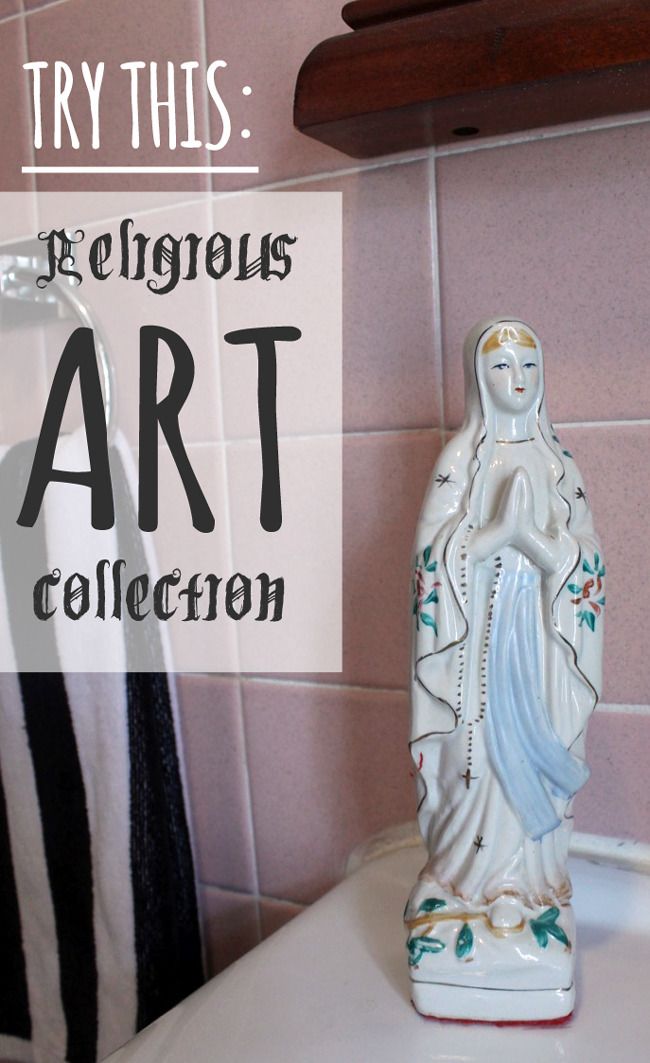 So, I have a collection that's admittedly a little left-of-center. Especially for those who know me in "real life," I am not a religious person. I am, in fact, quite the opposite. If you disagree with me, or want to unfollow or stop reading my blog now, I'm totally ok with that. But if you are religious and decide to stay anyways, I'm also cool with that. I'm about inclusion and acceptance of everybody. But I felt the need to warn you since I know that some people are super sensitive about this (as evidenced by occasional comments from intolerant people regarding
my rosary necklaces on Etsy
...!).
I collect religious art.
I seriously (seriously!) love religious art. I think that it may have started from watching the
Baz Luhrmann version of Romeo + Juliet
back in high school, and then continuing into common themes and imagery in tattooing.
Steph's been pretty awesome at finding some sweet pieces for this room!
I have a
tiny bathroom at the front of my house
, and my collection has just ended up mostly in there. As I've acquired more and more pieces (typically through thrifting, and occasional gifts from friends and family that know me too well!), I've just kind of decided that the best strategy is to just "gallery wall" the whole room as I collect pieces.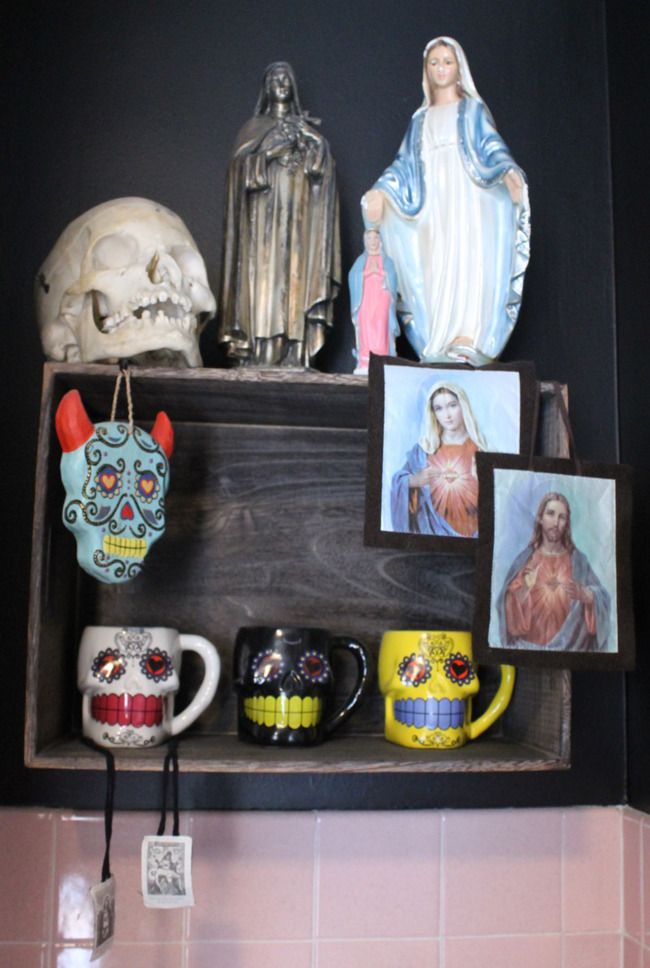 This little vignette (pictured above) hangs above the alcove where the toilet is located. It's an odd-shaped nook, so I mounted a wooden crate sideways on the wall to make a small shelf. My Mary statues mix well with skulls, giving the whole look a Day-of-the-Dead-type of feeling.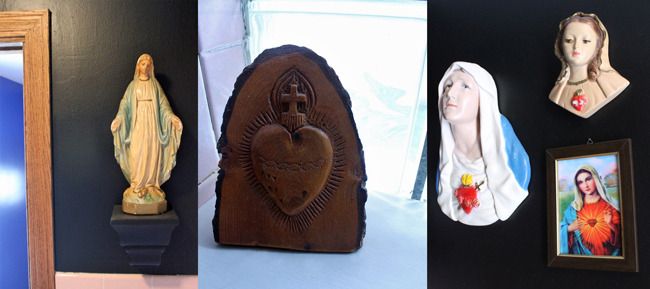 (Left) My Mary statue stands on a $2 shelf bracket from the thrift store that I painted black. (Center) A carved wooden sacred heart was a $5 thrift store find. (Right) Two 3-dimensional Mary pieces hang with a lenticular Mary framed picture.
It's a whole combination of framed pieces, statuary, and 3-dimensional wall hangings. The large 3-dimensional blue and white Mary (above) came from my sister-in-law's grandmother's home. It's kind of cool to have some family history mixed in there.
I love to walk through the artwork section of the thrift store to find old pieces that are so ugly, they're now beautiful, like this sloppily painted 3-dimensional last supper piece:
This entire blog post is actually inspired by a comment made by a co-worker (Hi, Sue!) who discovered my love for religious art after seeing my laptop decal:
She commented that she never knew about my religious art fascination (I kind of keep it quiet since some people don't understand it), and that I should write about it on the blog. So here you go. I figured even if it got people all angry and hot and bothered, those aren't the people I'm writing for anyways. I'm actually having a similar problem with
Instagram
. I've gotten a significant number of followers recently, and I use one of those apps that tracks your follower stats and such. There seem to be a lot of Instagram users that - how can I say this in a sensitive way? - proclaim their religious leanings in the first words of their profile. Anyone else notice this trend? I have mixed feelings about it. I guess I always felt like religion (or lack thereof) is a choice for each individual that's super personal, and no one wants to be judged by those choices.
So anyways, back to my collection. Even though the bulk of my religious art is in the small bathroom, it does extend to other parts of the house, like in
my art studio
.
(Left) Mary-on-velvet painting, (Center) Jesus print on cardstock, (Right) Ceramic Mary planter-turned-pencil-holder from the thrift store.
I have so much stuff in the art room that you wouldn't even notice these guys at first, but they're there! I'd been searching for the perfect Mary planter for awhile, passing up several at the antique store even. I was super excited to snag this smaller one (that now holds pencils in the art studio) at my local Goodwill store for a steal!
The framed Mary card (have you noticed that when it comes to religious art, I have an extra affinity towards Virgin Mary items?) is a funeral card from a family member, so it's nice to have around for several reasons.
My religious art collection is something that I love completely outside of all religious connotation. I don't intend it as either a pro- or anti- religious statement, I just love it as an aesthetic in and of itself.
How about you? Do you have any strange or unusual collections? Let me know!
Rock On,
Jen @ Hell Razor
now playing: