sweater - old / tights - We Love Colors / shoes (old) - Modcloth / dress (old) - boutique in St. Louis? / brooch - Luxulite / bracelet - antique shop
I LOVE
#OnWednesdaysWeWearArt
, so I decided to just bring it back on my own this week, and I chose a topic that
Courtney already covered way back when
, because I've had this dress forever and it's always reminded me of this week's artist - Wassily Kandinsky!
It's also been annoyingly rainy for the past several days (come on, summer vacation!), so I took a bunch of outfit photos on my
back porch
so that I could still somewhat take advantage of natural light (well, as much as can be had when raining!) - so this is why I appear to be in a weird carpeted-yet-brick-wall-situation. :)
Composition IV
Wassily Kandinsky is a Russian painter who is known for his non-objective abstract paintings. Typically, an "abstract" painting refers to subject matter that is real, but is pictured in a new/skewed/distorted way: aka - it is still a picture OF something. Non-objective abstract paintings, however, are not OF anything: they're just shapes, colors, lines, values, arranged in some sort of intentional way by the artist. It's not necessarily supposed to BE anything. Not anything realistic anyways. It could be an emotion, like love or anger, or something that has no visual representation, like music.
Kandinsky was in fact very heavily influenced by music, which can be seen in the names of his paintings, such as
Improvisations
,
Impressions
, and
Compositions
. He was an accomplished musician, and claimed to see color when he heard music.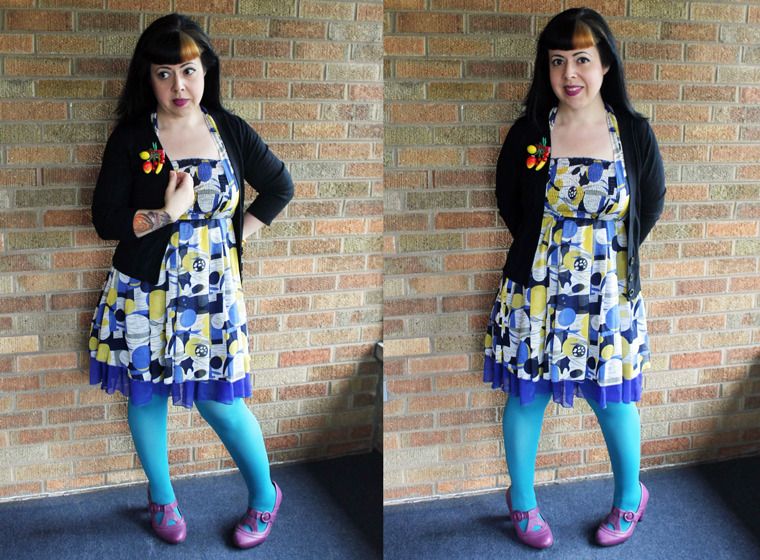 The shapes and lines on my dress have always reminded me of a Kandinsky painting. I wish I could remember exactly where I got it. I'm pretty sure that it was in St. Louis when Todd and I traveled in the summer to see Nine Inch Nails way back when we were dating (Man, time goes by faster the older you get! How is it that this dress is like seven years old? It doesn't even feel like that at all!). I remember wearing this dress for our wedding shower back in 2009...
Composition VIII
Kandinsky was not only an artist, but an art theorist. He formed a group called
The Blue Rider
(after one of his paintings) with fellow artists Franz Marc and August Macke. Part of this group's mission was to defend and promote abstract art, and the affirmation that "
all forms of art were equally capable of reaching a level of spirituality
."
Me? I just think that non-objective art is fun because it focuses on the art elements, and isn't concerned with realism. Realism is fun to make, but I find it pretty horribly boring to look at, to be 100% honest...
Yellow, Red, Blue
The blue and yellow of the painting above are especially consistent with my dress today. I decided to throw in a couple of splashes of warmer colors, like my red-violet shoes, and my red fruit salad brooch from
Luxulite
.
My shoes are very old, a Christmas gift from my mother, purchased via Modcloth, and they are too big now. (Odd side note: my feet seem to have gotten smaller as I have lost weight, and I typically wear a size 8, whereas my older shoes are size 9. It's a big enough difference where I can't really wear the old ones anymore.)
It's a shame, because these shoes are super cute, and in like-new condition. I wonder if I can sell them
on eBay
. I've been doing that lately with some of my nicer items, like name brand pieces or items that I've only worn 1-2 times. Some other things I've been giving to friends, or just straight-up donating to my local thrift stores. I know I'll be putting my
Domino Dollhouse crinoline
up there soon, so if you're interested in a good deal, keep an eye out for it!
Oh yeah, I forgot to mention my awesome bakelite mahjong bracelet. It was a gift from Todd way back when we first started dating. I love it, but I'm always afraid something will happen to it! It's from a local antique store. I had been lusting after it for a while, and Todd snuck back there, bought it, and surprised me with it. Awww. :)
Rock On,
Jen @ Hell Razor
now playing: