I'm combining this week's #OWWWA #OnWednesdaysWeWearArt theme with my
Hearse Show
OOTD post, because I am very much inspired by the Tim Burton aesthetic in all of my artwork, and especially my outfit on this day!
It's no secret that I LOVE stripes, especially high contrast black and white. It's a pattern I'm drawn to in almost everything I do/make/wear, and it is a theme that also shows up in Tim Burton's art as well.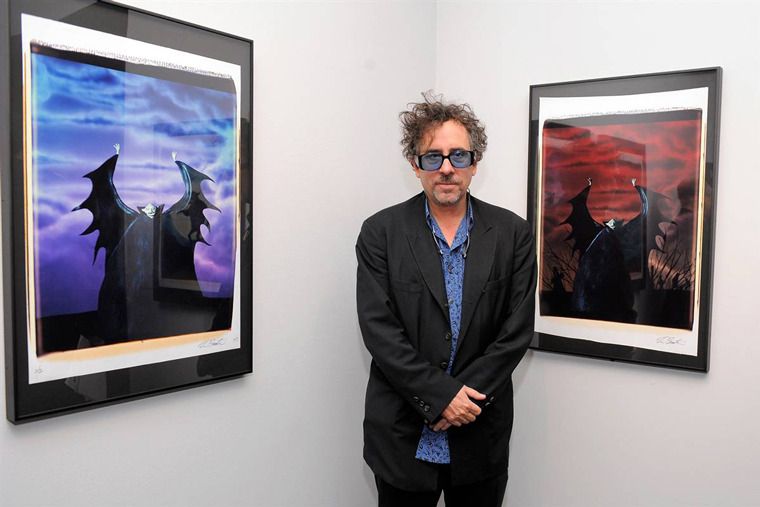 But wait - Tim Burton - he's the guy that directs movies, right? Yep, that's what he's most famous for, but he is also an amazing visual artist (clearly shown in the aesthetic of his movies) -
MOMA in New York even gave him a retrospective
in 2010. I would have killed to have been able to go!
Among Tim Burton's most famous movies are: Beetlejuice, The Nightmare Before Christmas, Edward Scissorhands, Ed Wood, Batman, Corpse Bride, Big Eyes, Frankenweenie, Mars Attacks!, and Pee Wee's Big Adventure. They all have an underlying darkness to them, a slight goth edge. Some more than others, but if you think about it, they're all there. I love that his style is so recognizable.
one of Burton's sketches.
Tim Burton's work is dark, but with a playful, whimsical side to it that softens it and gives it a humorous edge - his work is not the goth kid who takes himself so seriously that you worry whether or not you should report him to the guidance counselor. You know he's doing ok and just having fun with it. He's not afraid to laugh at himself or to be seen a little bit vulnerable or awkward.
This dark comedy kind of style is very much what I am drawn to, and what I emulate in my own work. I love colorful, cheerful, cute designs, but with a creepy undertone to it. I think that's why I love Day of the Dead themes.
So, for the
Hearse Show
, I decided to wear this black and white striped dress that I found at Kohls - it's part of their Milly for DesigNation collection. When I tried it on in the store, I realized how much the cut was like a pin-up-y, Hell Bunny-ish type of dress, only it was on sale and cost much less than one of those dresses! So I put a black crinoline underneath and it became even more awesomely fun and retro in style.
As I was going to be on my feet all day long, I didn't opt to wear heels. Instead, I went with my trusty striped ballet flats from Dr. Scholls. It was a good choice!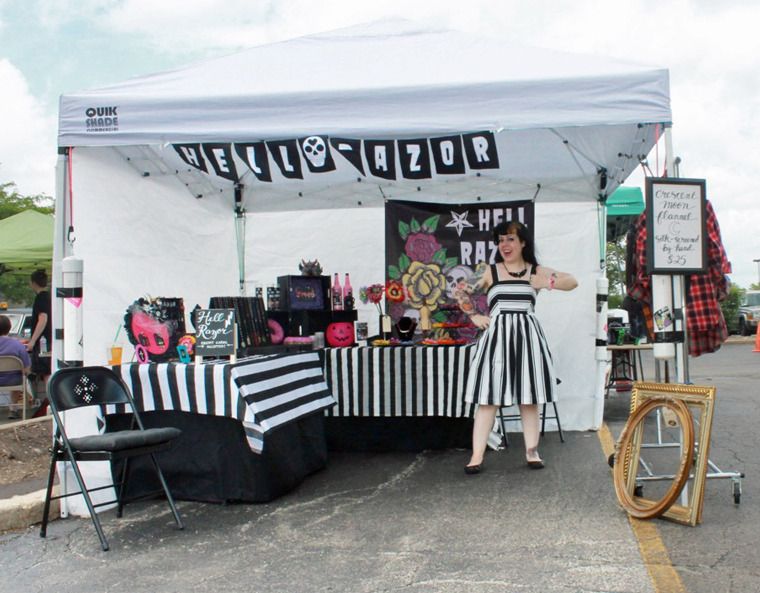 I match my tablecloths in the Hell Razor booth!
I always like to advertise my own products when I'm at a show, so I was sure to wear a Hell Razor flower in my hair, but I also wore a really awesome necklace from
Curiology Jewellery on Etsy
of a death's-head moth. It's made of black laser-cut acrylic with a white inlaid skull. I also wore a couple of my stretchy Tarina Tarantino bracelets to give a little pop of color and cuteness to all of the goth.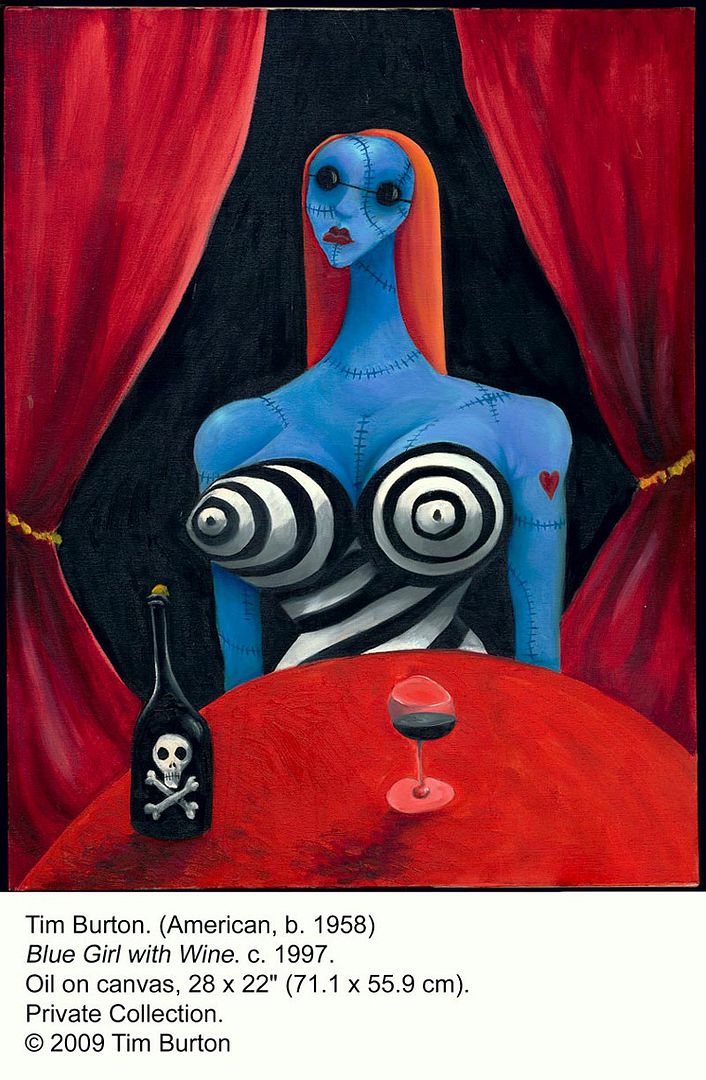 Tim Burton's blue girl has a striped dress, too.
Below is a closer peek at my Hell Razor hair flower. This is one that I made probably over a year ago, and never listed - I've just kept it for myself as my own personal piece I wear to shows. That doesn't mean, however, that I wouldn't make you a black and cheetah hair flower of your very own, or that I wouldn't sell you this one right off of my head if you saw me in person at a show!
I bought these round sunglasses from ASOS last year in the summer, and they've remained one of my favorites. I have to be careful though, because the arms and nose bridge are metal and could bend easily. So I keep them for special occasions, because if I stored them in my purse as an everyday pair, I'd surely bend them all up!
My parasol was probably one of the most popular conversation items at the show! I bought it as an afterthought, when I realized that I'd be out in the sun all day, and I wanted a way to beat the heat. I wish that I had bought a half-dozen of them and re-sold them at twice the price - I'd have made a ton! The parasol was a great way to avoid the harsh sun, and also make a fashionable statement. Plus, it's oh-so goth. :)
Here's a peek at my black crinoline - I think it's a great way to take a lightweight summer dress and make it look more retro and fun. Plus, you can change up the colors of your crinoline for different effects! I was worried that pairing a crinoline under the dress would make a hot day even hotter, but it was really no big deal!
I hope that you've been enjoying the return of #OnWednesdaysWeWearArt! If you're interested in participating, let me know and we can coordinate topics to see how we interpret the themes on our own!
Rock On,
Jen @ Hell Razor