Hey! It's FINALLY summertime! As in, I'm off of school! I don't care what the weather is, because in my brain it's SUMMER, no matter what! Not having to go to work, even if I do have like six different grad class/technology class-conference-type events to complete during break (approximately two months), I'll gladly take it!
Although I'm not quite ready to give up
#OnWednesdaysWeWearArt
, I'm kinda waiting on some direction from
Courtney
as to future topics. Who knows, I may just make up my own schedule. In the meantime, enjoy this OOTD, complete with Iggy photobomb as I'm trying to take my own shots.
I bought this skirt from
Kreepsville 666
after I saw that
Meagan Kyla posted about it on her blog
. How could someone NOT own a skirt with a spiderweb pattern? Seems like a no-brainer. :)
Also, now that I'm off of school, my two most favorite articles of clothing are my Ghost t-shirt and
my King Diamond t-shirt
. Followed closely by my Motorhead t-shirt. Do you sense a theme here?
Tights might seem ridiculous for warmer weather, but my legs are hella white and pale. Also, I hate shaving my legs. LOL. I suppose I won't wear tights all summer, but since it's still cool "enough," I'll continue to rock this look.
Megan bleached my bangs again, so I've gotten yet another step lighter. My goal is to get it as white-blond as possible. I've been dying my hair black for so long that we'll need to wait for most of my bangs to grow out before that can actually happen though. But I'm slowly but surely getting there!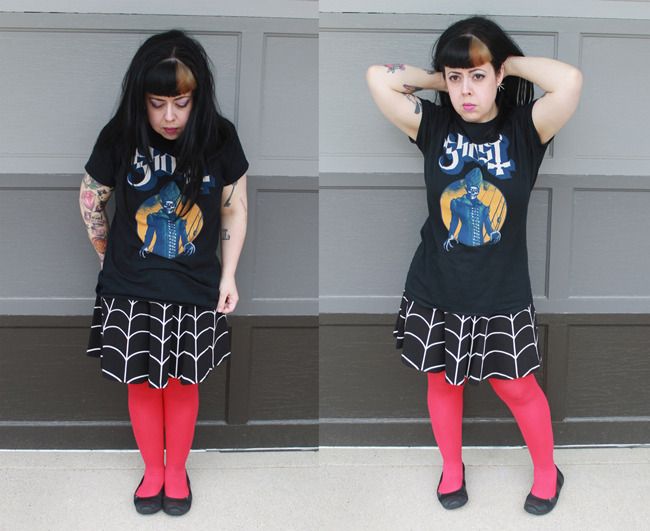 I really like wearing skirts and dresses. I bought my first circle skirt online today, and if all goes well, I hope to buy some more. I'm even going to test out a few crinolines to see if I like them, a la
my Toulouse-Lautrec #OWWWA post
.
Oh yeah, I also wanted to tell you about my earrings, since I get a lot of compliments on them when I'm wearing them. It's kind of funny - they're super inexpensive ones I bought at
Akira
in Chicago one weekend when I was out with Todd and we were waiting for
Kuma's Too
to open on a Sunday afternoon (Akira is literally right next door). I just thought that the back piece was cool, how you could wear the spiky section behind your ears. Seemed very heavy metal. Akira is not a "metal" store, more fast-fashion/trendy in nature, but sometimes the fashion context of the item can change the overall look. In this case, I think they look more heavy metal.
Oh! One last thing. I got a new lipstick shade that I'm wearing here. It's called "
Heroine
" from the matte lip collection by MAC. I got it for free because I recycled a bunch of old containers through the
Back To MAC program
. Yippee!
Rock On,
Jen @ Hell Razor