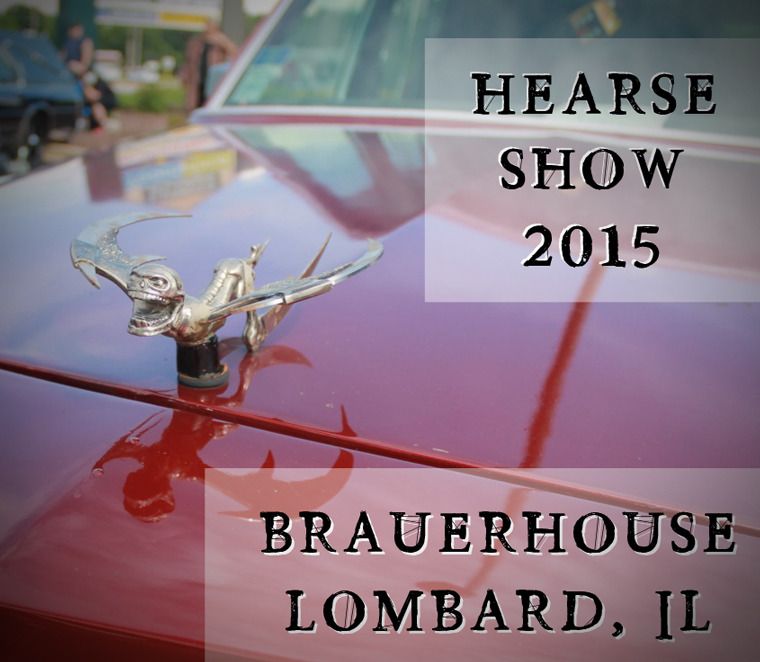 Saturday was the Hearse Show at
Brauerhouse in Lombard, IL
, and for the second year in a row, I had a vendor tent for Hell Razor.
Here's the post about last year
, if you're interested. The short version of this story is that we actually got rained out AGAIN, for the second year in a row, although I think the rain actually held out a little bit later than last time.
If you've never been to Brauerhouse, it's a great little place in the suburbs (I love when I don't have to travel into the city!) with really good food and a rock 'n' roll vibe. They host concerts in the evening, and according to reports from Steph and my brother Sam (who have both attended shows here), it's a pretty good venue! So, it seems only natural that Brauerhouse would be the setting for a Hearse Show.
Brauerhouse also hosts car shows on the regular in the summertime.
Steph talked about that last summer here
. There's a big parking lot right outside the Brauerhouse, so lots of room for hearse parking and vendor tents! Check out some of the highlights below: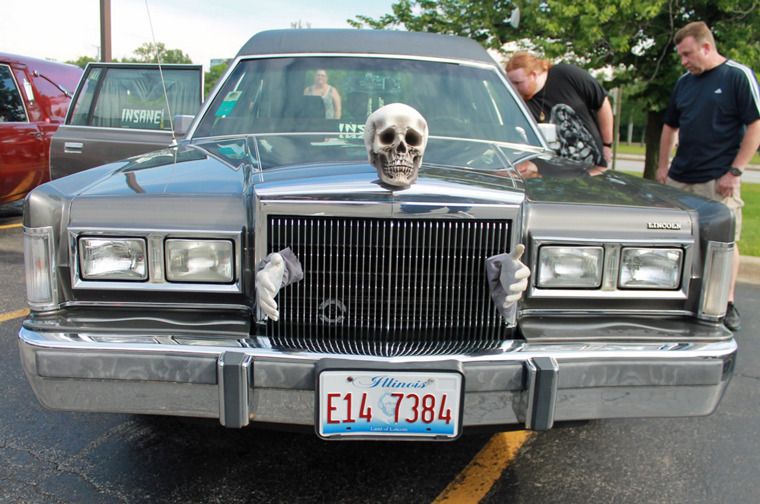 One of the things that I always enjoy about hearse owners is the way that they go all out to decorate their cars with fun (and sometimes cheesy, haunted-house-like) halloween decorations! As an avid halloween fan, it's fun to have an event that's NOT in October to indulge my love for all things halloween.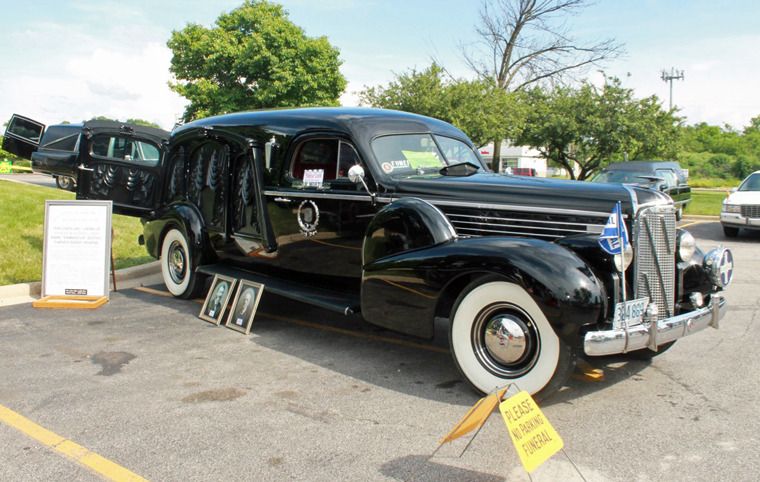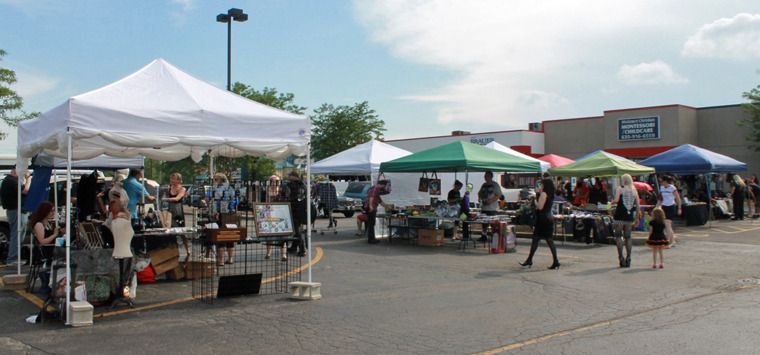 The vendor tents were higher in number this year, which was nice because people will come with more intent to shop! Not only were there several of us selling jewelry and accessories, but there were cool vintage, antique, and oddities (usually more morbid and funerary in nature) with awesome unique things to buy! This antique wheelchair below screamed "
GRANDMAAAA
!" at me in a King Diamond voice every time I passed by. I'm pretty sure it sold, too!
I was especially proud of the Hell Razor tent this year - I had a corner spot, which enabled us to set up in an L-shape so that people could walk through and browse:
I even wore a sweet black-and-white-striped dress that coordinated with my striped Hell Razor decor (I'll show you that in a future OOTD next week!), which was super fun. Any time I can go a little bit more "amped up" in my look (fluffy crinolines, faux eyelashes, dramatic makeup, etc) is super fun for me.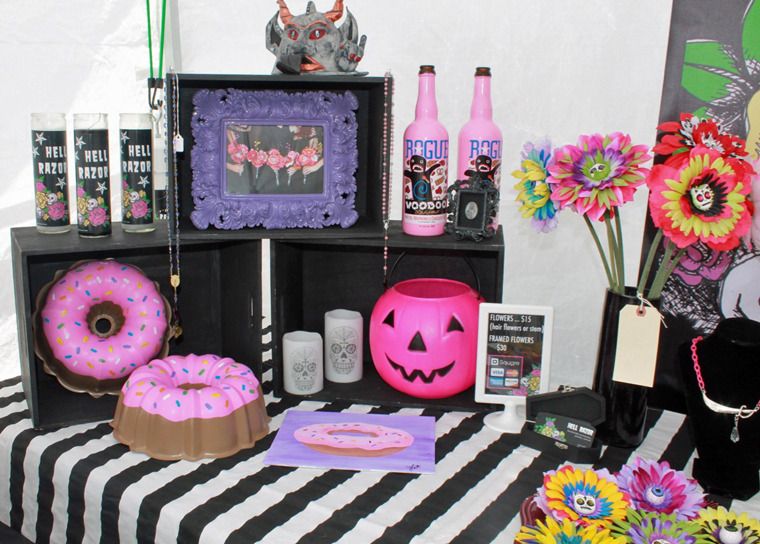 I like to think of the Hell Razor aesthetic as "Halloween + donuts." I gotta admit, I felt a little bit like I wasn't dark ENOUGH at this show, whereas normally I feel a little TOO dark at my other vendor events. Is there anywhere I truly belong? Wahhhh. :)
(Side note: check out that awesome photo of the bouquets at Lisa's wedding that I made! I'm working on a little photo album to put out at shows that features Hell Razor pieces IRL - like weddings, on instagram, from my pinup shoot, etc...)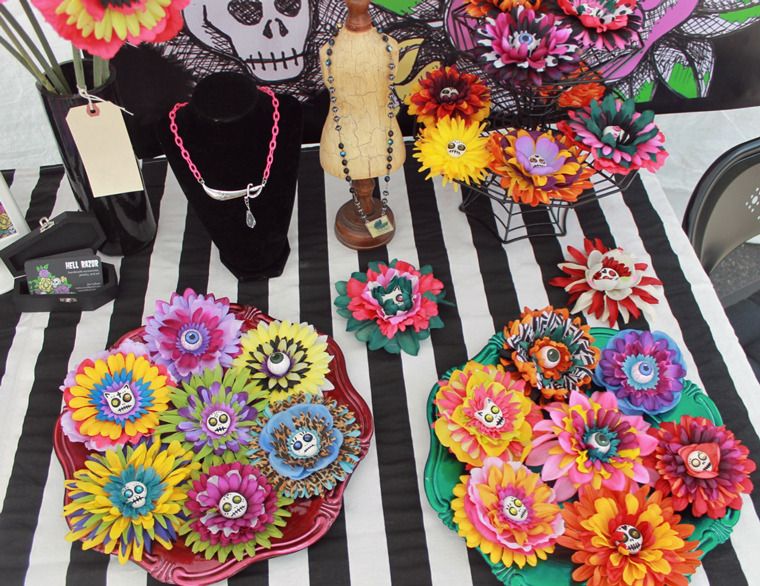 I made about a half-dozen new flowers to sell for this show, and I'll be getting the ones that are left up in
the etsy shop
really soon!
I really loved how the display turned out this time around. I have this vintage train/makeup case that I was able to rig up with a wire for hanging earrings on display that I thought turned out especially cool:
Right before the big rain (we got absolutely DRENCHED packing up the tent into the car), my friend Candy, who is part of the club that runs the show, got us in to meet
Svengoolie
! Bonus! And Saturday was actually our (6th) wedding anniversary, so it was extra fun to share this moment: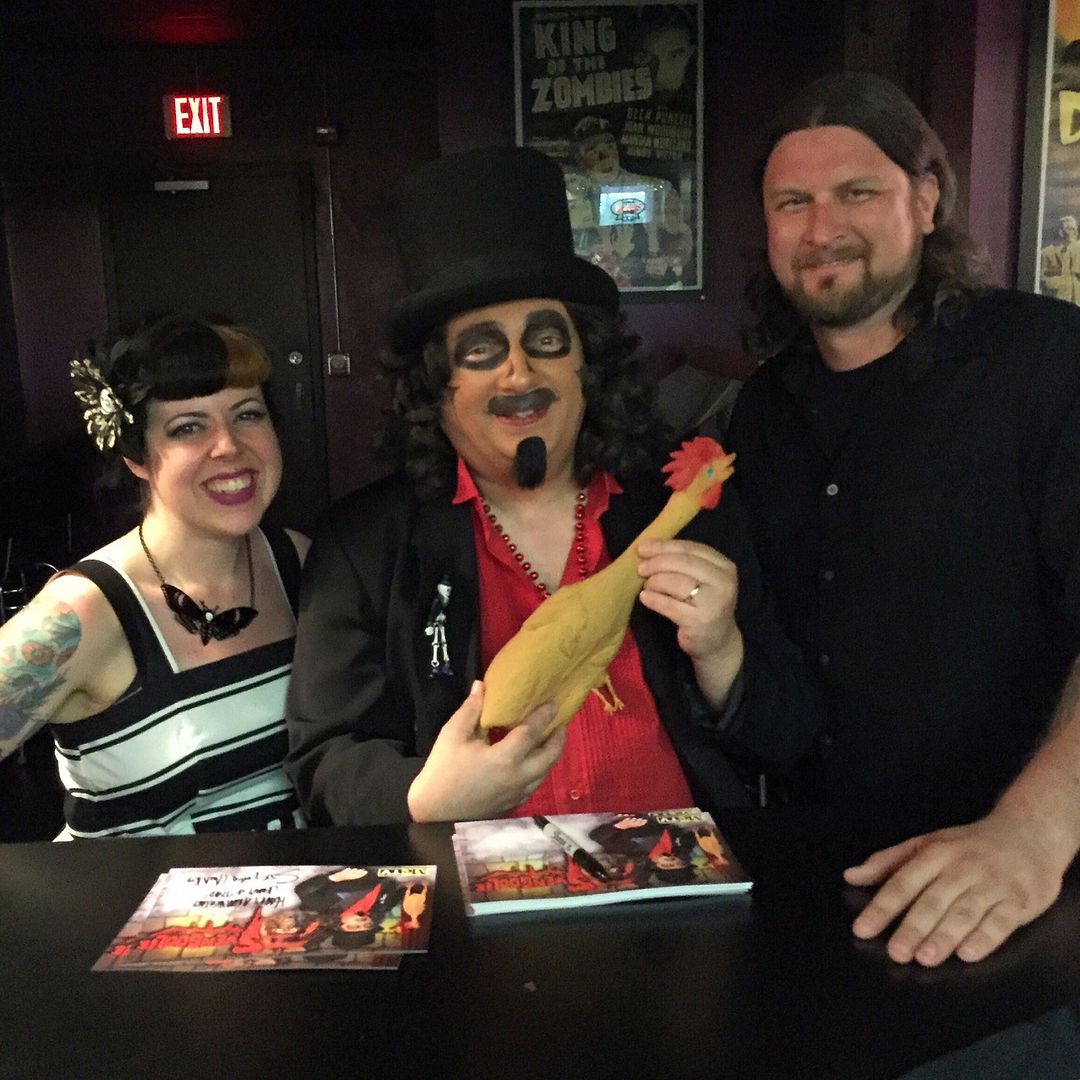 So, getting drenched was not as awesome as
last year's anniversary events in Las Vegas
, but it was still super fun. Hopefully, the show will continue next summer (and it might not rain!), and in that case, I'll definitely be back again! I met so many fun people, and even made a little bit of money in the process.
My next vendor event this year will be in September at the Brookfield Arts Fest on September 26th from 9 am to 4 pm. Mark your calendars!
Rock On,
Jen @ Hell Razor
now playing: