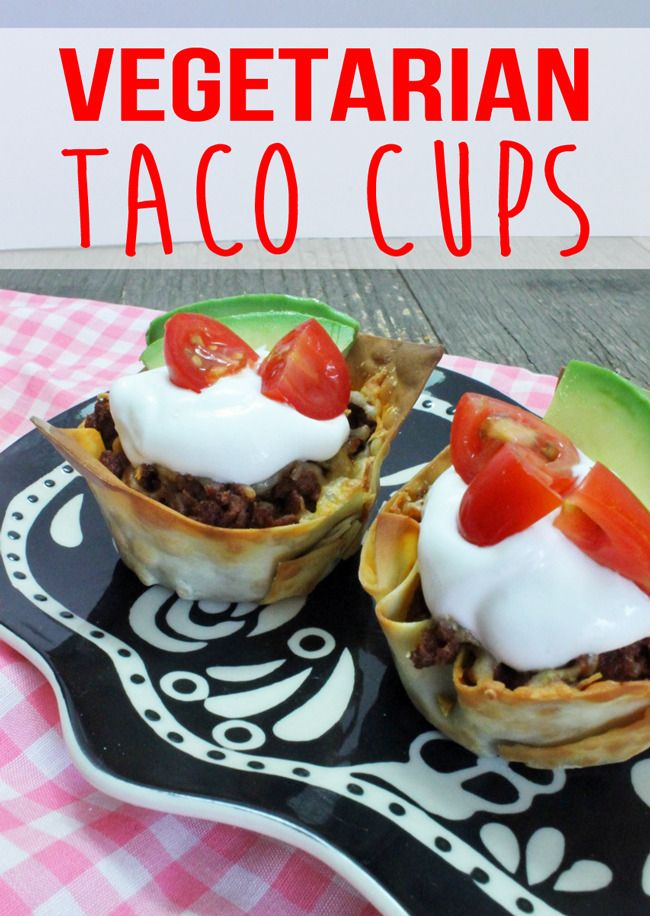 Ok, so it's not exactly oven-weather... crank up your air conditioner, and make yourself a pan of this yumminess. You won't be sorry. Today's recipe is great as a main course, as an appetizer item, or as a pot-luck take-along. They're super portable, vegetarian, and delicious. I actually like to eat these the next day... sometimes I don't even bother to heat 'em up. :)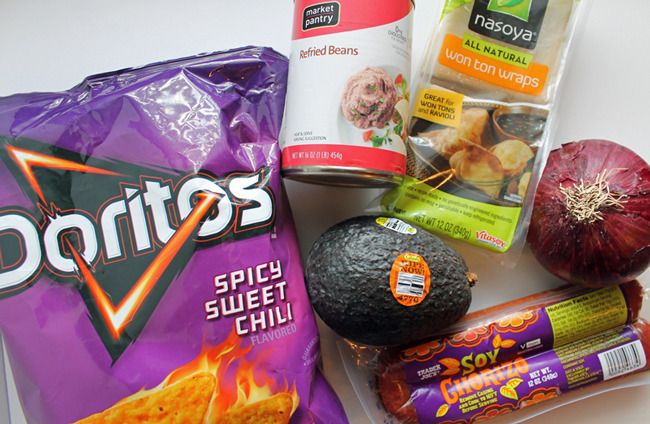 Here's what you need to make...
VEGETARIAN TACO CUPS:
(adapted from
this recipe
) - makes a pan of 12
1/2 medium red onion
Won ton wraps (you'll probably only use about 1/2, so save the rest and make something awesome and desert-y like this with them)
1 can of refried beans (check ingredients, or buy a can specifically labeled "vegetarian.") - again, you'll probably only use about 1/2 of this.
Spicy Sweet Chili Doritos - I love these! I got hooked on them from Natalie's Doritos-Crusted Tofu recipe on Bake and Destroy. You won't use the whole bag for this recipe. However, try not to eat them all until the taco cups are done. Not that I've done that before or anything.
Soy chorizo - I get mine from Trader Joe's, but you can usually also find this in the produce section at good grocery stores.
Shredded cheese (not pictured) - whatever flavor you like. I think I used a white and orange cheese blend. You know, fancy.
Avocado or guacamole (optional) - for topping
Sour cream or Greek yogurt (optional) - also for topping
Any other desired toppings: tomatoes, pico de gallo, cilantro, sliced almonds, shredded lettuce, jalapenos... hmm what else can I add?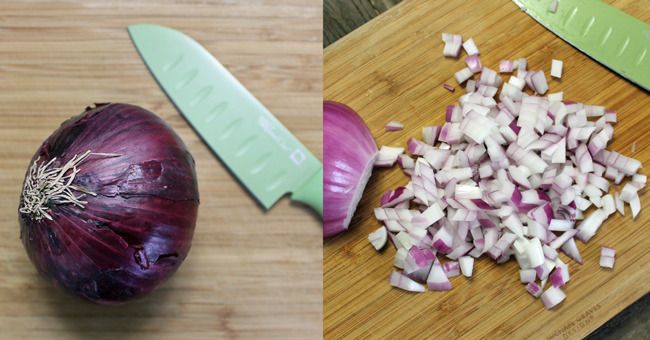 DIRECTIONS:
1. Preheat the oven to 375 degrees.

2. Chop up your onion, tiny diced style.

3. Spray inside the cups of a cupcake pan with olive oil/non-stick spray.
4. Line each cupcake cup with two won ton wrappers. I like to get fancy and turn each one opposite the other so it overlaps on the bottom and covers nicely:
5. Put about a tablespoon or so of refried beans on the bottom of each cup. Smoosh it down with your spoon, or if you're feeling super professional, your fingers:
6. Sprinkle some onion on top of that. You see the photo, what is that? A teaspoon? Two teaspoons? Don't like onion? Skip it. What do I care.
7. Crush a Dorito (or two, if you're feeling saucy) into each won ton creation, on top of your refried beans/onion mix. Whatever Doritos are left after this part are yours to eat, while the rest of the recipe is cooking. You know, like an appetizer.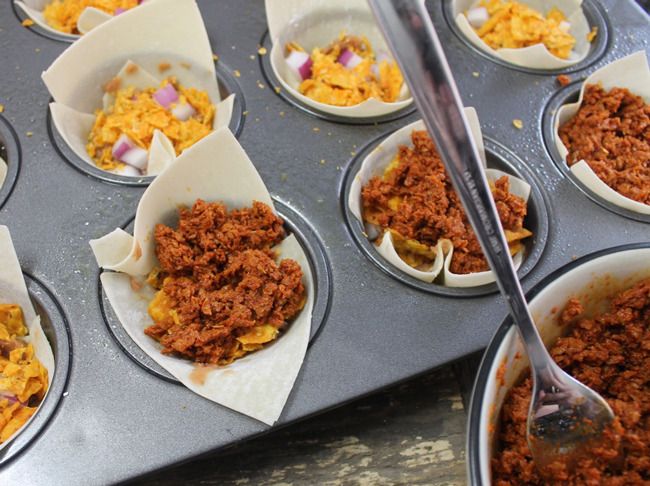 8. Now, use a spoon (I think I actually used a fork) to put like a tablespoon or so of soy chorizo on top of all the other stuff. Soy chorizo comes in a long sausage-like casing, so I first had to open it up into a bowl and break it up a little. But then it's just crumbly "meat" that you can spoon on.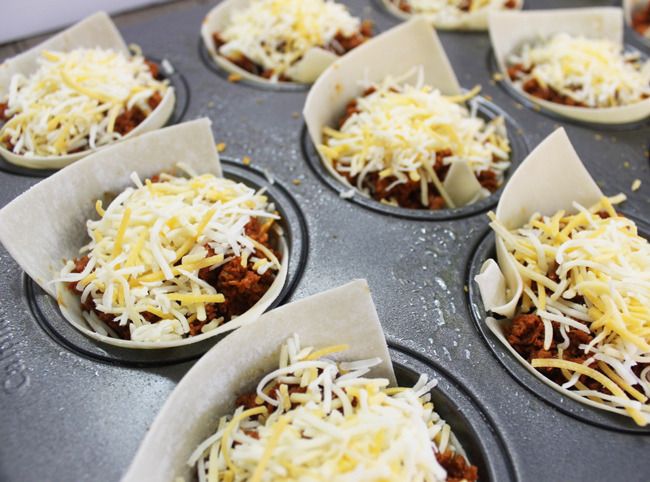 9. Now, shredded cheese, maybe another tablespoon? Can you tell I don't measure? Well, you don't have to either. This is my favorite type of cooking.
10. Hopefully your oven has heated up by now. Put the pan into the oven for 15 minutes, then check. Mine was good in 15. If your won tons don't look brown and crispy, and your cheese isn't melted, then give it another 3-5 minutes. Don't burn it.
11. Take the pan out of the oven, and let them sit for like 10 minutes or so before topping them with your favorite cold toppings: sour cream, avocado, tomatoes, and the like. If you're having a party, you could offer up the toppings buffet-style and have guests top their own cups whatever way they damn want. Stupid picky eaters.
Awesome skull plate - Cost Plus World Market @ Halloween time
12. Eat it!
What I really like about this recipe is that I don't have to mess with seasonings, since the soy chorizo has a ton of flavor, and spicy sweet chili Doritos add that just-right extra flavor goodness.
The other bonus about this recipe is that it is super customizable and flexible. Don't like beans? Skip 'em. Prefer black beans? Do that. No chorizo? Try fake meat crumbles + taco seasoning. Or ground faux sausage. Put other veggies in there. Get crazy! Woo hoo! Okay, maybe not too crazy. But you get the idea. Now go make some good food.
Rock On,
Jen @ Hell Razor
now playing: