On Saturday, June 20, our family went to a food truck rally with Lisa's family. We met a group of friends there and got to sample some delicious treats! I'd never been to a food truck event before, but Lisa and friends were veterans, so I was able to get some pro tips along the way...
The "
Truckin' Around Food Truck Extravaganza
" was held in the parking lot of the Schaumburg Boomers stadium in Schaumburg, IL. Unfortunately, it was a super cloudy and foreboding "
Will it rain
?" kind of a day, so not a whole lot of people showed up (this was previously a regular monthly event) - but this meant NO lines for us, so that part was really good. From
their Facebook page
though, it looks like this lack of customers may have been the nail in the coffin for this event... unclear whether or not it'll happen again. Be on the lookout, just in case. I know I'd like to go back.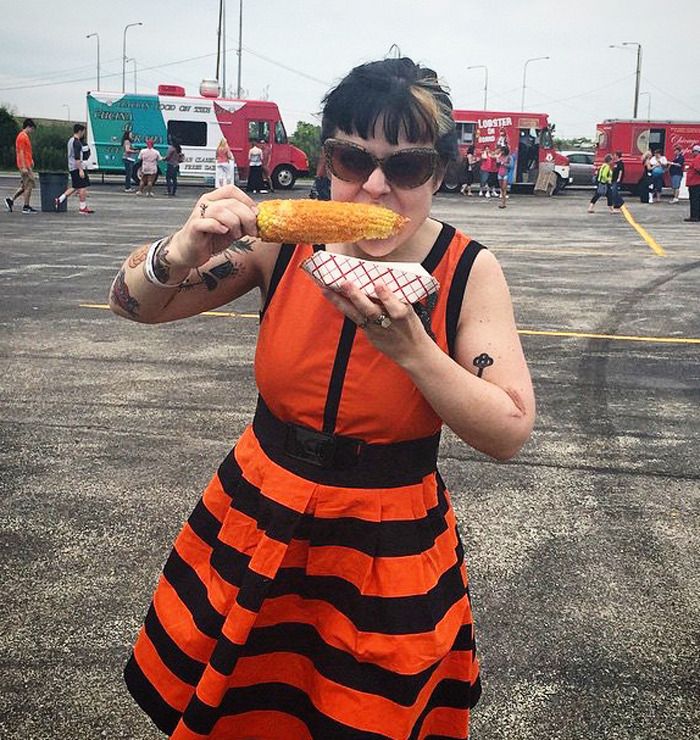 This is the first time I've ever eaten elote. It was freakin delicious!
There were probably close to 20 different food trucks at this event, from all over. Trucks included Toasty Cheese, Piko, Doner Men, La Cocinita, Haute Sausage, Pierogi Wagon, Jerk, and at least four different cupcake trucks (!!!). It was a little overwhelming at first, trying to decide where to start! (I went with a lobster roll.)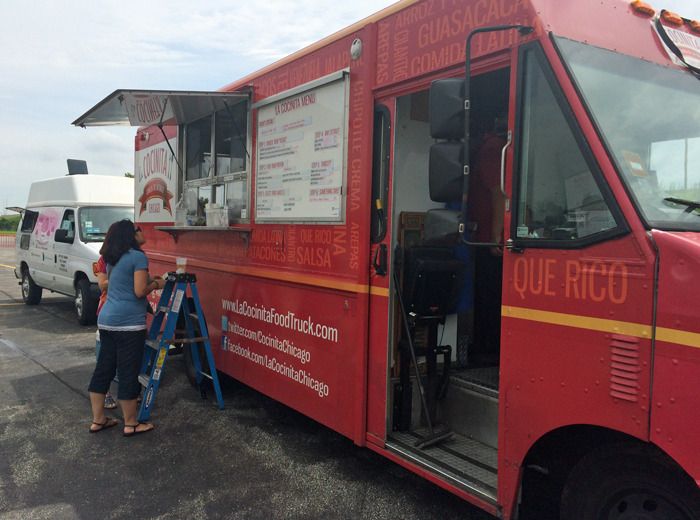 La Cocinita had rum raisin bread pudding. BREAD PUDDING. Yes.
The portions were all pretty much FULL portions, which made sampling a little difficult... unless you're with your husband, like I was, so we could share everything. That helped! A couple of places had options for smaller portions, like Piko, who offered tiny sliders in sets of 1, 2, or 3, or the Toasty Cheese truck, who offered half sandwiches - this was a life-saver for a mom of a 3-1/2 year old!
Yep, it sounds delicious, but I was too full by this point.
So, we started with a lobster roll, and shared some pierogi with Lisa. Then I went for the corn (pictured at the top of this post), although I couldn't even eat half of it before I was feeling too full, so I had to sit and settle for a while.
Thankfully, Lisa and friends were super prepared with collapsible chairs - Lisa' husband even had this freakin sweet collapsible BENCH we could all share! And the whole event is fenced in, so our group of four little boys had a blast running around and kicking a soccer ball.
There is beer at this event, but I can't really do beer anymore, so I missed out on that part. Whomp whomp. Most trucks had other alternate options though, like sodas and water.
Todd got the most amazing teriyaki tofu slider at Piko. I became so obsessed with it that I made my own version the following week at home, which I hope to share with you on the blog soon!
There were several good options for vegetarians at the event - Piko offered tofu as a protein on any of their options, the Pierogi Wagon had three different non-meat options, and Doner Men (below) had a vegan sausage option - which I purchased, but had wrapped to-go for later. Oh man it was delicious!
I think
Doner Men
was my favorite truck of the day. Not only was their food delicious, they had awesome vegetarian/vegan options, AND the truck was itself was INCREDIBLE! So heavy metal!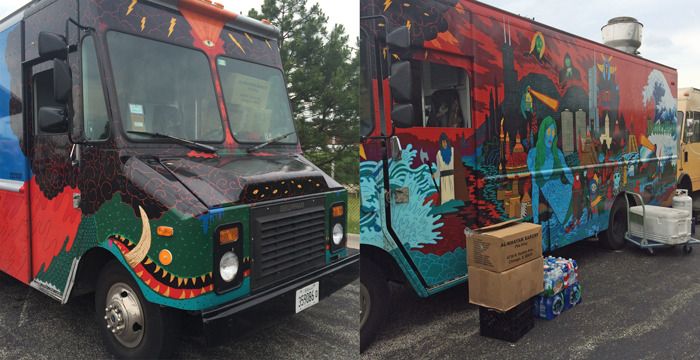 This mural gives me
Metalocalypse
vibes. Oh yeah, they had curry fries. Ughhh now I'm hungry. I checked their schedule and they're all over Chicago, if you're the city type. I wish I was, but I'm such a wussy suburbs girl...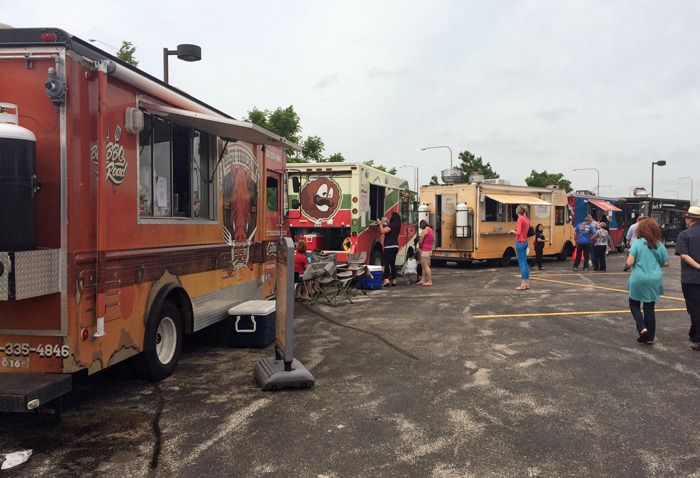 I did grab some of that bread pudding (mentioned earlier in the post) before we left. It's nearly impossible for me to turn down bread pudding. Or carrot cake for that matter.
By the way, we're sitting on the ridiculously huge but awesome collapsible bench right here.
We were lucky because it ended up not raining, and it wasn't too sunny until the very end when we were leaving. What did we do after we left? Cupcake store. Because four cupcake food truck options weren't adequate? Nerds.
Hey I know that girl! She's not actively blogging, but she's still around. :)
This was a super fun day. We actually traveled around a bunch after this, stopping at a toy store, resale shop, and winery before finally crashing back at Lisa's house. And then it finally started raining!
Do you have a favorite food truck, or type of food truck?
Rock On,
Jen @ Hell Razor
now playing: