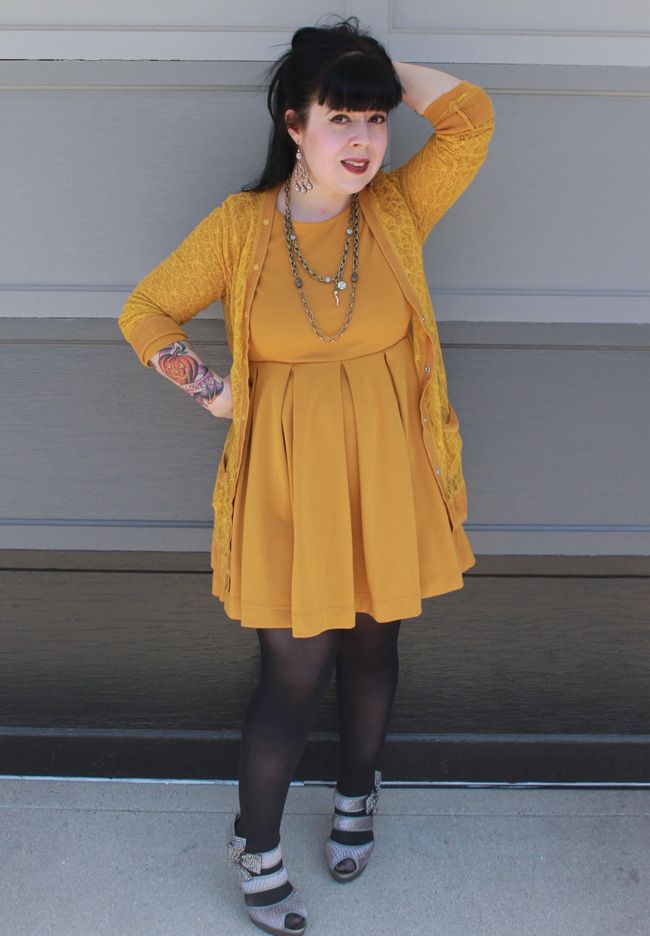 dress - H&M (thrifted) / cardigan - Rodarte for Target (old) / tights - unknown / shoes - Poetic Licence via Von Maur (old) / necklace - Chloe & Isabel / earrings - Nordstrom (old)
Hello to another installment of #OnWednesdayWeWearArt! This week's artist is Gustav Klimt. As usual, I struggled to find something to fit the theme, but once again, I think I pulled out a pretty good interpretation! There's a wide mix of items here, but I think it all comes together to a sparkly, metallic-y, gold-toned end result!
Gustav Klimt is an Austrian painter, most well-know for the above painting, titled "The Kiss." I told Todd that he could kiss me in a photo to try to re-create the scene, and he suggested including a busily-patterned blanket to drape over ourselves, of which we had none. Therefore, no kiss photo. I'm sure you're probably cool with our lack of PDA in this post. :) I decided to go with the gold theme for my outfit, and shockingly, I had a mustard-y, gold-ish dress that I had picked up at Savers several weeks ago, before this topic had come up. I put my lace cardigan on top (you've seen it
here on #OWWWA before
), and added my
Chloe + Isabel charm necklace (Steph sells this stuff)
.
As I was putting on my makeup (gold shadow, natch) I remembered my wedding earrings! They're sparkly chandelier dangle earrings - very Gustav Klimt! So, I put those on, too. I was originally going to wear my black flats with this ensemble, but then I remembered my sparkly metallic high heels (only for super-fancy events, like other people's weddings) and I couldn't NOT wear them. Obviously not gold, but very glittery and metallic, so I decided that they very much went together.
Via
Wikipedia
:
In 2006, the 1907 portrait, Adele Bloch-Bauer I (pictured above), was purchased for the Neue Galerie New York by Ronald Lauder reportedly for US $135 million, surpassing Picasso's 1905 Boy With a Pipe (sold May 5, 2004 for $104 million), as the highest reported price ever paid for a painting.
I also learned while researching Gustav Klimt that his gold paintings are part of a period later in his career known as his "Golden Phase" that included the use of gold leaf. Apparently Klimt's paintings prior to the Golden Phase were overtly erotic, featured lots of naked ladies, and his work was criticized as "pornographic." Ooh la la!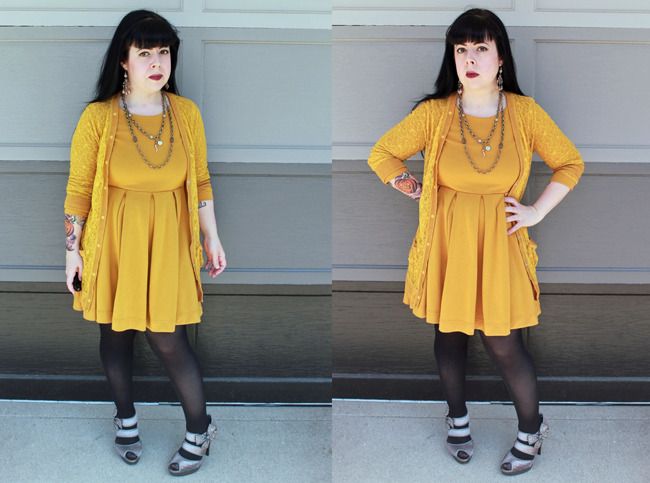 Apparently I need to work on my color correction when editing photos. Sheesh.
The above painting,
Medicine
, was actually destroyed by retreating SS forces in 1945.
There's a movie in theaters right now about Klimt's artwork and the fight over ownership (
Maria Altmann
vs the Austrian government) after artwork is stolen from a family by the Nazis during WWII. It's called "
Woman In Gold
," and I think I'll probably end up checking it out. I saw the trailer back in January (appropriately, as I was in the theater to see "
Big Eyes
," another art-related flick).
I can't remember the last time I wore these earrings... would it really have been at
my wedding
? I never realized how Klimt-like they are prior to this post. Even over five years later, I still love these earrings to death!
These super ornate and highly decorated paintings by Klimt really speak to me. I like to create meticulous, detailed work. Maybe because it forces the artist to get into "the zone" and tune out the rest of the world while doing it. I like that sort of work.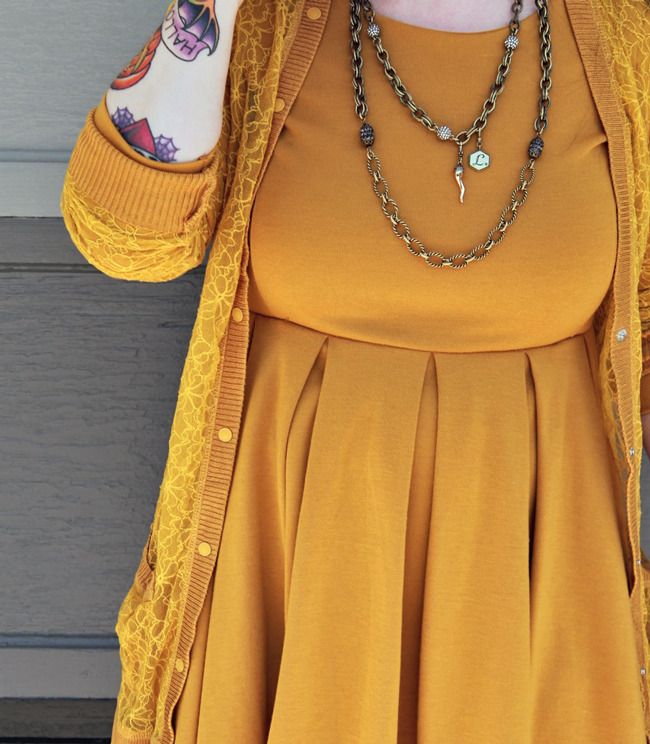 This is the
Tresors chain and pave necklace set
from
Chloe + Isabel,
along with a
Tresors initial charm
and a
Tresors horn charm
. I really like this set - I just wish that new charms would come out, because I would totally buy some!
These shoes are serious business!
#OnWednesdaysWeWearArt is a feature originally created by Courtney over at My Friend Court. Please be sure to stop by to see what's going on in her #OWWWA world!
Rock On,
Jen @ Hell Razor
now playing: