dress - Hell Bunny (thrifted!) / shoes - Swedish Hasbeens / hair flowers - Hell Razor
It's Wednesday... and you know what happens then! #OnWednesdayWeWearArt! Today's artist theme is very near and dear to my heart: pin-up artist Gil Elvgren! He is an American illustrator who studied at the American Academy of Art right here in Chicago. He actively worked from the 1930's through the 1970's, and specialized in pin-up style "pretty girl" illustrations.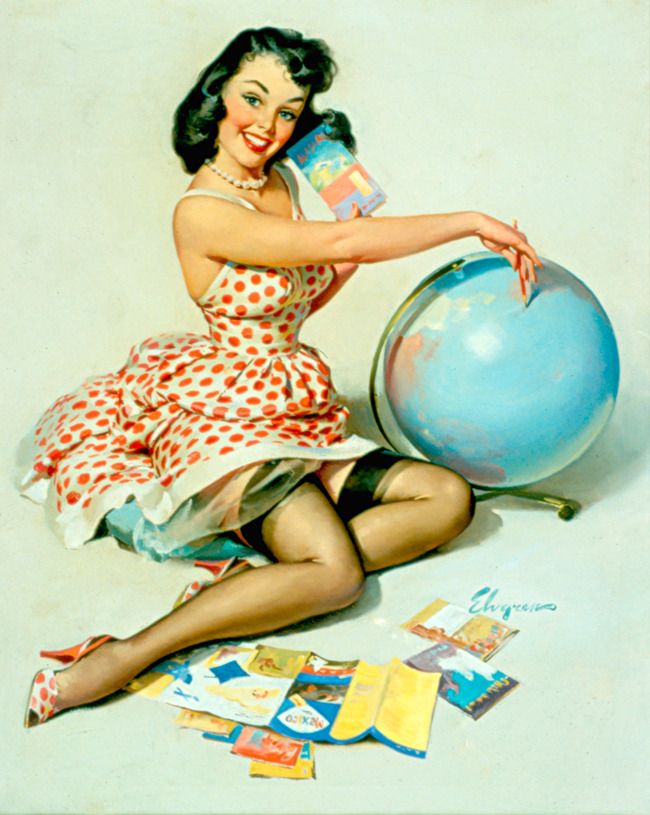 I wrote a post a few weeks back about
my official "pin-up" photo shoot here
, if you're interested. For my OOTD photos here, though, I stuck with a pin-up-inspired look, rather than going full-blown pin-up clothing and poses.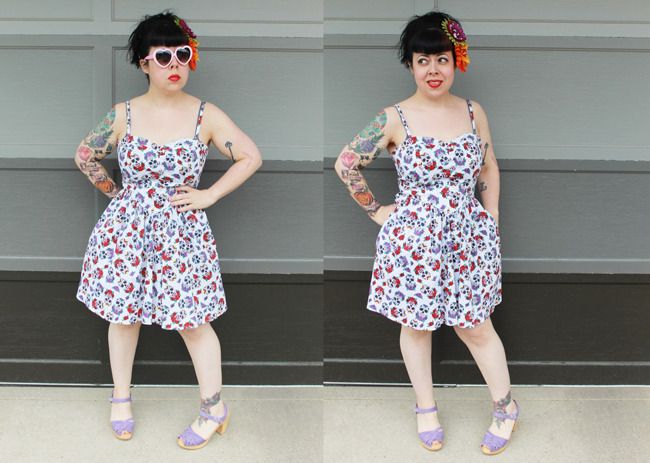 I found this Hell Bunny dress at the thrift store for $9.99! And I had a coupon! Every once in a while I really luck out, and seeing as I had sold my other Hell Bunny dresses, it's awesome to now have one for the summer that fits! Woo hoo!
Fun fact: I learned that Gil Elvgren worked for a while in Winnetka, IL! His illustration clients included Coca-Cola, Sealy mattresses, and General Electric.
I just love the fashion of Gil Elvgren's models. The sweet retro dresses and perfectly coiffed hair are so good! Side note: I'm super self-conscious when I take photos outside. The lighting is great, but there's usually one or more neighbors outside or I've convinced myself that they're laughing watching me from their windows. Yeah, that's my own problem to get over, but for now if you're wondering why my poses aren't more "pin-up"-y... well there you have it. I'm weird about posing outside.
It's super easy to spot an Elvgren because he always signed his name in cursive in the same way near the bottom of all of his paintings. So although there are many pin-up artists out there, there's no question about which works are his.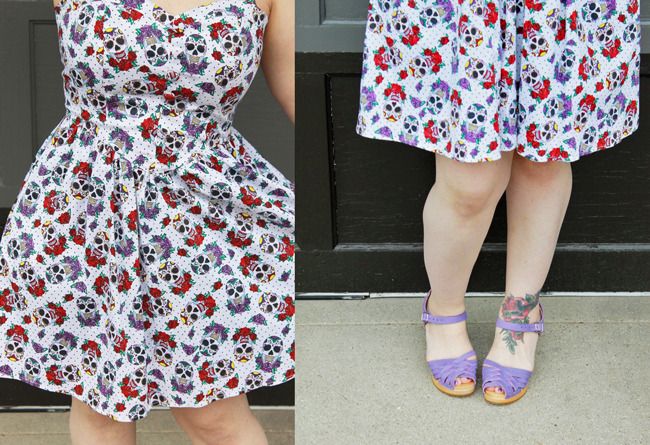 Here's a close-up of the skull pattern on my dress. Very Dia de los Muertos! And my sandals are Swedish Hasbeens. Courtney posted a photo on instagram of her purple Hasbeens many weeks ago, and I became obsessed with finding a pair of my own at a decent price. Amazon finally came through on this, although I'm still in the breaking-in process. If anyone has any tips on expediting this process, please share!
I couldn't pass up this Elvgren image since she's an artist. And she's wearing a flower in her hair.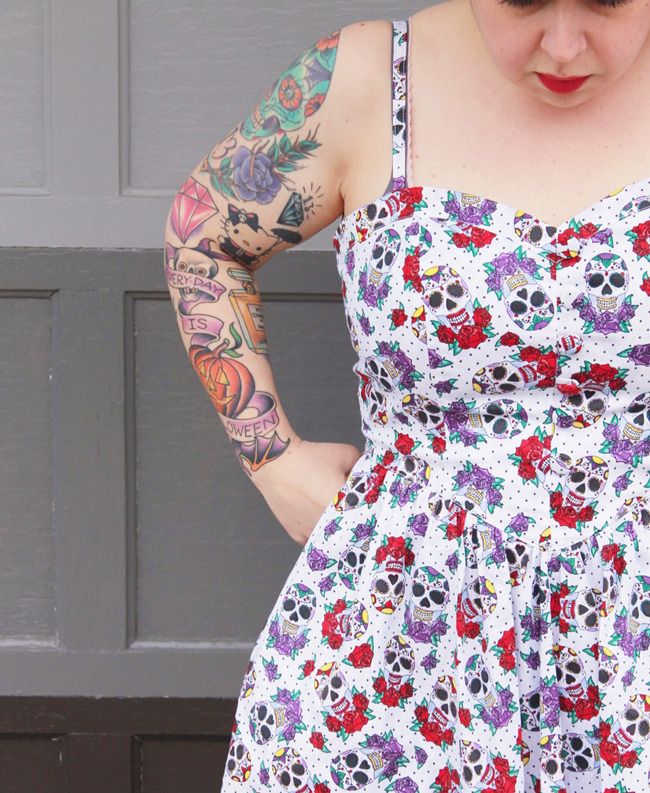 That's a pretty good shot of my arm and all of my tattoos so far. I do have plans for more, eventually, but only time will tell as far as when that'll all come to fruition.
These flowers are ones that I make by hand and sell in
the Hell Razor etsy shop
! In fact you can purchase these exact two flowers,
here
and
here
. Oh, and in case you were wondering, I'm working on bleaching a chunk of hair in my bangs, but for now it's just a copper-y color until I can grow more out.
#OnWednesdaysWeWearArt is a feature originally created by Courtney over at My Friend Court. Please be sure to stop by to see what's going on in her #OWWWA world!
Rock On,
Jen @ Hell Razor
now playing: