dress - Tucker for Target (thrifted) / shoes - Swedish Hasbeens / bracelet - Chloe + Isabel / earrings - Chloe + Isabel
Happy #OnWednesdaysWeWearArt! This week's artist inspiration is American painter Georgia O'Keeffe. My absolute most favorite photo of her is this one on the back of a motorcycle: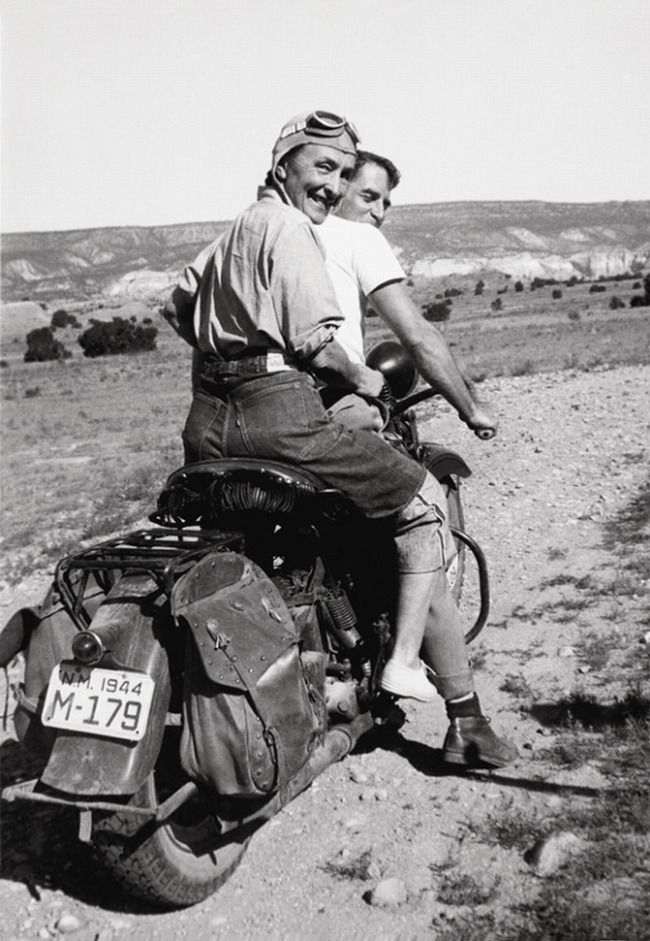 I have my motorcycle license, but I have yet to ever actually ride one out on my own. Whomp whomp. Georgia O'Keefe is mostly known for her abstract florals, but she also painted SKULLS:
...how could I not take this opportunity to take a copious amount of selfies with a skull then?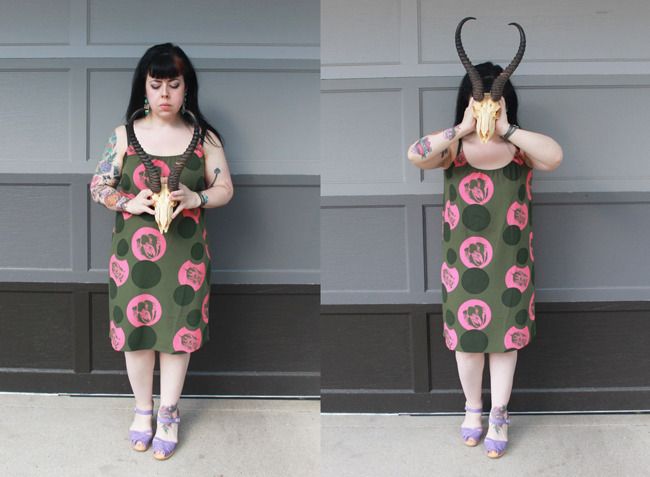 Ok, now that we've gotten that out of our system, let's talk about the OOTD. This dress has abstract flowers on it. They're tulip-like. Do you see them in the pink dots? I actually did not until after I had bought this dress (thrifted, like $7!) and was walking down the hall at school and got stopped by a co-worker. She was like, "What are those? ...oh, I see, they're flowers!" and I was thoroughly confused at first, but now I can't un-see them and feel dumb for not recognizing it in the first place. Heh.
This outfit is also intentionally simple. Just a dress and a couple of accessories. Georgia O'Keeffe doesn't have a lot of stuff in her paintings. She tends to stick to one subject, up close, and keeps it pretty simple, even with color schemes.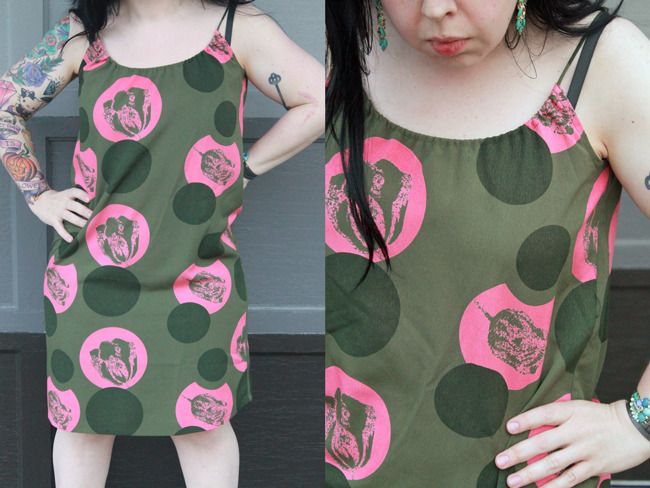 The painting below was the closest I could find to match my color scheme today with hers:
I was unsuccessful in finding a painting of tulips. But that's ok. I'm wearing an abstract floral. And that works.
In sticking with the floral theme, I wore these
floral chandelier earrings from Chloe + Isabel
. They are too cool! I'm also wearing a
wrap bracelet from Chloe + Isabel
that has turquoise tones in it, which remind me of the American southwest, and was also a popular subject of O'Keeffe's.
Georgia O'Keeffe was married to photographer Alfred Stieglitz, who was 23 years her senior, and they started dating when Stieglitz was still in a previous marriage. ¡qué escándalo!
When Stieglitz retired from photography in 1937, he had made more than 350 portraits of her. This sounded really sweet. Then I did some more digging into their relationship and I discovered that he had several relationships outside of their marriage before his death in 1946, which just kind of reinforces the "once a cheater, always a cheater" stereotype. That's depressing.
I chose the painting below because it reminded me of the colors of my earrings:
I'm still afraid to actually wear my Swedish Hasbeens out and about. In the meantime, they are doing well for outfit photos...! I am considering buying shoe stretchers to use in them. And then wearing them for very short stints, with backup shoes on me just in case. Aw, I'm a wuss.
On a positive note, I am only 5 days away from the last day of school! Woo hoo! And I have some big news to share on that front... stay tuned next week for all of the details.
#OnWednesdaysWeWearArt is a feature originally created by Courtney over at My Friend Court. Please be sure to stop by to see what's going on in her #OWWWA world!
Rock On,
Jen @ Hell Razor
now playing: