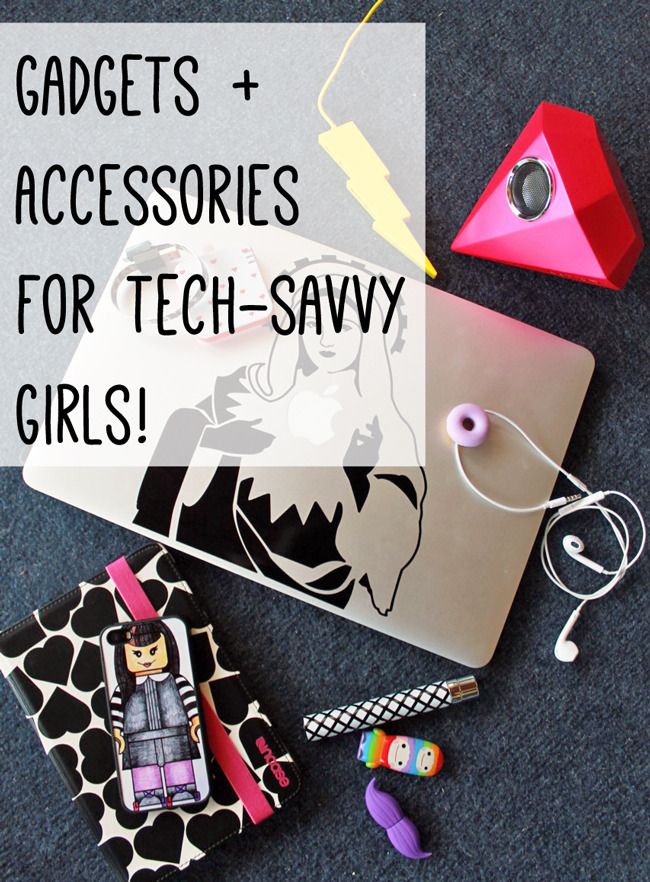 I was having one of those weeks where I could not come up with a good blog post... I was messing around on my phone, and I got the less-than 20% battery alert. I reached into my bag of tech stuff to find a cord, and I thought, "Hey! I have a lot of cute girly/creative tech gadgets that I should be sharing!" and thus this post was born. Of course, my proclamation of "girly" does not mean that guys can't enjoy them, too, just that I'm a girl and I think that they're pretty darn awesome.
Since a low battery was my original post inspiration, I'll start with some charging options:
The battery pack with the hearts on it is from
Ban.do
. You charge the pack ahead of time via your computer (and a separate cord), and then you stash it in your tech bag. When your phone is getting low, you plug the pack into the phone. This will slowly charge your device back up, even if you're using your phone at the same time. Ban.do actually offers several different designs on these packs. They cost $30 each, and are for iPhone 5/5S/5C/6/6 Plus.
The long black and white charger is from the Target dollar spot! I think it only cost me $3? Maybe $5. Not sure. But this charger uses two AA batteries! I think it's a great idea for travel when you're stuck on a plane/train/bus or in the car and you can't recharge your battery pack. Just hit up a convenience store, grab a couple of batteries, and you're all charged up and ready to go! The end of this charger has a USB port, so you'll need your charger cable in addition to this battery pack to make it work.
Speaking of cables and USBs...
My laptop never has enough USB ports. I found this really cool lightning bolt USB via
Kikkerland
. Looks like they don't have this version on their site anymore, but they do have a super cute cloud version!
During the holiday season of 2013,
the CDFA (Council of Fashion Designers of America) partnered up with eBay and a bunch of designers to sell these magnetized "tech" bracelets
that act as cords to connect your devices to your laptop (it comes with several adapters for the end). It sounded really cool, so I bought one.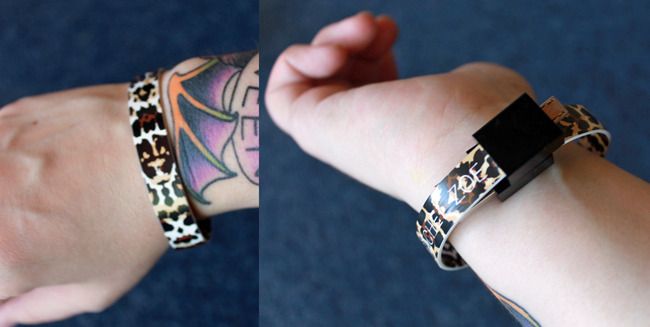 I was excited to get the leopard-printed Rachel Zoe design. Although it looks cool, I kept knocking the magnet (and thus my bracelet off) and I was worried that I'd lose it. So I stash it in my tech bag, and don't really wear it as an actual bracelet. Great idea, though!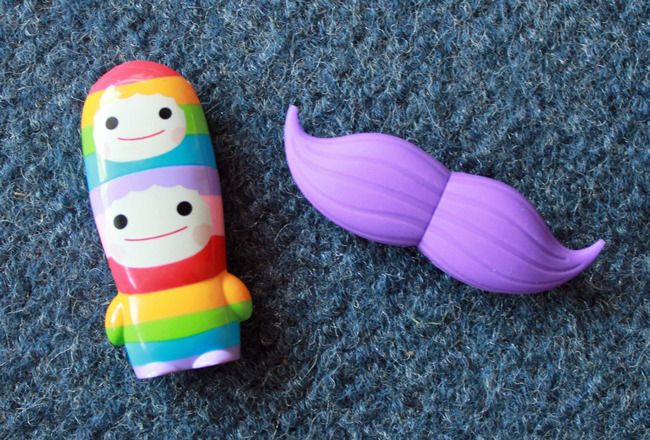 Cute USB flash drives are very inexpensive and pretty easy to find nowadays. The moustache drive was a gift from Steph, and the cute little rainbow guy is from
MimoBot
. (Side note:
Mimoco
also sells "Power Tubes" (like my dollar spot version above) and "Power Bots," which are external rechargeable power sources.) I love Mimobots because the designs are so cute - they have Hello Kitty, Tokidoki, and Adventure Time designs, and more!
I'm kind of a newbie at making art on my iPad/iPhone, but I love playing around! I have two different stylus options that I really love: The first is my
Adonit Jot Pro stylus
(I have an older model), which has a clear disc at the tip that allows you to see exactly where you're drawing.
My second fun drawing tool for mobile devices is the
Sensu Solo Paintbrush
. For $24.99, I get the tactile experience of painting with a brush, but with digital results! These brushes come in really fun colors, too. You can see it in action
on my Instagram here
.
You've probably seen laptop and iPad decals before, but I just love digging through
Etsy
to see all of the creative options out there! I chose this
Virgin Mary design
for my laptop. My previous laptop model had a
sugar skull decal
. And I've always loved
this wood-grain design for iPad
.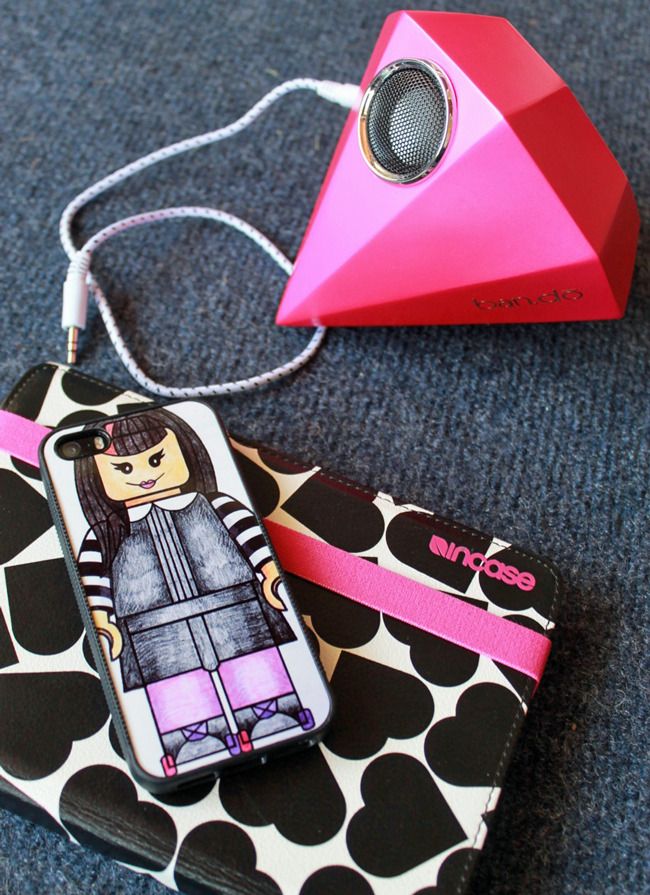 Not in the mood for a decal on your mobile device? There are literally a zillion options for phone and iPad cases out there. I like to look at my local TJMaxx/HomeGoods/Ross stores for cute designs at low prices. That's where my black/white heart iPad case came from.
My iPhone case is my own personal artwork! I drew myself as a LEGO minifigure (it's an assignment that I do with 6th grade art classes), and had my artwork put onto a phone case via our
Artsonia
gallery and store. It's a cool digital art gallery/digital portfolio service for K-12 schools, and I get to have my own gallery a a teacher. I'd never taken advantage of the store before to purchase printed items, but I'm so glad that I finally did! This is too cute!
The other important item in the pic above is my
Ban.do gem speaker
! It's great for playing music from your laptop or mobile device, as well as an awesome decorative piece for your desk! (Pro tip: I like to bring this speaker into the bathroom for some tunes when I'm doing my hair and makeup in the morning!)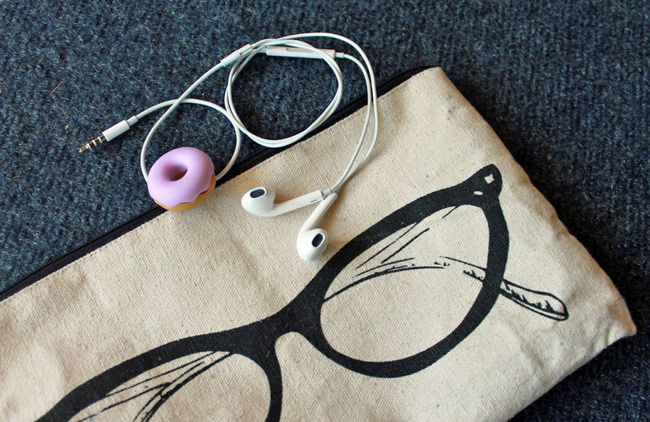 When I saw this donut
earphone winder at Mochi Things
, I couldn't not snap it up! They have a bunch of super cute earphone winders on their site for purchase.
This zipper pouch with glasses motif was a Michael's find from way back when, but it's my main tech bag for all of my gadgets - it's so easy to toss into my backpack, luggage, or work bag so that I have all of my essentials when I'm on the go! I love zipper pouches, and always have my eye out for cute ones to add to my collection. A good source for cute inexpensive zipper pouches is
Forever 21
.
Ok, so technically not a "tech" gadget, but: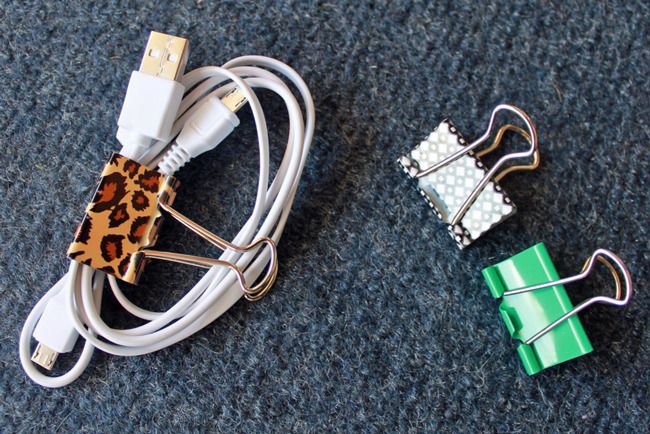 Binder clips are a must for my tech bag! They're a great way to keep my cords together and free from tangles. My favorite source for cute binder clips right now is
Target
!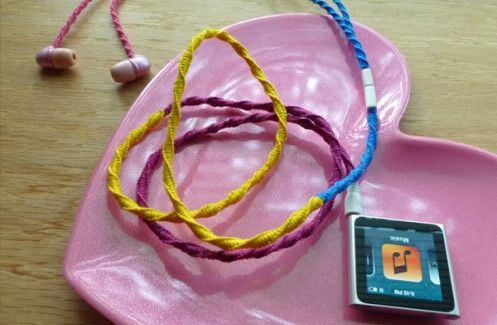 Speaking of cords, once upon a time, I posted on the blog about a DIY project to personalize your earbud cords, with the added bonus of non-tangle-ability! (Is that a word? Well, it is now!) See the
details on how here
.
One last thought: I heard about this new gadget called
Ringly
and I am dying to get my hands on one! This one pictured here, called Dive Bar, is my favorite.
Well, I hope that you've discovered at least one (maybe more) new tech gadget or accessory to add to your arsenal! I've always got my eye out for new cute stuff, and if you've got anything fun to add to my list, please let me know!
Rock On,
Jen @ Hell Razor
now playing: