A few weeks ago you got a glimpse
at my new planner obsession: the traveler's notebook. I showed you how I decorated my inserts with scrapbook paper, which can also be used for Moleskine notebooks to create custom art journals, and I even shared my
FREE scrapbook paper download
(in black hearts print!) for decorating your own custom insert/journal!
Well, today I thought I'd talk a little bit more about the traveler's notebook itself, aka the "faux-dori." The original traveler's notebook is the Midori, which is great and all, but they're... brown leather. Some people love that, but it's definitely not for me. I discovered a whole slew of people who make their own versions of the Midori, often in other sizes to accommodate wider inserts + tabs, pen holders, and the like. These "faux-doris" are also made in a variety of different materials. Heck, you can even find tutorials on YouTube to make your very own faux-dori from scratch if you wanted!
My very first faux-dori comes from an etsy shop called
Foxy Fix
. I ordered this in the largest size and width available (the color is called Dragon Fruit), and added a pen loop. You can even get it embossed:
This faux-dori has become my main planner. Let's talk about how I set it up. I bought some plastic inserts for credit cards, and another with a zipper pouch (seen further down below) in the "regular" Midori size via Amazon, and although they're not as wide as my notebooks, you can see that they're still really compatible:
I also made my own dashboard from scrapbook paper that I laminated and made into a folder-like shape. The front of the dashboard is great for sticky notes or even writing on with a wipe-off marker.
The back of the front page of the dashboard can be seen below. Folded into the dashboard is my plastic zipper pouch insert, and a kraft folder that I covered in heart patterned scrapbook paper. Do you love these tiny photos in the zipper pouch? I printed them out myself using
this awesome YouTube tutorial
from
Robyn Lott
entitled "
Do You Really Need A Pocket Printer?
" ...and I'm pretty sure the answer is that I don't anymore! These are great!
On the back section of my dashboard, I adhered a pen loop I snagged from
MochiThings
. It was too cute. I didn't want to attach it to a notebook, because it would eventually get filled up! So this dashboard was the perfect solution.
Also, do you notice those cute retro Pyrex stickers in my craft folder? I make them, and they're FOR SALE! You can
find them in my etsy shop here
!
Side note: I am not in love with the pen loop attached to the Foxy Notebook... it sticks out too much, and the pen hangs awkwardly, even when I stretch the elastic over the book. I'd remove it if I could, but I can't, so it just hangs there, empty for now. If I ordered another Foxy Notebook, I'd skip the pen loop. Just FYI.
Up next is the first actual "notebook" insert in my faux-dori. This one is from
Yellow Paper House
on etsy, and it's a weekly planner layout:
Above, you can also check out my second pen loop, made from yet another
YouTube tutorial by Robyn Lott
. She's got lots of good ideas, and she explains her process well. I LOVE this kind of pen holder, and it's probably the only kind I'll use in the future. It's useful for ANY kind of planner or notebook! I was even thinking that students should make these for their notebooks and assignment books at school - never lose a dang pencil again!
My next notebook insert is also from
Yellow Paper House
, and it's a purple monthly calendar, which I use to plan and track my blog posts. I post twice a week, on Monday/Wednesday, and Steph posts on Fridays. I can plan my
#owwwa posts
ahead of time using
Court's scheduled topics
:
My last notebook is just for random note-taking, list-making, and brainstorming. I added a few tabs to help me organize myself:
My blog tab has ideas for future posts, and affiliate info/logins related to the blog. I'm on the hunt for a new job, so I keep track of where I've applied and such. And wish list is just a place for me to list stuff I'd like to buy. Because who doesn't like to daydream?
So... that's my main planner. But I own a few others, which I've found jobs for (plus they're super cute!), so I'll go over each one quickly:
This is a fabric faux-dori from
Cake Paperie
on etsy. I'm hands-down in love with her fabric options - they're pretty damn cute.
I discovered that the largest, widest faux-dori from Cake Paperie fits
notebooks from IKEA
perfectly! They're larger than standard A5 size (which is my usual preference), but I bought these notebooks simply because they were too cute. It was a pleasant surprise to find out that they fit this "cake-dori" exactly!
Also of note: two pen loops that were DIY'ed the same as the one in my Foxy Notebook via the
Robyn Lott tutorial
. I think I'd like to start using these notebooks as actual journals, pasting tiny photos and such in them, too. I haven't started yet though, so we'll see.
Did you notice my lime green pen above? It's a
LAMY Safari lime green fountain pen
, and I won it via a giveaway on Instagram from the
Vanness Pen Shop
(
@justvanness
on Instagram)! I never win stuff like this! How cool!
So yeah, I bought a second Cake Paperie notebook cover, because glasses. This one holds my completed notebooks, like my art journal (
featured here
), and my notebook from April's
#listersgottalist challenge
on Instagram:
My very first fabric faux-dori notebook cover was this one below:
It comes from
Love, Neen
on etsy. I loved the watercolor pattern on it. This is a regular size cover, so my notebooks don't have a ton of extra width, but that's ok. This one also came with one elastic. I do see that Neen has a larger size now available, and multiple elastics option, so I wouldn't hesitate to order from here again!
I use this notebook as strictly an art journal. I just decorated a new insert for it, actually: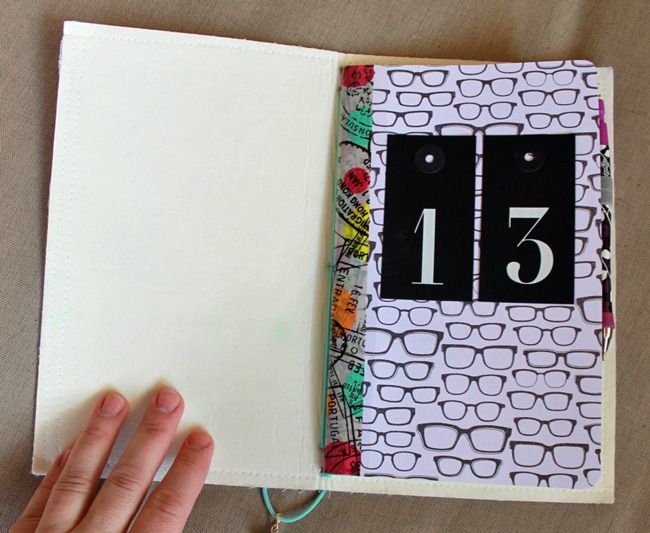 Yet another DIY pen loop for my favorite mechanical pencil. I do kind of like limiting this to just one notebook. Great for drawing and painting and collaging and stuff like that!
Lastly, in honor of my planner craziness (and you actually reading this far down the post!), I decided to host my first giveaway
via Instagram
!
Head on over to Instagram
, and here's what you can win:
Target spring chevron page flags

Target spring triangle list pad

Target watercolor collection note pad

Target watercolor collection journal

Target watercolor collection floral sticky note pad

2 2-packs of Target sticky notes

Target phrase stamps

Target patterned clothespin clips

Target heart clothespin clips

Target watercolor collection 4-pack pencils

Target watercolor collection 2-pack pens

5 heart-shaped paperclips

Turquoise planner band
Here's what you have to do in order to win:
Follow me, @Hellrazor on Instagram

Like my original giveaway Instagram post

Re-post the giveaway picture using the hashtag #hellrazorspring15giveaway

Tag two friends in your re-post that you think would like to win!
This giveaway is open to US entries only (sorry, but international shipping is killer!) and will close on Saturday, May 16th. Re-post as many times as you like for more entries!
Good luck!
P.S. If you're wanting to know more about the Midori traveler's notebook system, then I highly recommend watching this YouTube video by Cori TheResetGirl. It was the video that sucked me in! :)
Rock On,
Jen @ Hell Razor
now playing: