dress - vintage via Calamity Layne / shoes - Dr Scholl's via Zappos / crinoline - Domino Dollhouse / belt - Betsey Johnson / fitbit bracelet - Target / sweater (pictured below) - JCPenney (w/my own felt customization added)
Welcome to the triumphant return of #OnWednesdaysWeWearArt! Last week was craaaaazy busy for me (eh, as are most weeks lately...) and I wasn't able to snag the #OWWWA topics ahead of time from
Court
. However, she has
a whole page about it now
, and YOU are invited to join in! You don't need to blog (although that's pretty sweet), but you can participate via
Instagram
simply by hash-tagging your photos #OWWWA or #OnWednesdaysWeWearArt (if you do participate, tag me so I can be sure to see your photo!).
This week's artist topic is Henri de Toulouse-Lautrec, a French artist from the Post-Impressionist movement. He was a painter, printer, and illustrator. He's pretty well-known for his paintings and posters from the Moulin Rouge, as well as images of other Parisian nightclubs and cabarets.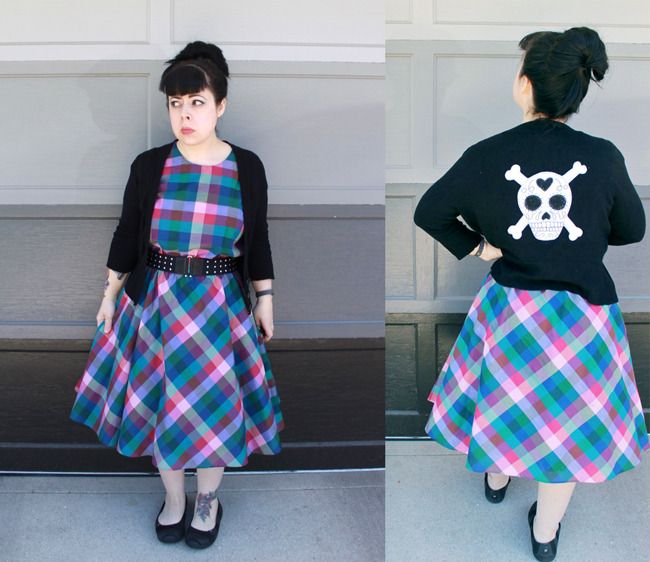 So, my outfit doesn't look very French at all, nor have I stuck to the color palette of Toulouse-Lautrec, which is where I usually go to for my outfit inspiration. Today, I have decided to go with a big flouncy skirt with a crinoline to mimic the dancing cabaret girls of Toulouse-Lautrec's nightclub paintings.
My sweater, by the way, is a super super old (like before Todd and I were married) black cardigan that I dug back up from the ashes of my smaller clothing boxes recently. I embroidered the skull on some felt and sewed it by hand onto the back of this sweater. It was a labor of love. Made way before the popularity of Hell Bunny cardigans and such. It has seen better days (the felt is pilling), but I can't bear to let it go when I remember how much work I put into it originally!
Check it out, I'm a can-can girl! Am I the only one who thinks of Bugs Bunny in a dress dancing in a French cabaret when looking at these pictures?
Dun-dun-dun-da-da-da-dun-dun-dun-da-da-da!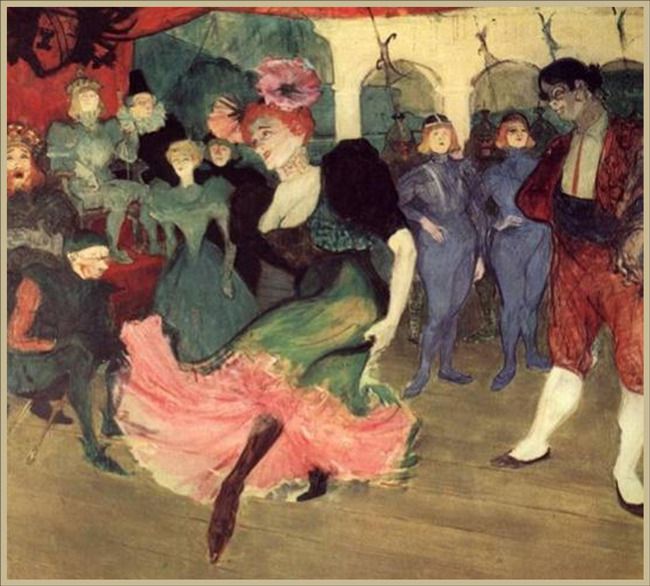 Henri de Toulouse-Lautrec had a unique disability where he had a full-sized adult torso, but child-sized legs (attributed to a variety of theories, one being inbreeding!), which resulted in him only reaching 4 feet 8 inches tall. (Hmm, that's only 5 inches shorter than me...!)
Because he was unable to participate in many other activities due to his size, he immersed himself in his art. Unfortunately, he also immersed himself in alcohol and prostitutes. Whomp whomp.
This dress is from Steph! I've been dying to find a piece from
her shop, Calamity Layne Vintage,
that's just right, and I finally found it! Once I put my black crinoline underneath and cinched it all with a stretchy black belt, the look was complete! I had been mourning over the loss of my two favorite Hell Bunny pinup style dresses (way too big for me, I sold them off), and was considering buying myself a new retro/rockabilly style dress, but now I don't have to because this one is pretty freaking adorable. :)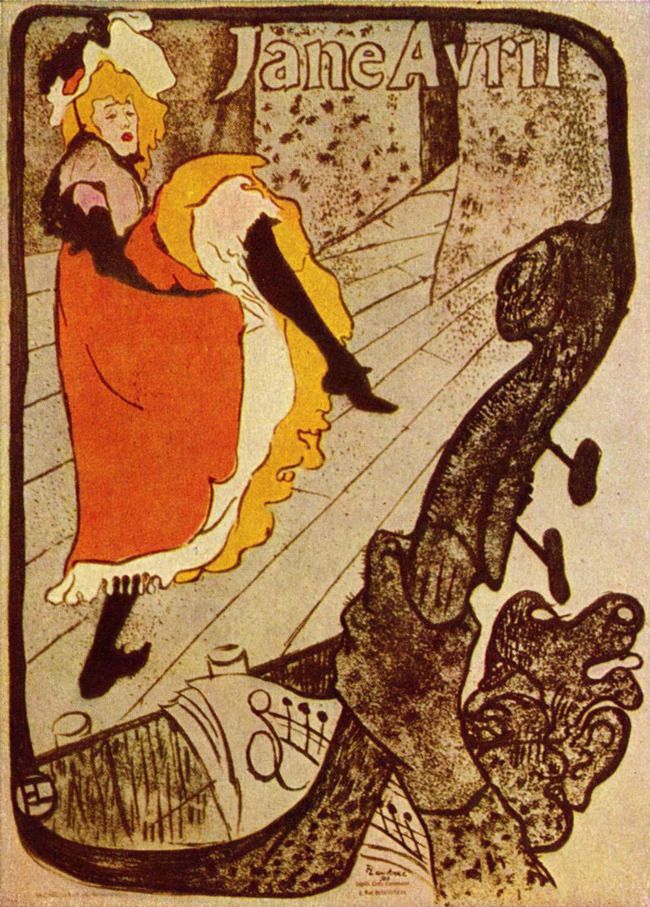 Jane Avril
, French can-can dancer, and I both love showing off our fluffy skirts!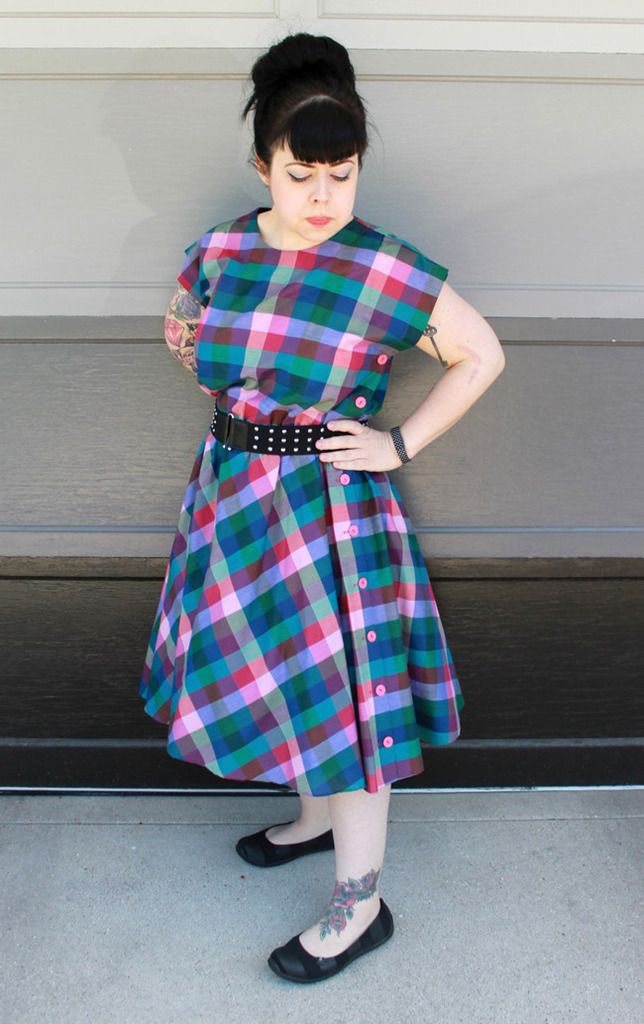 The buttons all the way down this dress are one of the things that drew me to it.
Oh - I put my hair up on purpose, too, because it seemed more appropriate to the period, even though I did not have a fancy feathered hat to wear. People already looked at me weird or made comments just for the puffy skirt. Giant feathers unnecessary.
Toulouse-Lautrec trivia: He died from complications with alcoholism and syphilis at the age of 36. That's exactly how old I am here... hmm, awkward... But seeing as how I don't engage in alcoholism or prostitutes, I'm probably (hopefully) pretty safe for at least a few years.
This belt is a Betsey Johnson, and I got it from Marshall's. I've had it for a long time: proof
here
(whoa 2011 blog post!).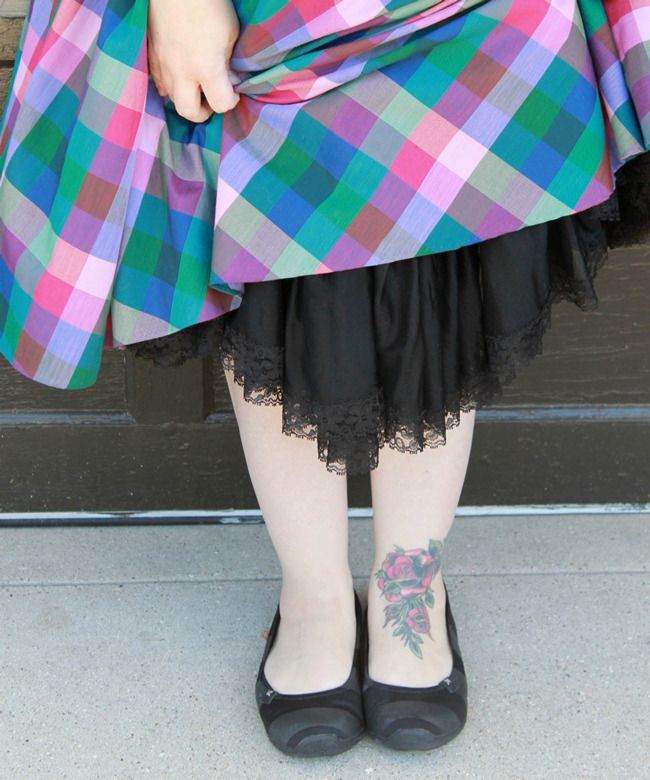 My shoes were from a mini Zappo's spree where I made it my mission to find comfortable ballet flats for the summer. These are a total WIN.
Dr. Scholl's with black-on-black stripes
? Yes please!
#OnWednesdaysWeWearArt is a feature originally created by Courtney over at My Friend Court. Please be sure to stop by to see what's going on in her #OWWWA world!
Rock On,
Jen @ Hell Razor
now playing: