It's that time of the week again! This week I got to be a little more goth (aka a little more me) than ever before during #OnWednesdaysWeWearArt. This week's artist is Frank Stella, and he is known for a variety of different styles of art. I chose his black paintings. Of course.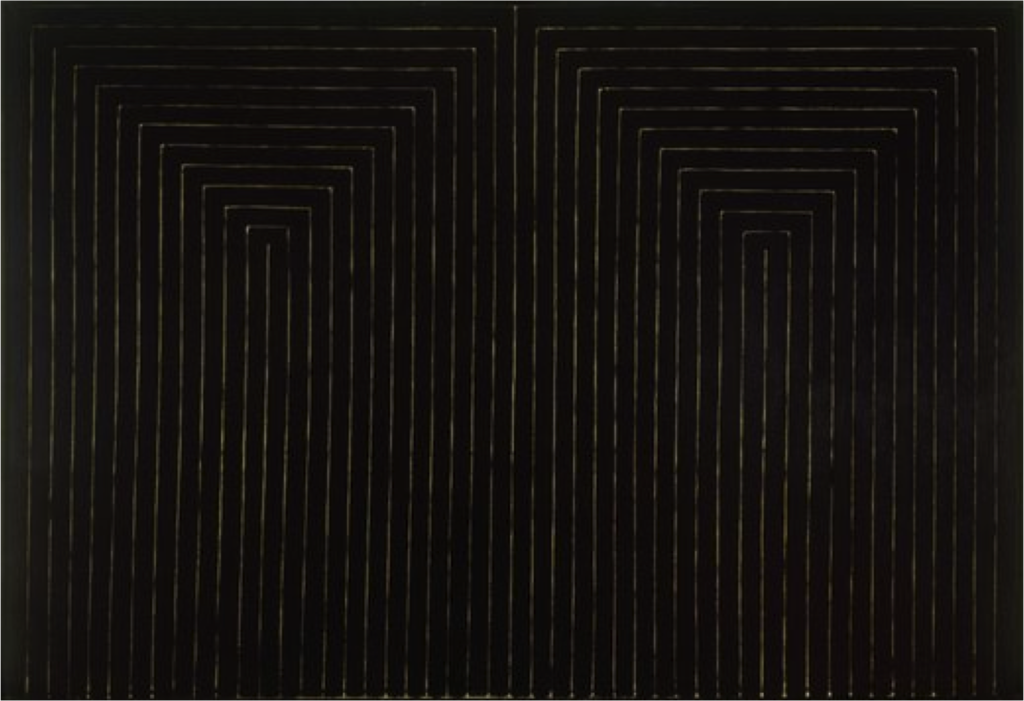 The Marriage of Reason and Squalor, II. 1959
Frank Stella is an American painter and printmaker, known for his minimalist work. I've chosen to focus on his black paintings of the late 1950's through early 1960's. The paintings consisted of bands of black paint separated by very thin stripes of unpainted canvas. Frank Stella's flat paintings were in stark contrast to the expressive use of paint used by the artists before him.
Today's outfit is minimalist, consisting of one main piece, a maxi dress, that has three horizontal bands of sheer fabric... kind of like the tiny bands of unpainted canvas on Stella's compositions.
This dress was a piece that I selected from my Stitch Fix box. Have you tried
Stitch Fix
yet? One of my friends had been doing Stitch Fix for a while, and was very happy, so I decided to give it a try. I've ordered boxes three times since the beginning, and I'm pretty happy with the results so far. And - happy news! - Stitch Fix has recently announced petite and maternity sizes. Unhappy news - Stitch Fix does not have sizes beyond 14/XL. Boo Stitch Fix. Don't they realize how much they could stand to make off of sizes beyond 14?
Here's how it works: you
sign up for Stitch Fix
, and pay $20 ("styling" fee) for a box containing 5 items: usually 4 clothing pieces and one accessory. Prior to your shipment, you tell them a bunch about yourself and your style (I actually asked for ALL BLACK EVERYTHING and they listened! LOL), and a personal stylist picks out your items for you based off of your preferences, including price point! I chose the cheapest price range, and it's been really reasonable.
I try to select one thing from each box, but this last time I kept two: this dress and also a wrapped buckle pyramid stud bracelet. If you keep all five items in your box, you get a 25% discount off the entire thing! Oh, and your initial $20 styling fee is applied towards any purchase that you make. So if you don't buy anything, you forfeit the $20. Anything you don't want to keep gets sent back in a pre-paid envelope. It's super easy.
You can sign up for a subscription/monthly box, or you can purchase boxes individually as you feel like it. That's the method I've been using.
If you're interested in trying out Stitch Fix, consider using my link so I can earn referral credits!
Jill, from Black Series II (detail)
In the late 1960's through 1970's, Frank Stella made super colorful paintings on shaped canvases. So he kind of went (from a color perspective) the complete opposite direction later on. His paintings were still very flat, graphic, and minimalist in subject matter.
This dress I'm wearing is technically a midi dress, which I learned is a fancy way to say mid-length, like below the knee. But because I am a shorty, this dress is more of a maxi dress. I don't mind this at all though, I don't think I'd like a midi length one me, and besides, look where that first sheer band is anyways... that would be way short!
I couldn't for the life of me find the title of this one... anyone?
Frank Stella was interested in the picture-as-object, rather than the picture as a representation of something. I like this idea, too.
Frank Stella eventually evolved into abstract sculpture, too, and he's still working as a successful artist today. I found
a great interview with Stella from 2008 here
.
I should also note that I'm wearing something sleeveless and I have not covered it up with a sweater. Woo hoo! Not just for the weather, but because I'm feeling comfortable enough to go sleeveless. Yay!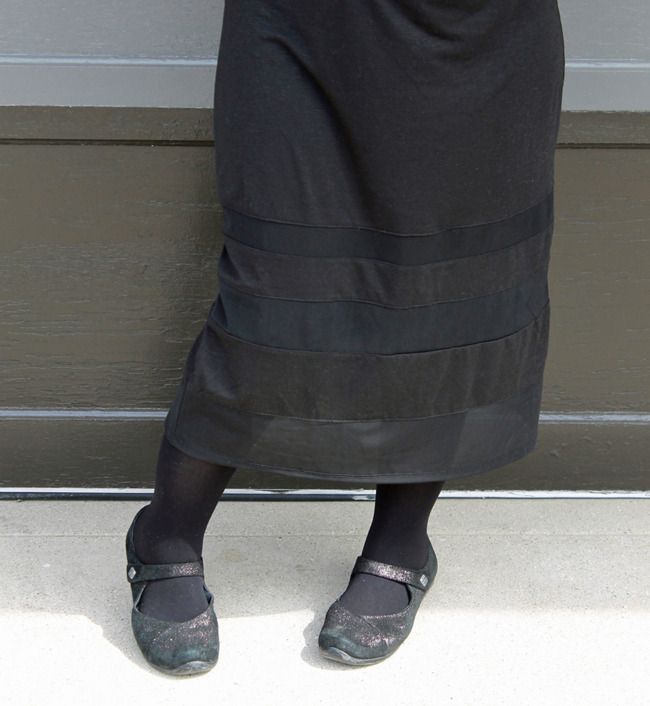 Iggy couldn't even handle the fact that I was outside taking photos without him. He ran outside (letting the dog out with him, of course) and kept saying "I have to move so that I don't get in your picture!" - but then he'd run up to me and ask to take a photo with him. I let him have his own mini photo shoot: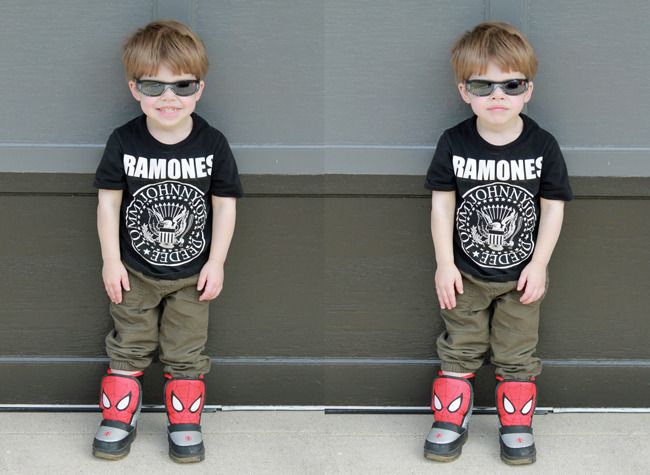 Ugh. Those damn Spider-Man boots. I die. There is no snow outside, of course. :)
Be sure to stop by
My Friend Court
and
Unbelievably Human
(the originators of #OnWednesdayWeWearArt) to see what's happening in their #OWWWA worlds!
Rock On,
Jen @ Hell Razor
now playing: