sweater - Target / dress - thrifted / tights - We Love Colors / shoes - Kenneth Cole via Zappos / tank - JCPenney / necklace - Charming Charlie
It's Wednesday... so that means it's yet again time for #OnWednesdaysWeWearArt! Today's artist of inspiration is
David Hockney
. David Hockney is a British artist who has been working since the 1960's, when he first gained recognition as a Pop artist. For this blog post, I'm choosing to focus on some of his later career landscape paintings.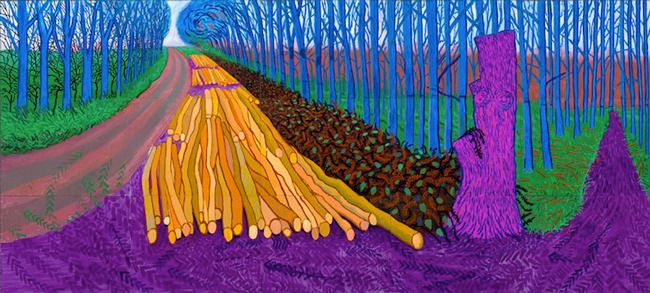 Winter Timber, 2009
The above painting,
Winter Timber
, is comprised of 15 smaller canvases, gridded together to form the large final image. It's kind of a genius idea for creating large works of art when you don't have the space to store gigantic paintings! I mean, I'm sure that's not the case with David Hockney, but it sure is an idea that I could use!
I've noticed that
Court
likes to pick artists who have some kind of very bright and colorful works in their portfolio. The painting above is almost neon-like. With this in mind, I chose a lime green dress that I thrifted several weeks back while I was out with Steph. I had this red-violet cardigan in my closet already... a very old Target purchase. So I combined these with a pair of my trusty colorful tights from
We Love Colors
, and I was set!
David Hockney is not only known as a painter,but as a photographer. In the 1980's, he created photo collages, which he dubbed "joiners:" polaroids and photo prints that were combined patchwork-style to make a larger image... so it makes sense to me that his later paintings would be comprised of several smaller paintings, too.
Garrowby Hill, 1998
One of the most fun facts I learned about David Hockney is his interest in using technology tools to create artworks. In 1985 he used a computer program that allowed him to draw directly on the screen, and at present, he regularly uses his iPhone and iPad in conjunction with the Brushes app to create artworks.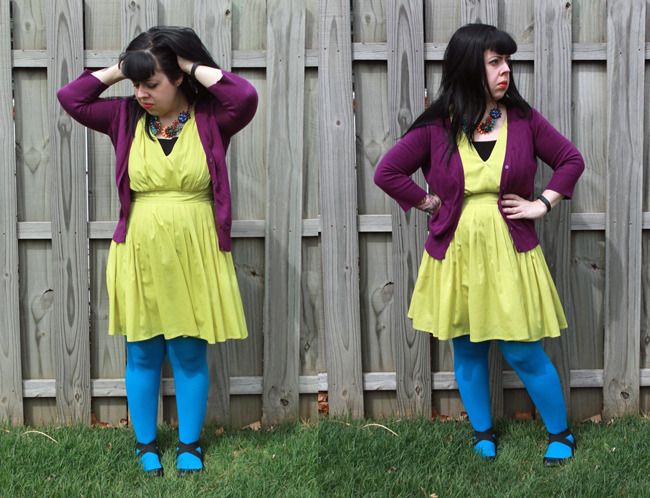 You know, when I look at my outfit photos next to these paintings, I really did a pretty good job on the colors! The red-violet is pretty darn close!
The Arrival of Spring, 2011
The Arrival of Spring
is made up of 32 canvases. It's HUGE.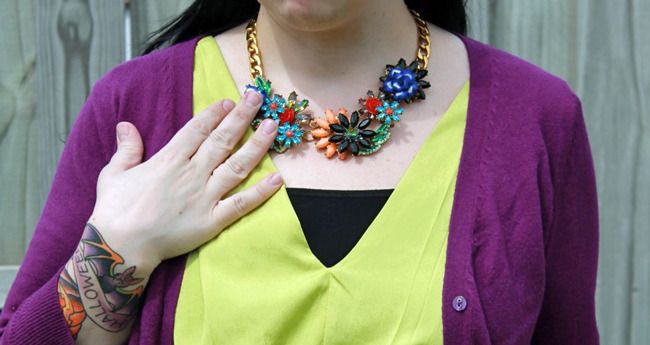 I added this necklace to my outfit because it felt really plain otherwise, and the flowers echoed the nature/landscape theme of these selected Hockney paintings.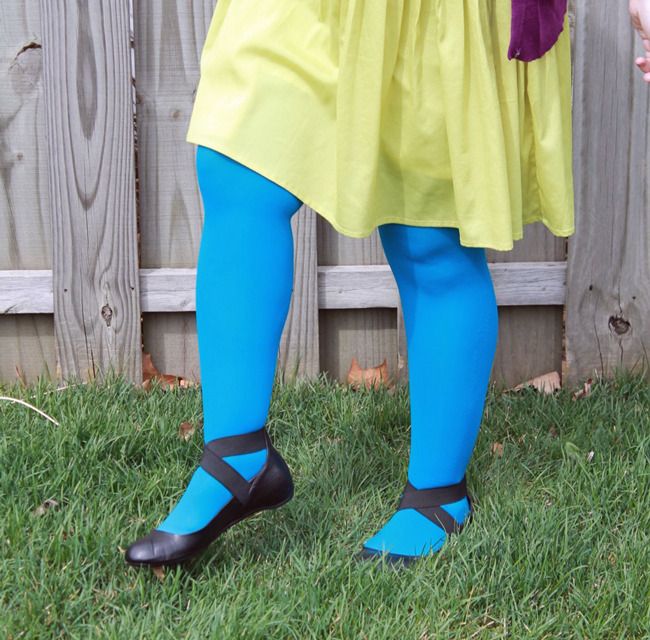 I've been on the hunt for some cute spring/summer flats that are super comfy, so I went on a mini Zappo's spree and picked up a couple of pairs of shoes. These are from Kenneth Cole, and I love the elastics on the ankles that make them look like ballet shoes. I'm still not convinced that they're completely comfortable (there seems to be some rubbing on the outside edges)... but we'll see.
In conclusion, I am still quite impressed that I have managed to create colorful outfits for #OWWWA with a closet that is (seriously) mostly black. :)
Be sure to stop by
My Friend Court
and
Unbelievably Human
(the originators of #OnWednesdayWeWearArt) to see what's happening in their #OWWWA worlds!
Rock On,
Jen @ Hell Razor
now playing: