dress - Target / tights - We Love Colors / hat - ASOS / shoes - Dansko via Zappos / black bracelet - Fit Bit
It's #OnWednesdaysWeWearArt Day! This week's artist is Alex Katz. Alex is an American painter whose work is viewed as a precursor to Pop Art.
Black Hat (Bettina), 2010
Alex Katz uses a lot of simplified shapes and bold expanses of color. These closely cropped portraits were kind of a challenge for me when it came to selecting an OOTD to fit the theme.
I decided to go simple and solid in color with my outfit, and to add a couple of bold, yet un-fussy accessories in the form of a black hat and a pair of sunglasses, like Bettina above.
These are my Betsey Johnson sunglasses I scored at Marshalls. All the ones I'd been finding lately were aviators. I don't like aviators. Cat eye glasses for everyone!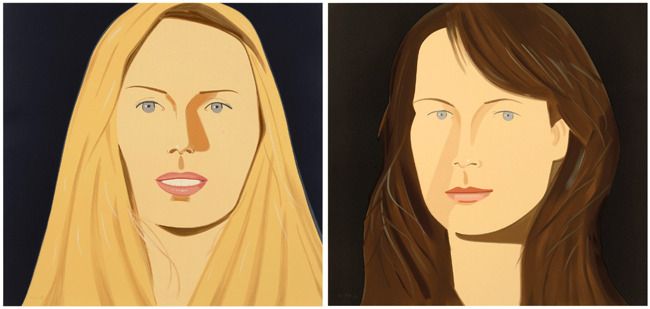 Sarah, 2012 (left) and Sophia, 2012 (right)
It was difficult to figure out how to dress as a portrait artist. Simple, non-fussy clothing and hair down. I was even careful to select a neutral lip shade for these photos, instead of my usual bright red or fuchsia (when I remember to wear lipstick, that is!). I think this color is called Technobeet by Mac. It's an older Chromeglass shade. I went through a whole Mac Lipglass/Chromeglass phase several years back, and I still have them all.
If you look closely, you can also get a sneak peek of my new tattoo. I added to my arm collection last week. If you
follow me on Instagram
, you can get some close-ups.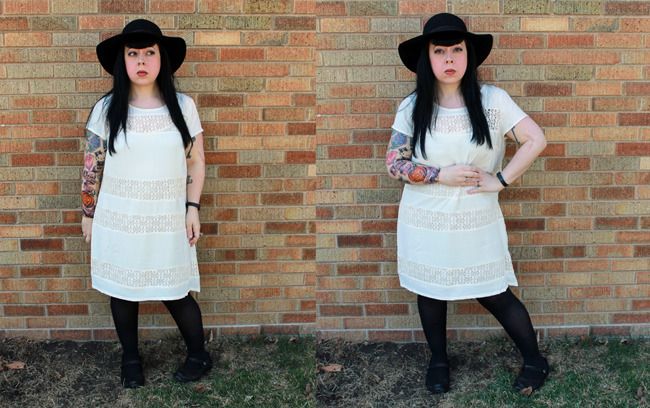 But back to our artist of the day, Alex Katz. According to
Wikipedia
, "Katz has admitted to destroying a thousand paintings during his first ten years as a painter in order to find his style."
I was also able to find some really interesting information about how Alex Katz paints:
"To make one of his large works, Katz paints a small oil sketch of a subject on a masonite board; the sitting might take an hour and a half. He then makes a small, detailed drawing in pencil or charcoal, with the subject returning, perhaps, for the artist to make corrections. Katz next blows up the drawing into a "cartoon," sometimes using an overhead projector, and transfers it to an enormous canvas via "pouncing"—a technique used by Renaissance artists, involving powdered pigment pushed through tiny perforations pricked into the cartoon to recreate the composition on the surface to be painted. Katz pre-mixes all his colors and gets his brushes ready. Then he dives in and paints the canvas—12 feet wide by 7 feet high or even larger—in a session of six or seven hours."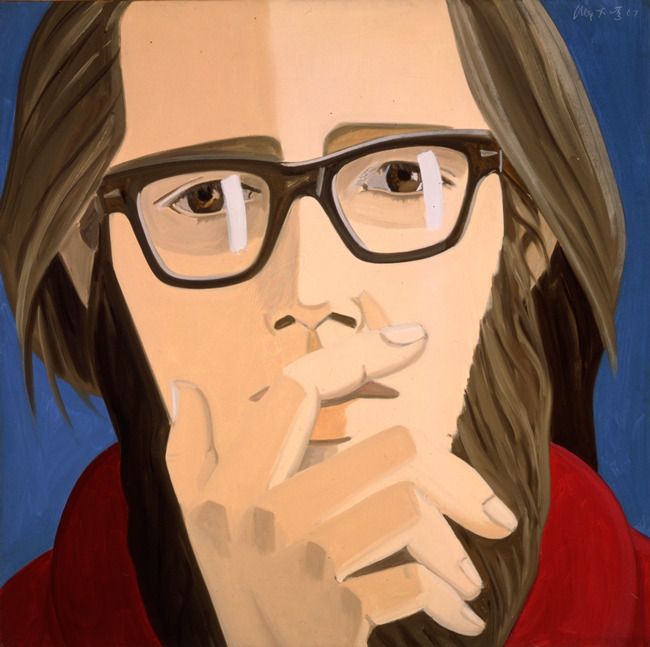 Ted Berrigan, 1967
The flat, simplified shapes and bold colors really appeal to me. I prefer artwork that isn't photo-realistic. The abstract-ness of the portrait makes it more accessible. Like "Hey, I could maybe do that..."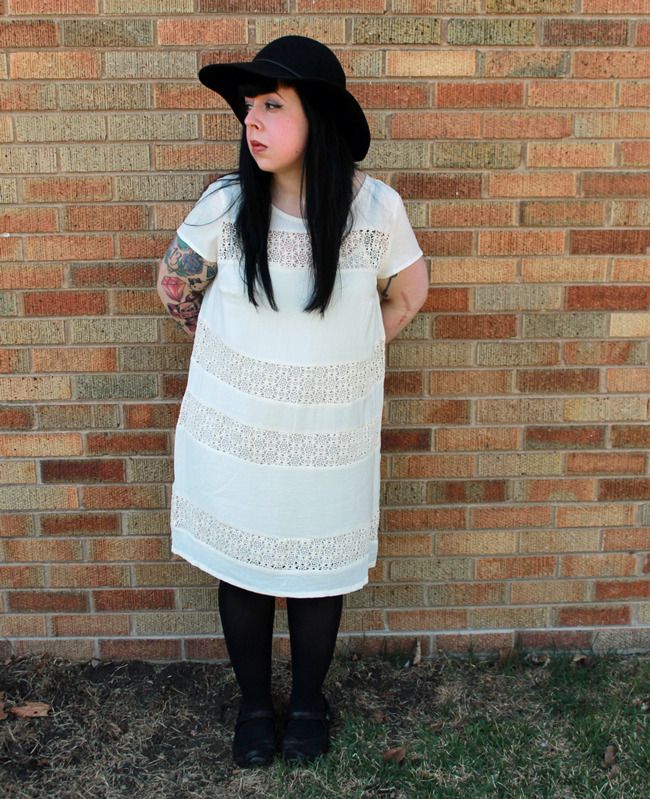 By the way, did you all notice that I'm WEARING A WHITE DRESS! Did hell freeze over? I'd seen this dress at Target and passed it up the first time, although I gave it a second look and then wrote it off for not coming in black. Dang. Then, I was back later and decided to just try it on. I liked it enough to take it home, although I am scared to death to wear it to work. I'll get paint or some art supply on it for sure.
The lace panels on this dress are see-through, so it comes with a plain white slip dress that goes underneath it. I'm thinking of re-styling this with a black slip underneath it instead. If a black lace hem peeks out from underneath, all the better.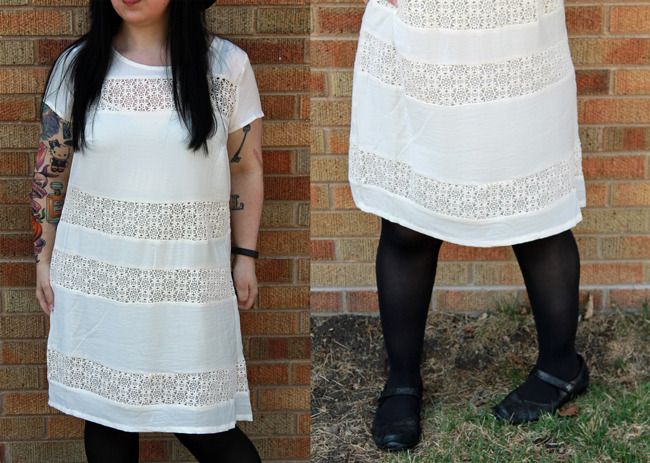 Coincidentally, this was my "Easter" dress. Meaning that I wore it on Easter weekend to a family gathering. Do I need to tell you guys that we don't go to church? I think you're pretty smart and have figured that out already. No judgement, just stating facts. You do you, and I'll do me.
Sharon and Vivien, 2009
Be sure to stop by
My Friend Court
and
Unbelievably Human
(the originators of #OnWednesdayWeWearArt) to see what's happening in their #OWWWA worlds!
P.S. Tomorrow's my birthday! Hopefully I'll have some fun stuff to share with you next week to celebrate!
Rock On,
Jen @ Hell Razor
now playing: