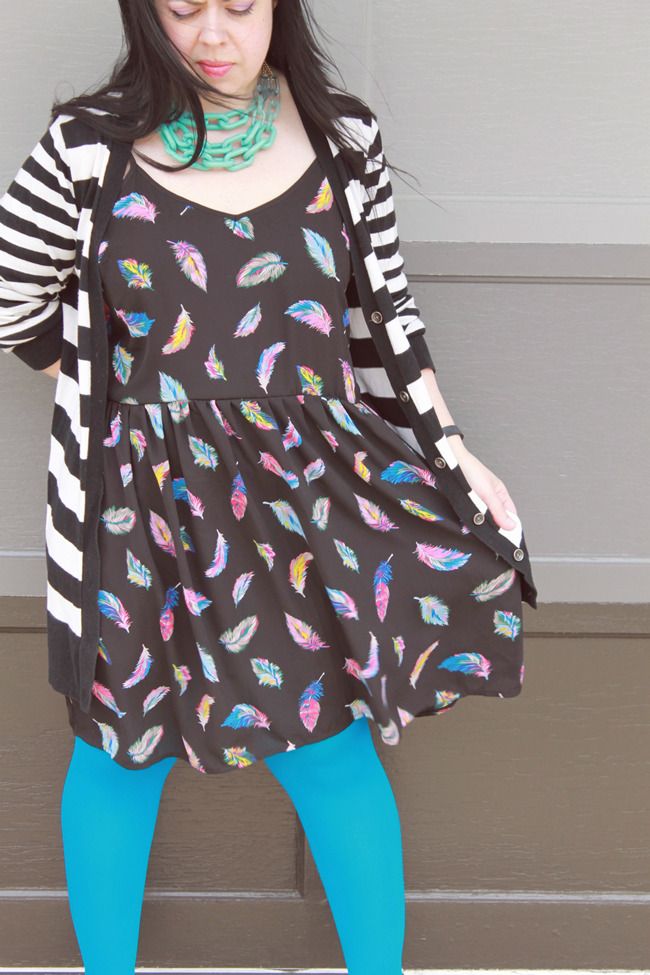 dress - Target / tights - We Love Colors / cardigan - Target / shoes - Dansko via Zappos / necklace - Etsy / black bracelet - Fit Bit
I've been actively trying to switch jobs for next fall. I'm in graduate school right now for my
Technology Specialist Endorsement
, and I'm hoping it'll lead to a job as a technology coach/technology integrationist in another school district. Unfortunately, I've been teaching for 13 years, and I already have my Master's degree and
NBCT status
, so getting a district to hire me is... well... difficult. You would think that all of these degrees and experiences and credentials would be a good thing, right? I mean, I am an awesome teacher. For sure. It's one of the few things that I am super confident about in my life. But, all of these things are practically the kiss of death in the education world as far as moving jobs. No one wants to hire me because I am "too expensive." It's cheaper to get a brand-new teacher fresh out of college with no experience than to hire me (seriously, it costs probably twice as much to hire me). I'm worth the money, no doubt, but someone has to be willing to pay it. And the market is just. not. there.
And it sucks.
I wish that I could switch jobs and take a pay cut. I'd do it. But that's not how the education world works.
So, although I've already applied to multiple districts (six so far I think?), I've yet to get a single phone call from any of them. And I'm panicking. I need to come up with a fallback plan. I'm not sure how I'd make it through another school year back here again.
So I applied for a transfer. In district, but moving to elementary. I'm not even sure that will happen. But something HAS to change. I'm starting to feel really backed into a corner. It's not good.
weird faces. you know, the usual. also it was really sunny and I had a hard time not squinting or making a smelly face.
I guess the point of this long drawn out tale is that over spring break, I was invited to one of the elementary schools in the district for a visit (it wasn't an interview per se, but I treated it as such and tried to express how I thought I'd be an awesome elementary art teacher) and I wanted to make a really good impression, so I wore this outfit. It seemed very cheerful, elementary-like, and art-teacher-y, but still something I'd wear anyways.
Places you've seen this sweater before:
here
,
here
,
here
,
here
, or
here
. I like this sweater.
You've seen this necklace before
here
.
Just as he did last week, Iggy decided to photobomb my outfit shots. I actually took these the same day as
last week's #OWWWA post
. Therefore, stupid Spiderman boots when there's no snow. Sigh.
I really love the feather pattern on this dress. It's all-over black, which is very much my style, but the bright colorful feathers make it more palatable for non-goths. This was the first dress that I bought from Target that wasn't XXL. Unfortunately (#luxuryproblems), it's now too big, but I kept it and wear it anyways. The sweater over it is necessary to hide the baggy arm holes.
I know, I can't complain. But I like my clothes and try to get a lot of use out of them if possible. Like these colorful tights. I have a huge collection and I'll wear all of these colors until they get holey. Hell, tights are stretchy and I can make them work no matter what!
These shoes, however, have lived a good life and should probably be replaced. There ain't no hiding the wear on the toes of these babies.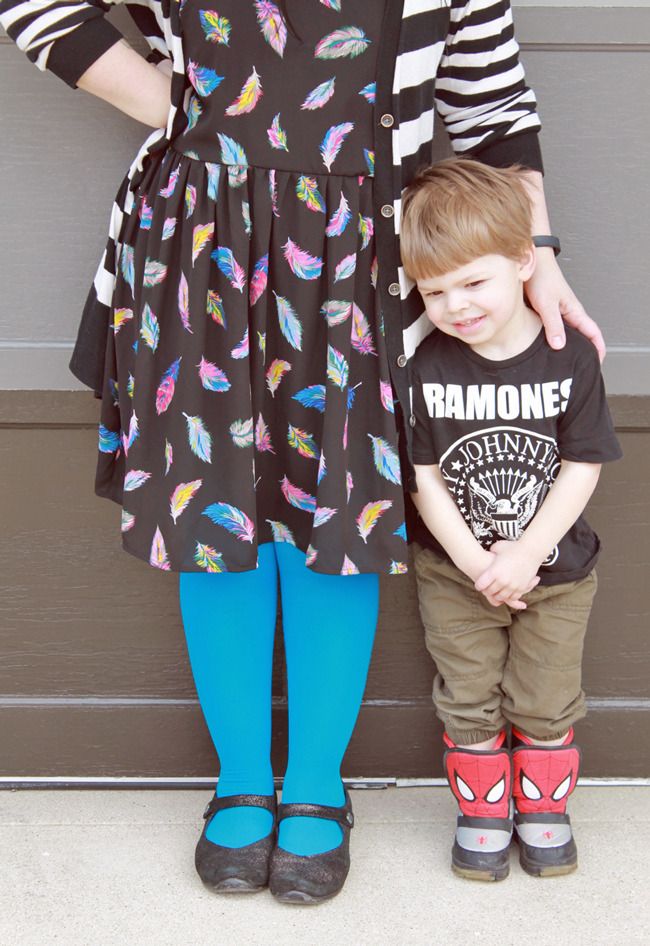 More Iggy photobombs. He doesn't like this photo because you can't see my head. :)
Rock On,
Jen @ Hell Razor
now playing: