I wear contacts. That's my standard. Most people who only see me sporadically don't even know that I've needed glasses since the second grade. But I love glasses, actually. They're super fun to shop for, but the cute ones can end up costing you a pretty penny... not necessarily anymore!
In the last couple of years, I've acquired a tiny collection of cute prescription glasses, which I thought I'd share with you, along with my sources. I have a REALLY strong prescription, and even when my lenses are "compressed," they still stick out of the frames. Wire rims are usually not even an option for me, but luckily I love plastic frames!
Let's get started with my all-time favorite frames:
These are my
Derek Cardigan 7005
black frames. They sell out, and sometimes if you're lucky, they come back into stock - which is what happened to me when I bought them. I was so excited when these became available, I snapped them up RIGHT AWAY. Worth it.
You've seen these frames in many a blog post over the years:
here
,
here
, and
here
, for example.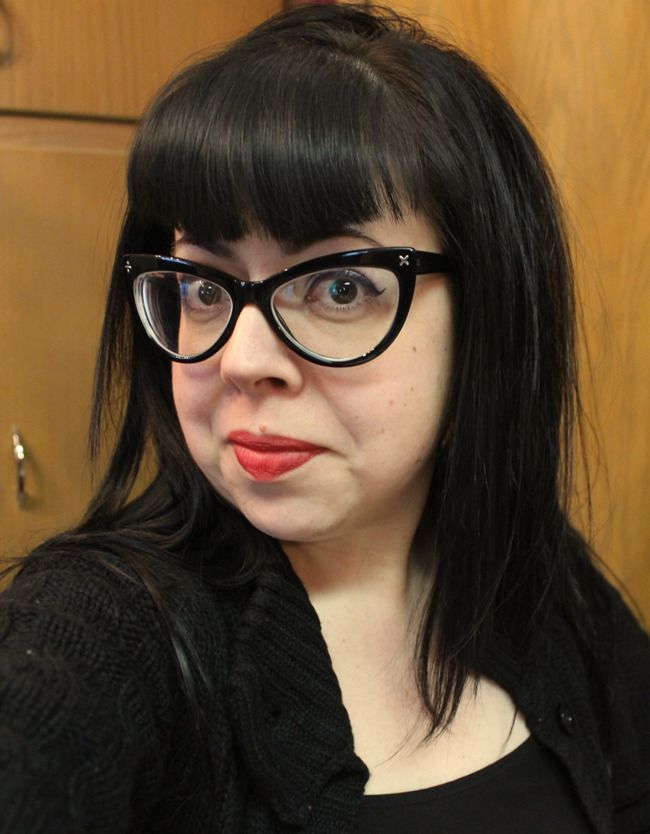 The Derek Cardigan frames are sold through
Coastal.com
. They have awesome deals and coupons (just do a Google search for Coastal coupon code, they have super great first-time order deals, but also great deals for repeat customers... like me...!)
Ooh I just noticed that they're available now in
a brown/aqua combo
, a
white/clear style
, or
purple
! (Full confession: I may have just purchased these purple frames as I was researching this post...!) I also love
these fuchsia frames
, also from Derek Cardigan. So many awesome choices!
I was able to score the 7005 frames WITH prescription lenses for under $100. Seriously. That's an amazing deal for cute glasses!
The key thing to know when buying glasses online is your prescription. Ask your eye doc for your glasses prescription on paper the next time you have an exam, and then you can use it anytime you want to order glasses online. Since my prescription is at a point where it doesn't really change, I can buy several pairs and mix them up for different looks.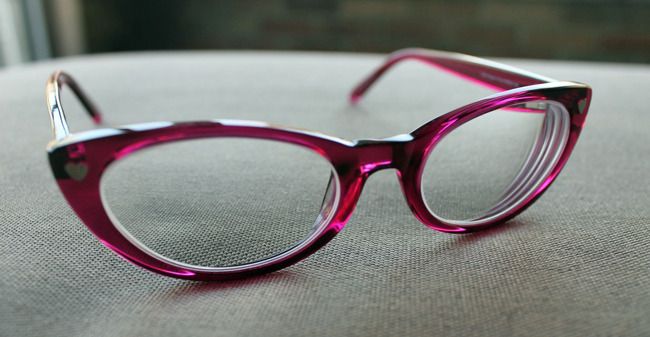 Derek Cardigan aren't the only style I've purchased through
Coastal
. I also snagged these "Love" frames - I couldn't resist the hearts on the temples - in a L740 style (currently only shown on the site as a
sunglasses version
).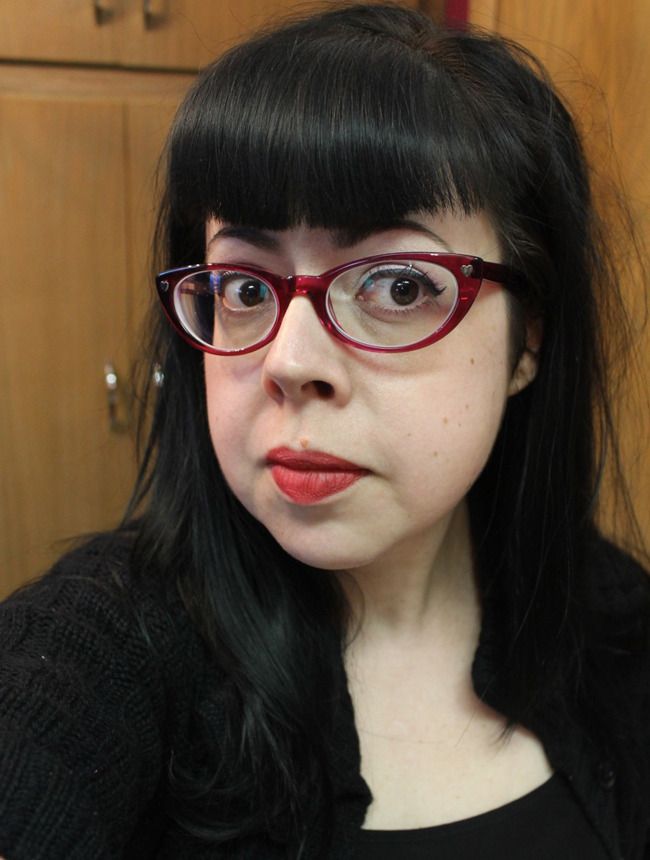 I was hesitant to buy these originally because they are smaller than the styles I typically prefer. But I got a really good deal, and snapped them up. They were my second pair I purchased out of the four shown here.
So,
Coastal
is my first choice for inexpensive, but cute frames. Another great option I've found is
BonLook
. When I saw that blogger Keiko Lynn was coming out with a
retro cat-eye style
, I bought a pair - again, for only around $100! I chose the "
Miku Mint
" color, but they're also available in a light pink, black, tortoiseshell, or pearlescent white!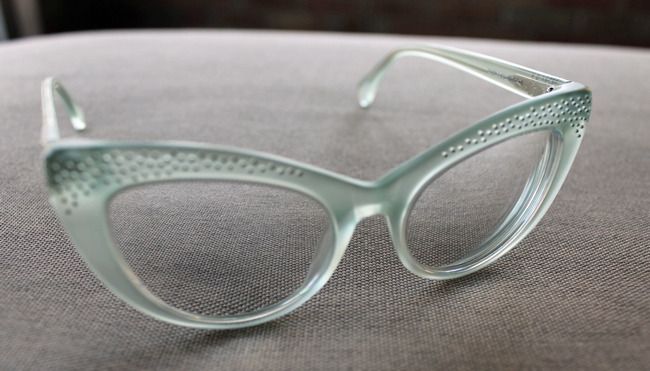 You would have seen these glasses before in
this blog post
. They're definitely not as "everyday wear"-ish as my black cat-eye frames, but they're still super fun, and I usually get compliments when I do wear them out. This year, they were great for my all-green St. Pat's day outfit!
BonLook
also has a whole bunch of other cute frames, like these
"Bombshell" pink cosmo cat-eye frames
!
This next pair of glasses I think I spotted on Pinterest, which sent me into a treasure hunt style search to find them IRL: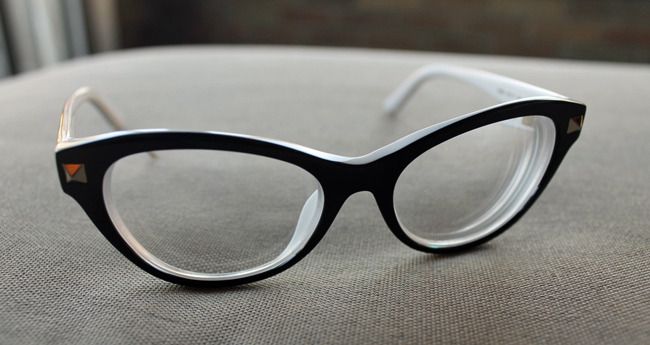 They're
Valentino V2659 black/white combo
. If I recall correctly, these originally came in an all-black version, too, but I went for the black/white style just to justify another pair of glasses that were different "enough" from my Derek Cardigans. You know what sold me on these? The damn pyramid studs on the temples. They were too heavy metal to NOT own.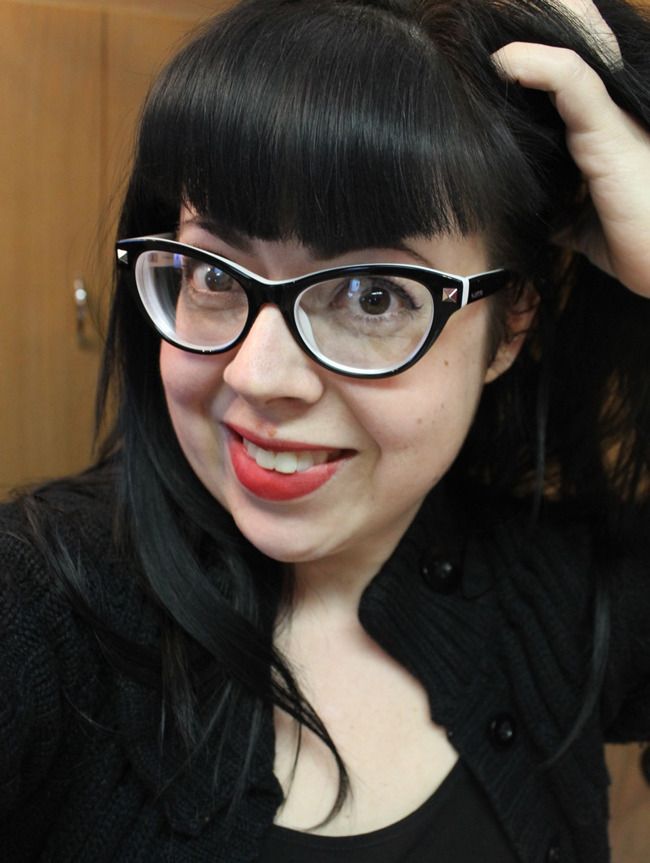 I think that I bought these from
LensesRx.com
, only because I get emails from them occasionally. These frames were the most expensive, just because they're Valentino. But I splurged. So they were about twice the price of the others... but if you're going to wear glasses, I firmly believe that it's worth it to buy ones that you really like so that you don't mind wearing them out and feel cute when you do it!
After this blog post, I will own five pairs of cute glasses (the four shown here + the purple Derek Cardigan 7005s I just ordered, LOL). If you haven't ordered glasses online before, I strongly suggest that you take the plunge and go for it! I'm so glad that I did!
Rock On,
Jen @ Hell Razor
now playing: