About a month ago, Steph and I went to a pin-up photo shoot event with
Grinkie Girls Photography
. They were holding a special Chicago event (they're originally based in Minneapolis), and Steph asked me if I wanted to go. A pin-up photo shoot is something that I had always wanted to do, but was never feeling comfortable enough with myself to follow through with it. (The first time a group a friends went to go do this, I was super pregnant and feeling really lousy. Ever since, I've always thought about it.)
The timing this time around was pretty perfect, actually. I'm feeling pretty accomplished right now with my success surrounding
my weight loss surgery
, so I thought that this would be a good way to celebrate, document, and reward my progress.
We were told to bring some wardrobe options, so I packed my black Hell Bunny bats dress (from
our Las Vegas wedding vow renewal
... it was a little bit big at this point, but we clamped it in the back!), and my roller skates. I wanted to be comfortable, so I wore leggings and my
Gypsy Warrior x Pacific Sunwear
dress (it was from the 2014 collection) that looks very Wednesday Addams-esque. I hadn't planned on wearing it for the shoot...
Steph and I drove over an hour away to an unknown house where the event was being held, which was weird at first, until we walked in and saw a whole group of awesome girls that immediately made us feel really comfortable.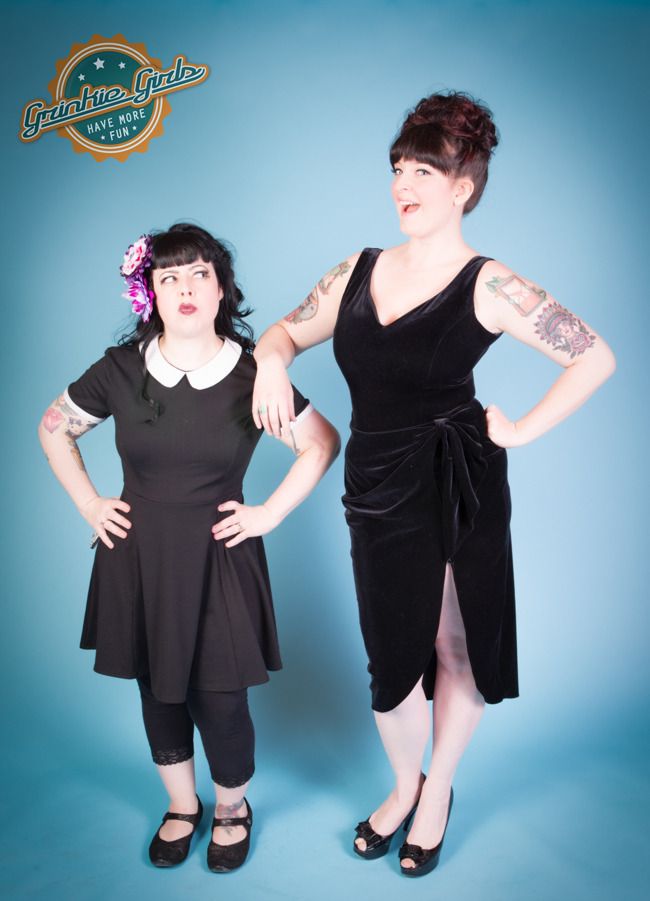 Hair and makeup was done in the house, while the actual photoshoot took place in the garage! You'd never know that's where we are in these photos. The big blue backdrop and good lighting works wonders!
While I was getting my hair set, Christi (aka "Grinkie") asked if I was wearing my Wednesday Addams dress for the photoshoot, and I told her that I hadn't planned on it, but I wasn't necessarily against it. She immediately replied, "Oh yes, you have to wear it! We're going to do a Wednesday Addams pin-up shoot!" which made me giggle because although she didn't know me yet, it was EXACTLY my aesthetic. I was for it!
So, the top two photos are the result of the "Wednesday Addams pin-up" concept. They're kind of my favorite. Also, they're really great photos of my
Hell Razor flowers
in action!
How could I do a pin-up photo shoot without
my roller skates
? We had fun with these, like "how would a derby girl pose for a photo?" Hence, skater stance.
I took a bunch in the traditional lying down, legs-in-the-air pose, too. They're actually my most favorite. I didn't post them here because sometimes I feel like they're a little too risque for me to post in public? But I did put one of them way back in
my instagram feed
, if you're super curious. :)
Also, try not to let my pasty white white white legs blind you!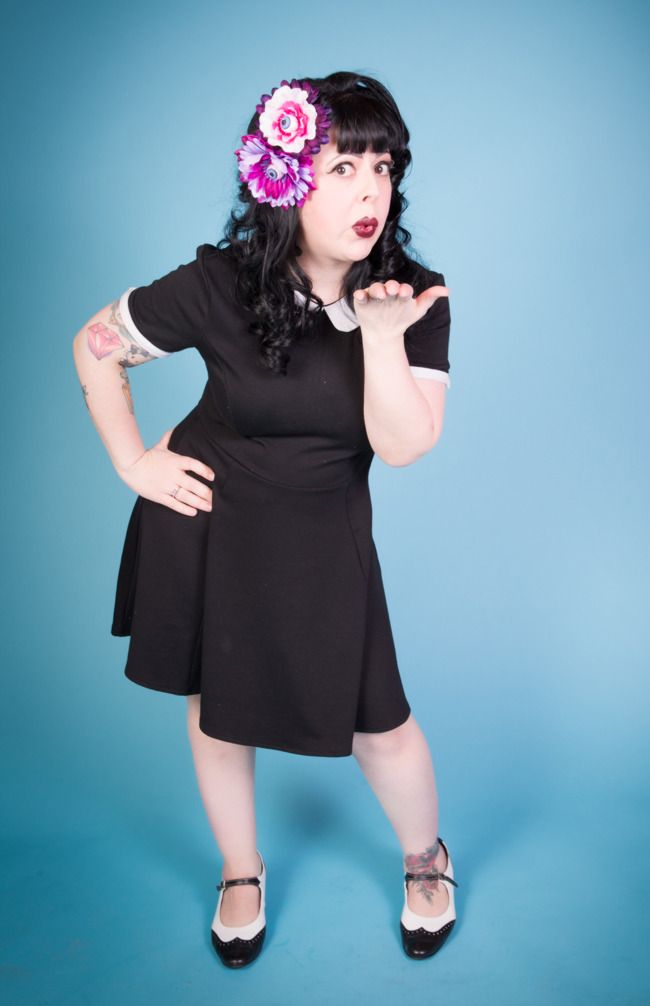 It was so much fun to do this photoshoot, and it made me feel really good about myself. I highly recommend this experience to any and every lady - especially if you're hurting in the "feeling good about yourself" arena... having done it now, I wish I hadn't waited, and that I had just gone for it back when I was pregnant. It's amazing what a good photographer can do!
Rock On,
Jen @ Hell Razor
now playing: