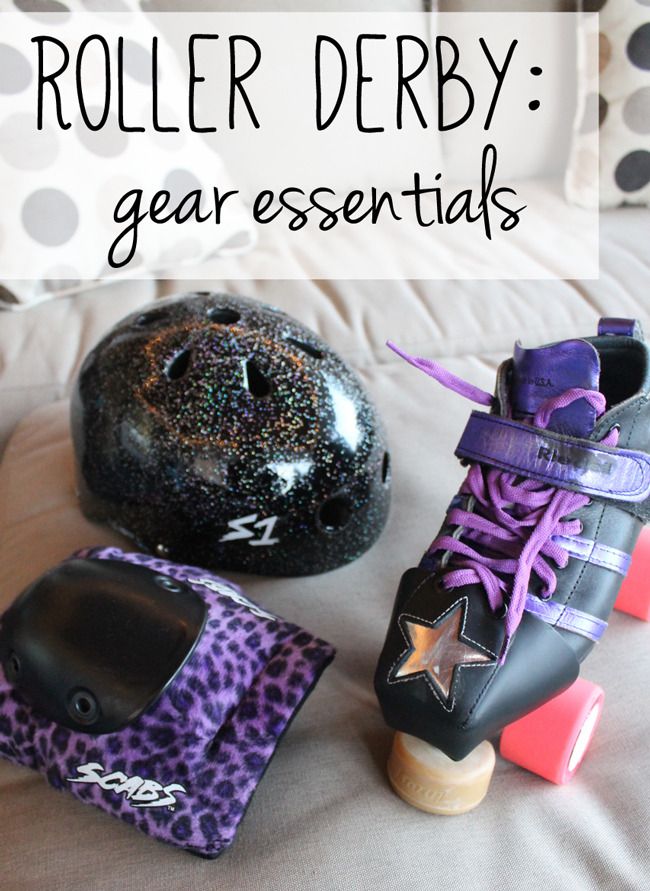 I've been skating with
Derby Lite
now for two years! I talked about them
on the blog back in 2013
, and I've been skating ever since April of that year. I
broke my elbow
(while skating) and had to have two screws put in, which meant a break from skating for a couple of months, and then took a second break during my
bariatric surgery
recovery. But I've always come back, and skating is one of the things that I love to do the most!
I recently bought all new gear (my helmet and my pads had both gotten too big!) and it seemed like a good time to go over all of the gear that one should have in order to skate, including some of my favorite recommendations, starting with skates!
Skates:
First, you've gotta have skates! I started out with a very basic skate issued to me via Derby Lite. But two Christmases ago, I purchased a new custom pair of skates. I
blogged all about it here
. Notice all of the
wear
love that's been given to this pair over the last year!
I recently upgraded my toe stops, and I love them! They're
Crazy Bloc
toe stops. Because they're so big and flat, they're perfect for walking on and using to help get a running start.
I also customize my skates with colored laces and a pair of toe guards
via DerbyVixen on Etsy
.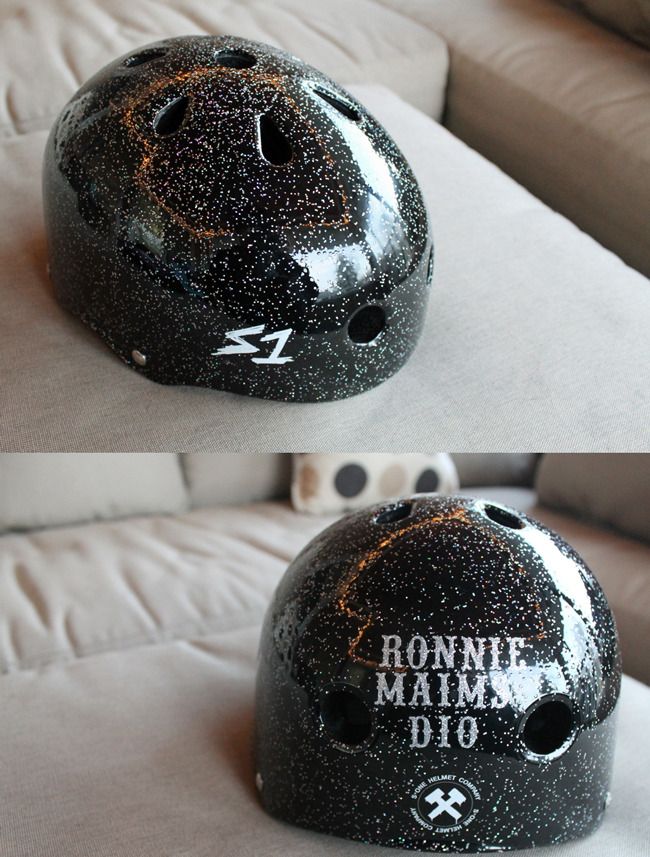 Helmet:
I started out in derby with a
Triple Eight Brainsaver helmet
, but I just upgraded to an
S1 black glitter helmet
, and it's amazing! I've only gotten so far as to get my name on the back, but I think I'll get myself a new Dio decal for the side soon...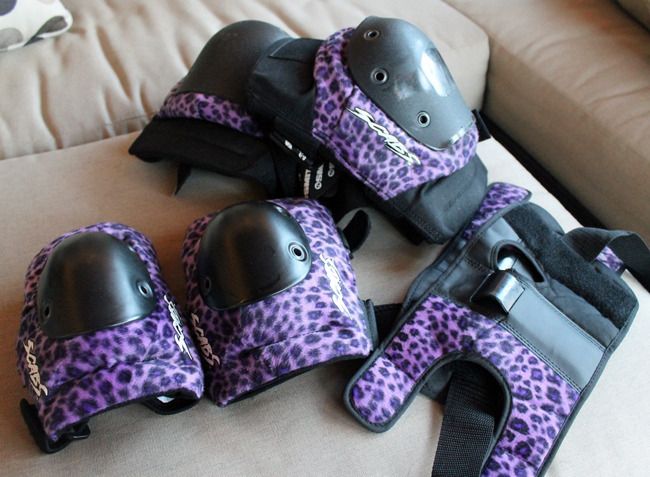 Pads: Knee, Elbow, and Wrist Guards:
Our basic derby kit came with
Triple Eight pads
for all of the above. I ended up switching to a pair of
Killer 187 knee pads
, and they are hands-down the most comfortable things to ever fall on! But they are bulky - ridiculously bulky. When I noticed that my gear was getting too big for me and that I would need to get new gear, I went all fancy and purchased this coordinating purple leopard set from
Smith Scabs
. You don't need to buy all three together as a set, but sometimes you can get a good deal if you do. My set was on sale at
Medusa Skates
!
Mouthguard:
A mouthguard is a required piece of gear if you're skating derby. You can buy cheap (but bulky) mouthguards for only a few bucks, or you can spend a little more and get a colorful and slim mouthguard like
this one from Sisu
. Mine is purple (but I posted the stock photo in lieu of my actual chewed up guard), and I love that I can talk and drink water comfortably while wearing it. Even if I do look like I was just in a fist fight and got my teeth knocked out. :)
Optional Gear:
The next few items are not requirements for skating, but are additional/fun items that you can try out or treat yourself to...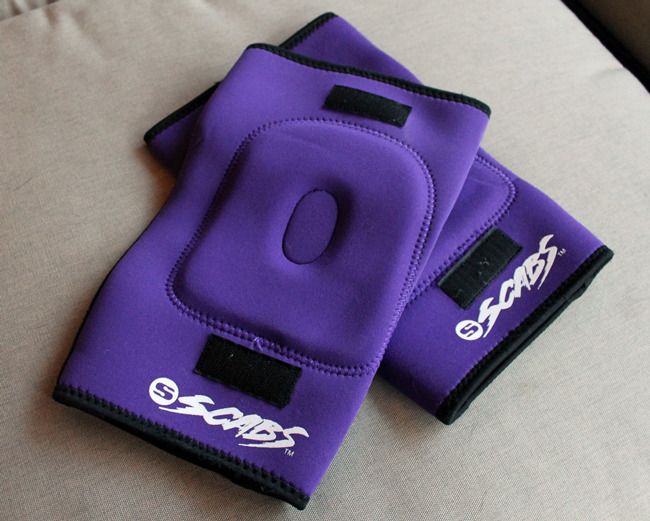 Gaskets:
These are sleeves that go under your knee pads, made from neoprene and designed to help absorb sweat. I bought them mostly just because they were purple, and I wanted to find something to help keep my knee pads from shifting when I had slippery leggings on. I usually don't wear them, but I know girls who swear by them!
Customized Leg Warmers:
I bought these on a whim the same winter that I got my new skates. Every time I wear them I get compliments, and they sure are convenient on those really chilly winter nights! I love that the heel end is made to fit over the heel of your skates. There's usually a little wait to get these, since they're custom, but it's totally worth it.
By BlazingNeedles on Etsy
.
Outdoor Skates:
I just bought these for myself last week! After skating outdoors in the St. Patrick's day parade this year, I decided that I should skate outside more.
These skates by Moxi
are super cute (they come in purple, red, pink, and turquoise besides the mint pictured above!) and they come with wheels designed for outdoor use. This is definitely a luxury item (not needed for derby at all), and I'm told that the heel makes skating on them an adjustment from derby skates, but I can't wait to bust out these babies this summer!
Rock On,
Jen @ Hell Razor
now playing: