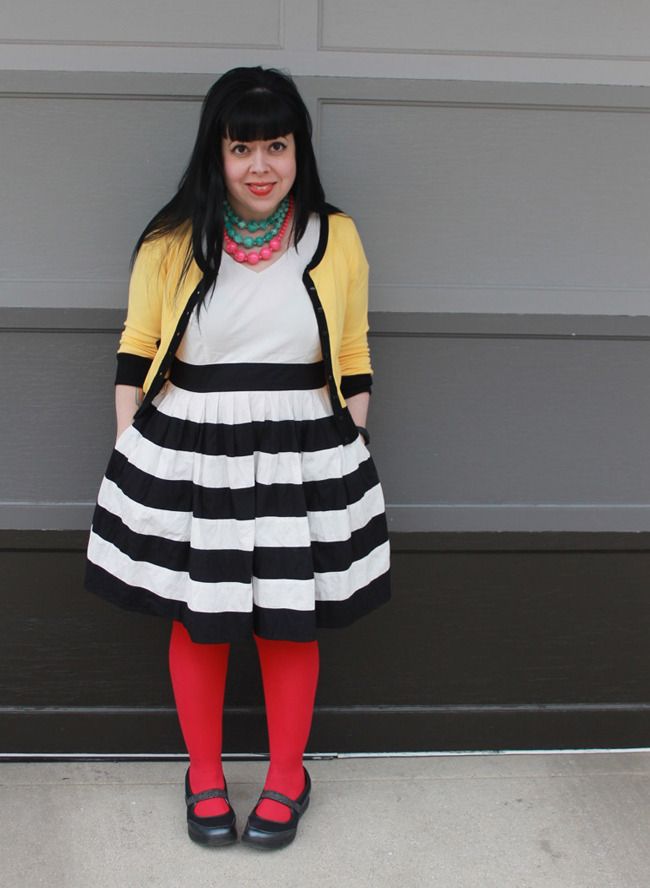 tights - We Love Colors / shoes - thrifted / dress - eShakti / cardigan - Voodoo Vixen (gifted by my mom!) / necklaces - vintage / lipstick - Adora by Kat Von D for Sephora
It's Wednesday! Welcome to #OnWednesdayWeWearArt - this week's theme is the art of Piet Mondrian. Mondrian was a Dutch painter, and part of the De Stijl movement.
The artists of De Stijl (meaning "The Style") advocated total abstraction by simplifying art down to it's purest elements. Visual compositions used only primary colors along with black and white, and lines were used in vertical and horizontal directions.
I surprised myself that I was even able to put together an outfit that fit this theme, but I did, and it's one of my favorite #OWWWA outfits to date! I was actually doing a closet clean-out the other day when I stumbled across this yellow and black cardigan gifted to me by my mom. I had stashed it in my "too small/save for the future" bin. Periodically, I go through the bin and my closet, and add pieces in that fit, and cull some of my items that have gotten too big.
I was thinking of color-blocking and the work of Piet Mondrian when I came across my eShakti dress,
first featured here
. I've never been a huge fan of the blank white top of this dress, but I do love the fluffy skirt, so I will often pair it with a sweater... but never this one before! I love the combination together, so I'm sure I'll pair this up more often in the future.
Composition with Large Red Plane, Yellow, Black, Gray, and Blue, 1921
Fun fact: Mondrian
started out as a primary teacher
before becoming a painter full-time! Seems appropriate, as the colors of his paintings remind me of elementary school. Primary teacher - primary colors... yep.
I was excited to discover that I actually owned a pair of red tights, as this was exactly what my black/white/yellow dress combination needed! These thrifted mary-jane style flats
from last week
are comfy enough to wear all day at work.
Tableau I, 1921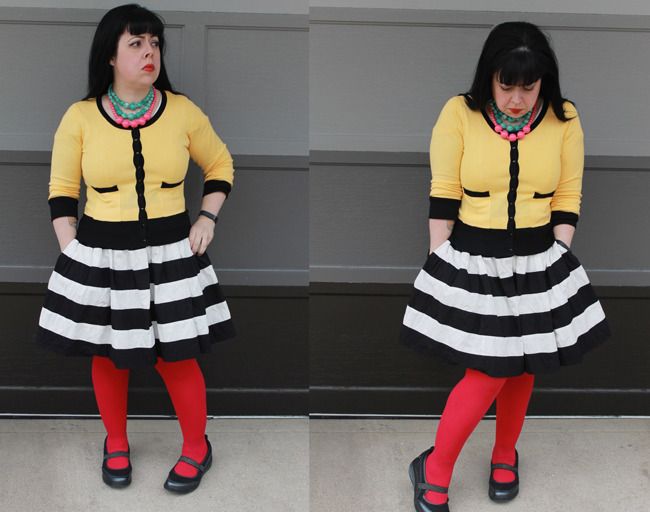 The whole Mondrian effect works better when I wear the sweater closed, but the buttons pull a bit, and the top of my dress lays weird (it's a little too big for me now) and bunched weird in the chest, which looks weird under the sweater. So I wore this with the cardigan open IRL on this day, but I snapped a few photos so that you can get the full effect. :)
These necklaces (there are two - the pink is one necklace and the mint is a separate double-strand) are vintage. The pink one was gifted to me by Steph several years ago for my birthday, and only recently I've discovered how great these necklaces look paired together! The plain white top of the dress inspired me to try out something chunky and more colorful in a necklace, and I love how it turned out.
Also of note is my garage door in these photos - I've used it as a background before, but the primary colors against the neutral value scale of the door really make it pop! Perhaps I'll do a blog post this summer on our repainted garage. It's very art-teacher-y, and unlike any other garages I've seen around.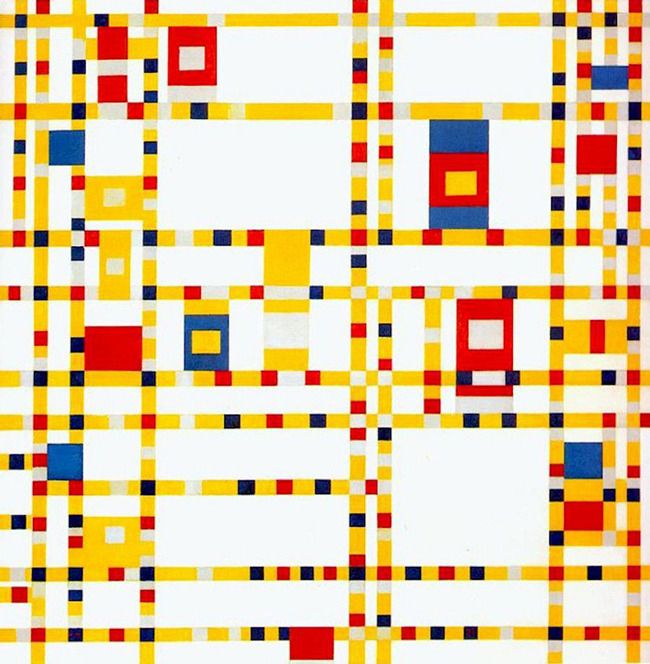 Broadway Boogie Woogie, 1943
Mondrian's later paintings, like
Broadway Boogie Woogie
(seen above) are inspired by big band/swing music (some of my favorites!) and his New York/Manhattan surroundings, which is where he moved to and lived later in life.
Be sure to stop by
My Friend Court
and
Unbelievably Human
(the originators of #OnWednesdayWeWearArt) to see what's happening in their #OWWWA worlds!
Rock On,
Jen @ Hell Razor
now playing: