shoes - thrifted / tights - We Love Colors / dress - Target / belt - Betsey Johnson via Marshalls / sweater - H&M / sunglasses - Betsey Johnson via Marshalls
Welcome back to #OnWednesdaysWeWearArt! This week's artist is Morris Louis. Morris Louis is an American "Color Field" painter, which is a type of modern abstract painting that is usually characterized by large fields of flat color spread across the painting.
I bought this dress from Target recently, specifically because the pattern on the fabric reminded me of an abstract painting, much of which is very expressionistic and with fields of flat color.
getting fancy with the .gif here...!
Random trivia: Morris Louis was diagnosed with and died of lung cancer, attributed to his prolonged exposure to paint vapors. He was only 50 years old. Ugh.
Blue Veil, 1958
So... on that happy note... I am glad to see that the weather has improved so much lately. I celebrated by taking photos outdoors, even though the grass is still dead from being covered by snow. As you can see, it was very bright out when I took photos, so it was hard not to squint and make stupid faces.
I love how so many of Morris Louis' paintings look like they've dripped and slid down the canvas. It's very watercolor-y looking, although my research informed me that Morris Louis used a paint called "Magna paint," which is an oil-based acrylic paint. Another artist that used Magna paint was Roy Lichtenstein.
Floral V, 1959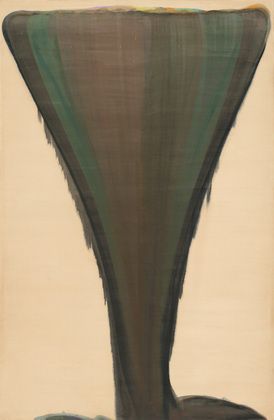 Untitled, 1958
The quality of the image above is not amazing, but it really reminded me of the pattern on my dress, so it seemed appropriate to include.
I think you all know and understand my love of dresses with pockets. Bonus awesomeness for this dress!
Saf, 1959
Do you love my spiffy orthopedic shoes? I found them at the thrift store in like-new condition for only $5! I couldn't resist. They are beyond comfy, if not the most stylish shoes, ever. :)
Untitled, 1959-1960
Thanks for coming to hang out for another #OWWWA!
Be sure to stop by
My Friend Court
and
Unbelievably Human
(the originators of #OnWednesdayWeWearArt) to see what's happening in their #OWWWA worlds!
Rock On,
Jen @ Hell Razor
now playing: