dress - Target / lace cardigan - Target (old) / boots - Target / tights - We Love Colors / necklace - Etsy / bracelet - Kate Spade via eBay
Welcome back to another #OnWednesdaysWeWearArt! This week, we examine the work of Ernst Ludwig Kirchner. Kirchner was a part of the Die Brücke (or, "The Bridge") movement of artists, and one of the most influential of Germany's Expressionists. His palette is clearly influenced by Fauvism, which is colorful, saturated, and often unnatural in style. Just look at the green and red faces in the painting below:
Night Street Scene
Finding an outfit in the color palette of Kirchner proved to be kind of a challenge for me. My obsession with all black everything makes these #OWWWA posts... interesting...
So I paired a black t-shirt dress with a pair of colorful tights (for some reason I have quite the collection of those!) and an older lace cardigan in a mustard yellow. This cardigan is actually from the Target/Rodarte collaboration from 2009/2010. I loved that collection. This cardigan had been stored away until it fit me again, so yay!
Although I'm still wearing black, the pops of color remind me very much of the colors used by Kirchner.
The aim of Die Brücke was to create a new mode of artistic expression that formed a "bridge" (hence the name) between classical art motifs of the past and avant-garde art forms of the present times. Die Brücke artworks express extreme emotion through crude lines, areas of flat unbroken color, and a vibrant, unnatural color palette.
Farewell, 1925-26
I love the bright blue outlines on the painting above, and the cool tones against the field of yellow. Almost neon-like!
Side note: I was so hopeful that our snow would have melted by now, but no such luck. I decided to take outfit photos outside anyways. Nature be damned! *Shakes fist in the air.*
The Visit - Couple and Newcomer, 1922
Like
Otto Dix last week
, Ernst Ludwig Kirchner's work was labeled "Degenerate Art" by the Nazis. He suffered from depression and committed suicide in 1938.
Kirchner's fist public art showing was as part of the Armory Show in 1913, which was the first major display of modern art in America.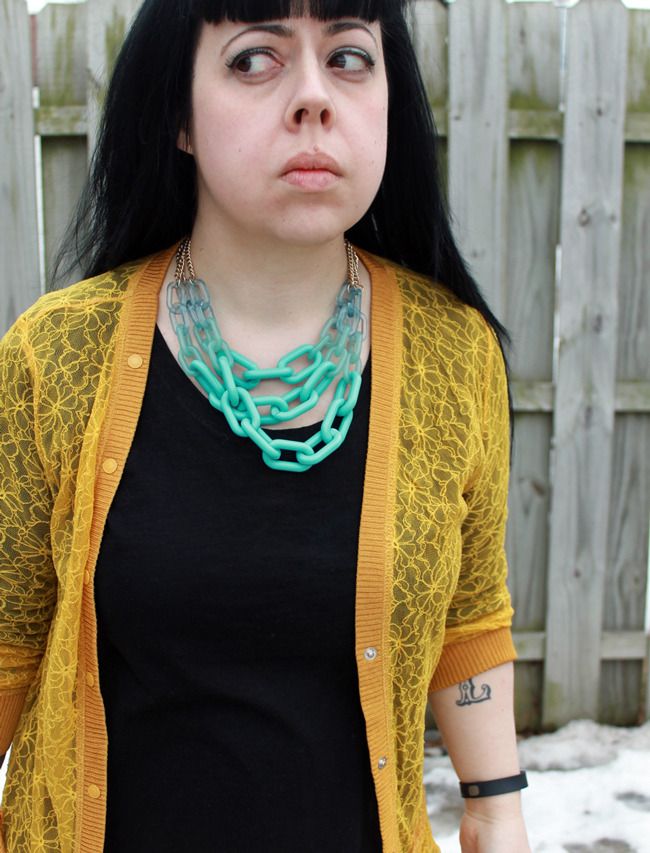 I like the juxtaposition of the turquoise, mustard yellow, and magenta tights in this outfit. The necklace was purchased
via etsy
after I saw a similar (possibly the exact same?) one worn by
Court on her blog
. I became fixated on it and scoured the web to find one of my own!
Portrait of Gerda, 1914
Clearly, these #OWWWA posts are trying to let me know that I need more color in my wardrobe. So far I've been able to make it work, but you never know! We'll have to wait and see what happens next week!
Be sure to stop by
My Friend Court
and
Unbelievably Human
(the originators of #OnWednesdayWeWearArt) to see what's happening in their #OWWWA worlds!
Rock On,
Jen @ Hell Razor
now playing: