I have a hard time finishing sketchbooks and art journals. I have great steam when I start them, but then I taper off and tend to never finish them up. In fact, I think I've only really finished one once before, when I pretty much had to for
the Sketchbook Project, back in 2011
. But recently, I finished another one, all by myself on my own time! Woo hoo! I thought I'd share some of my favorite pages with you here.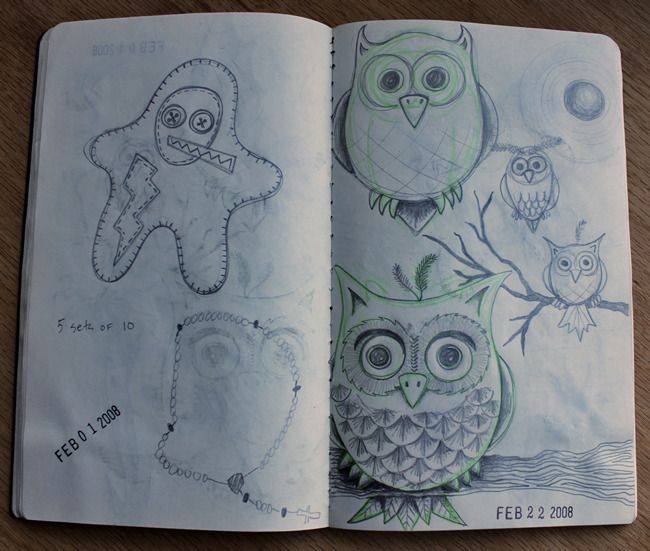 I started this book way back in 2007, I think? Some of these drawings are actually dated, so you can see how old they are. I actually touched on some of these
in an older blog post
- this is the SAME book that I FINALLY finished! Ugh, so embarrassingly slow. I vow not to take this long this next time around. :)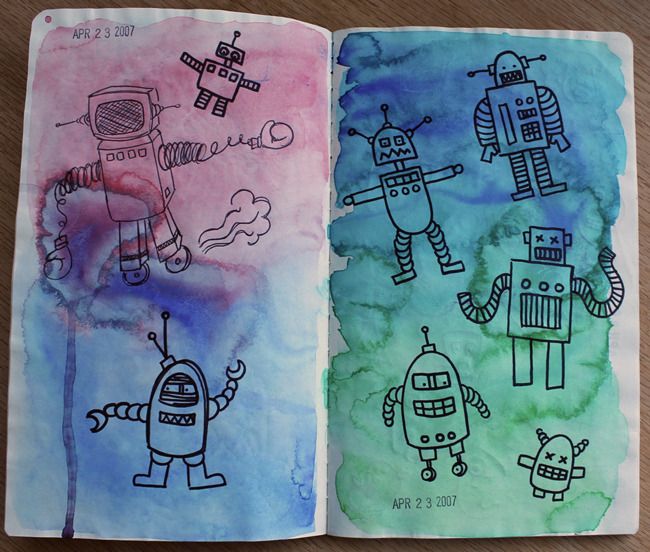 I first started experimenting with watercolor wash backgrounds in this drawing. This is one of my favorite techniques to use!
Above: These were sketches for a series of soft sculptures that I was making back in 2007.
I daydream that one day I might get to try my hand at tattooing, therefore I have a bunch of sketches from 2008 where I was attempting some more traditional subject matter.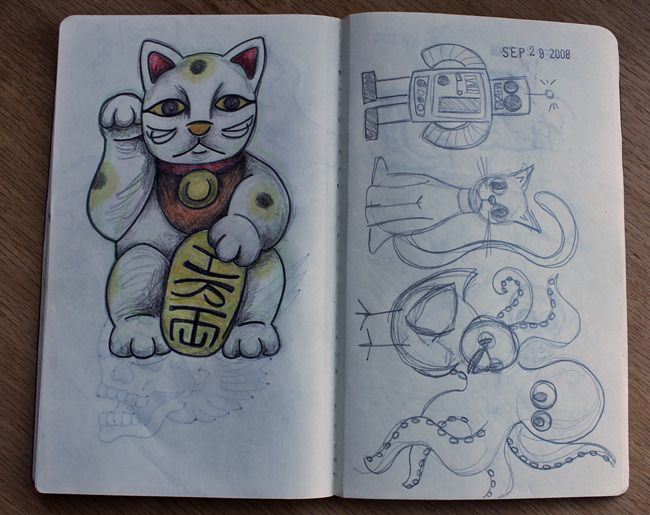 I have a tattoo of a letter "L" in a circus font on my left arm. The sketches below were my attempts to hand-letter in that style.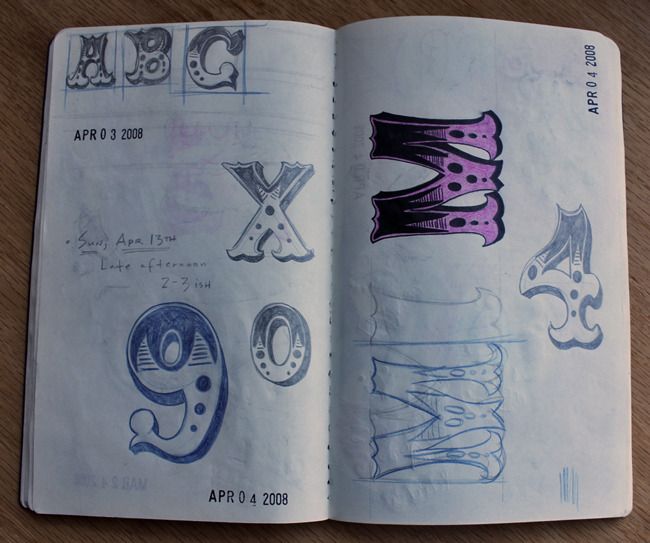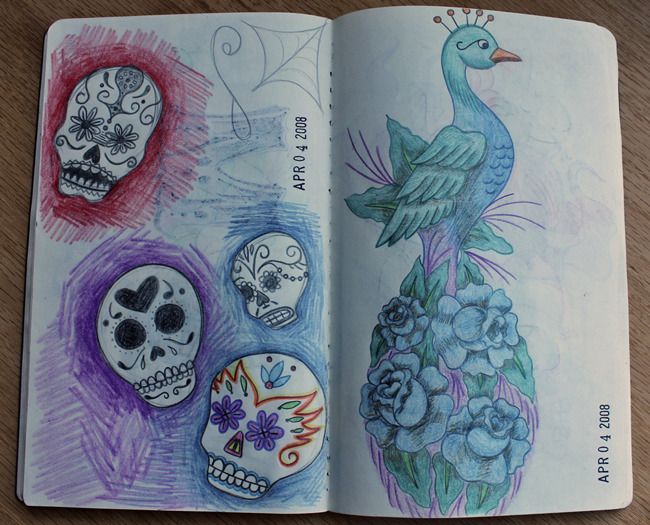 I think that the food with faces (below) was around 2009... maybe 2010? I completed a series of collages in this style and was fascinated by the idea of personify-ing items by giving them eyeballs. Coincidentally, it also makes objects cuter. Not bad.
The next few pages are more recent... 2015, in fact. I sometimes just draw things that are around me. Hip-hop hamburger is
a Nerfect design
, and the Red Skull and Hello Kitty designs are sketches done from keychain charms that now live
in my planner
.
I've become pretty enamored with watercolor lately. I tend to use it as background layers, but I've also done some full paintings (as seen in
my donuts artwork
). Some of this stuff is just messing around with inspiration and images from places like Pinterest, other stuff is just experimental with media and tools.
The cake/donut/cupcake pages were mostly completed in faculty meetings. Gotta love those. At least something positive came out of them! Ha!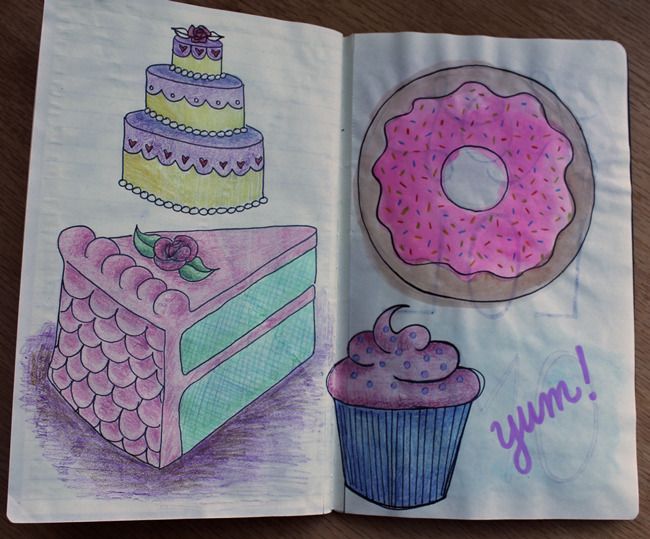 The donut (above) was also my test painting for my bigger donut painting. Sometimes I'll do a drawing or sketch, and I really like it, so it turns into something bigger. I've also done a second cake slice image since this one (above).
These color swatches (above) are just experimental stuff on watercolor paper, outside of the actual art journal. On the left above, I was trying out some watercolor pencils. The end paper looked cool, so I saved it as a painting on its own.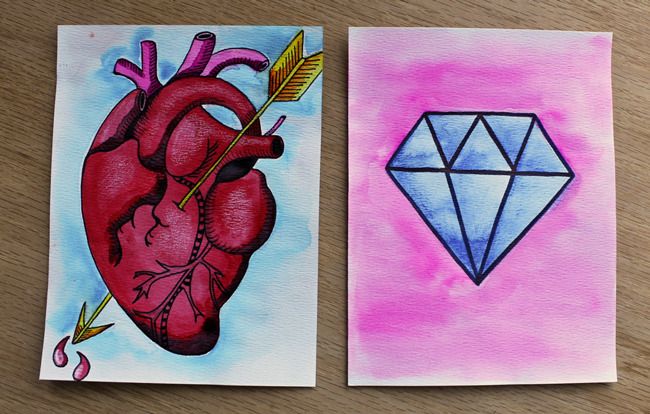 Above, I made a couple of tiny paintings to stand alone. Revisited the anatomical heart motif first seen sketched out in the 2008 pages, but this time I went full color. I've used this image several times in various artworks, including a sewn felt piece on a sweatshirt for Todd. I have a couple of diamond tattoos... I think I might need to add this painting to my plan to create stickers eventually...
So you can see that some of my work is more developed than others. I used to be really self-conscious about this, only wanting to show off my more developed/finished pieces with the world, but I'm forcing myself out of my comfort zone and trying to make something every day, no matter how "good" or "bad" it might be.
I'm currently participating in an art journal challenge sponsored by
My Friend Court
(
@myfriendcourt on Instagram
), called #MakeYourMarkMarch - all of my latest art journal works are being featured there, so if you
follow me on Instagram
, you can view them live each day!
Rock On,
Jen @ Hell Razor
now playing: