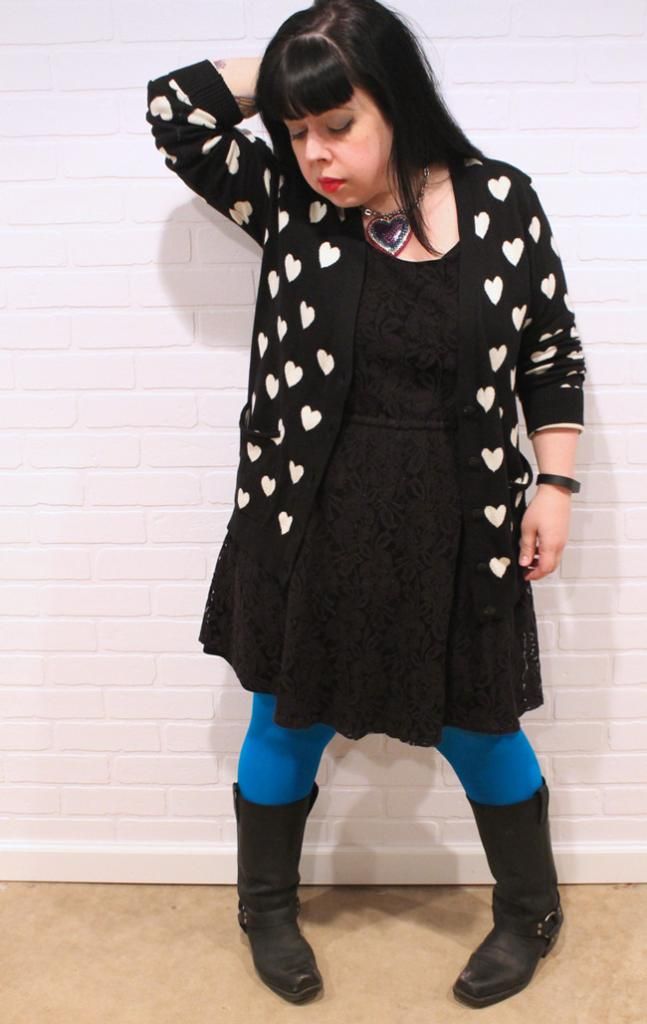 boots - Target / tights - We Love Colors / necklace - Tarina Tarantino / dress - Target / cardigan - Forever 21
I found
this blog post by Meagan Kerr
a couple of weeks ago and I got really excited because I now have a name for myself: an "inbetweenie!" Not only was that awesome because it has "weenie" in it (LOL I teach middle school) but I really identified with the description (from Meagan):
"Inbetweenie sizes are those on the smaller end of plus size (14-18) – an inbetweenie babe could shop at some plus size stores (these sometimes start from a size 12), and can usually find clothes in straight sized stores too."
Right now, this really fits me well, and I totally identify with it. In the past, I proudly proclaimed myself "plus size," but I've been feeling weird lately in that whole "hey, these plus-sized models aren't really plus sized" sort of way. I've always identified with my larger ladies. But since my
surgery
, I've started to question parts of my identity - can I still claim to be plus-sized if I can also buy some straight sizes? Am I not "plus" sized enough to belong? Would I be kicked out of the group? But what if I don't want to be in the other group! The plus sized ladies are MY PEOPLE and they are AWESOME!
Enter the inbetweenie. I love the idea that I can hang in all the worlds and still be cool. Thank you Meagan!
This day's outfit is yet another one of those "questioning my identity" things... I love all-black, but I've been craving tiny pops of color again. This day, I decided to experiment with some tights (which you also saw in purple last week!) and a black and white print in hearts (the day I wore this was prior to Valentine's day, so totally holiday festiveness vibes).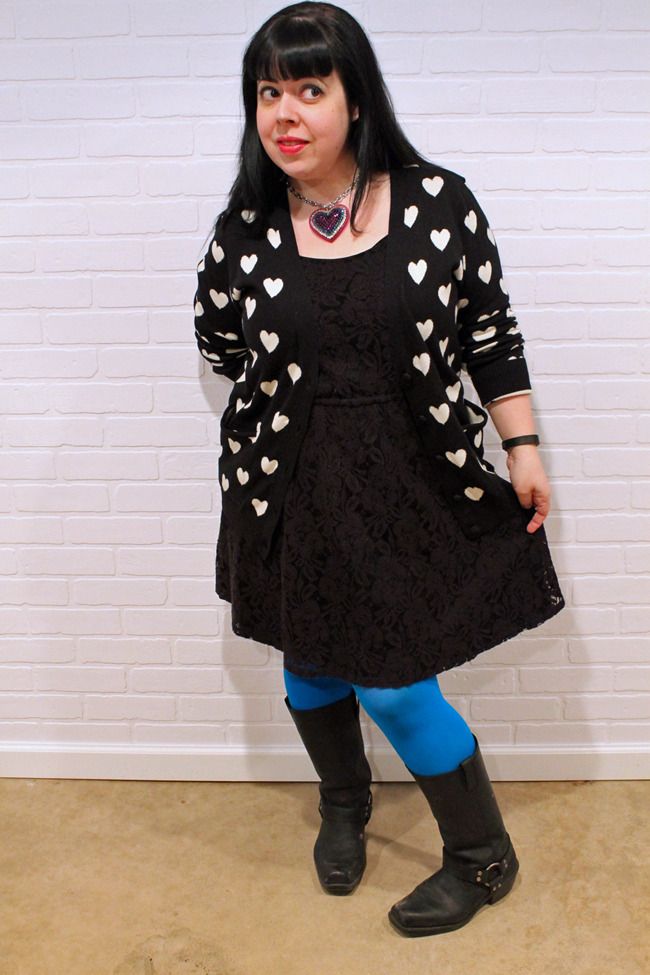 I've had this
Tarina Tarantino necklace
for several years now. It was a Christmas present to myself at 40% off (a Black Friday sale, I seem to remember?) way back when Todd and I were still dating. I wore it a lot at first, then some of the crystals started to fall off! Oh no! I ended up contacting customer support at Tarina Tarantino and they repaired it and sent it back to me! How cool. This seems like the perfect time to re-debut it.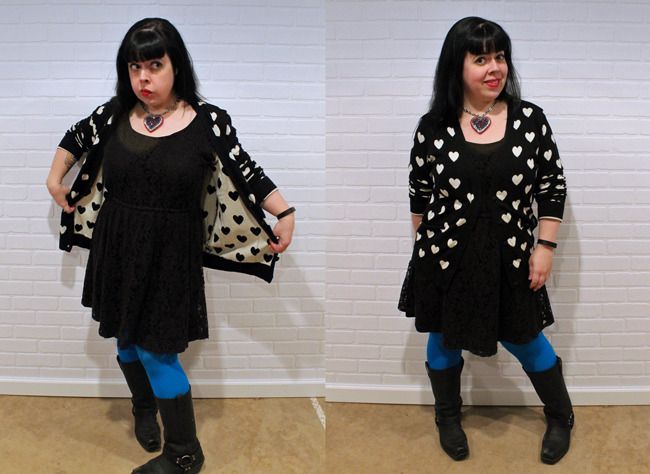 My sweater was an impulse purchase from Forever 21
. I was there looking for zipper pouches (ughh that's a whole other post - my collection is getting a little out of hand...) and I stumbled across it. I had a gray sweater with hearts on it back in the day (see
here
and
here
) and it's gotten too big, so I donated it probably a few months back. I was super excited to have this be one of my first "straight" size purchases since surgery.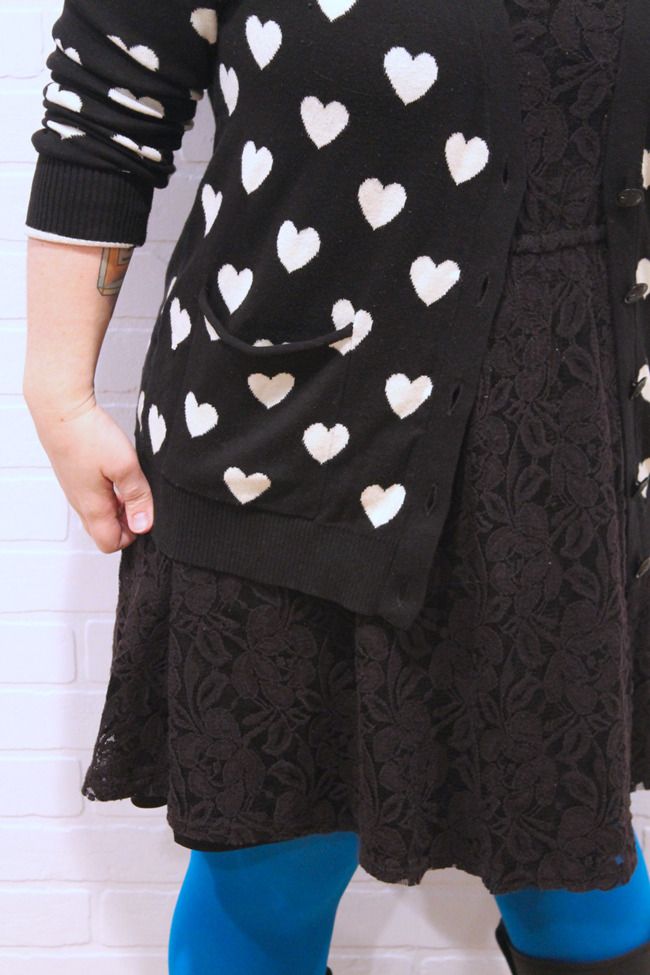 The patch-style pockets on this sweater are the best. I have so much love for pockets. By the way, did you notice my ratty black lace Target dress? I feel like it's been on the blog a million times. It's pretty big on me now, but I still refuse to let it go! (Evidence
here
,
here
,
here
, and
here
.)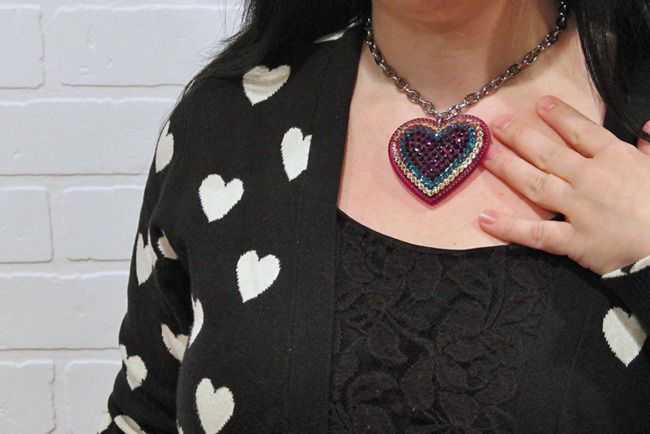 Close-up of the Tarina Tarantino goodness. It's a statement necklace, for sure.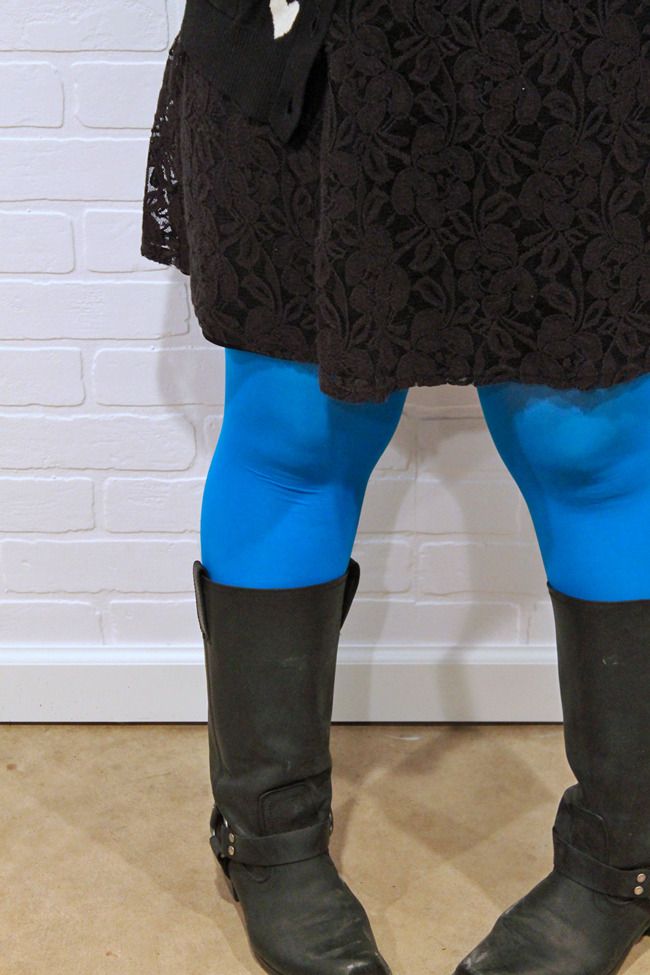 Blue tights. I buy all of my tights from
We Love Colors
. They have a terrific
plus sized hosiery selection
in a ton of colors! If you haven't bought from them, give it a try! Highly recommended.
I started
a Pinterest board called "Not Black"
for all of my non-all-black fashion interests as of late. If you're digging a possible new direction, check it out, including
my new most favorite sweater if I had an extra $635 laying around
.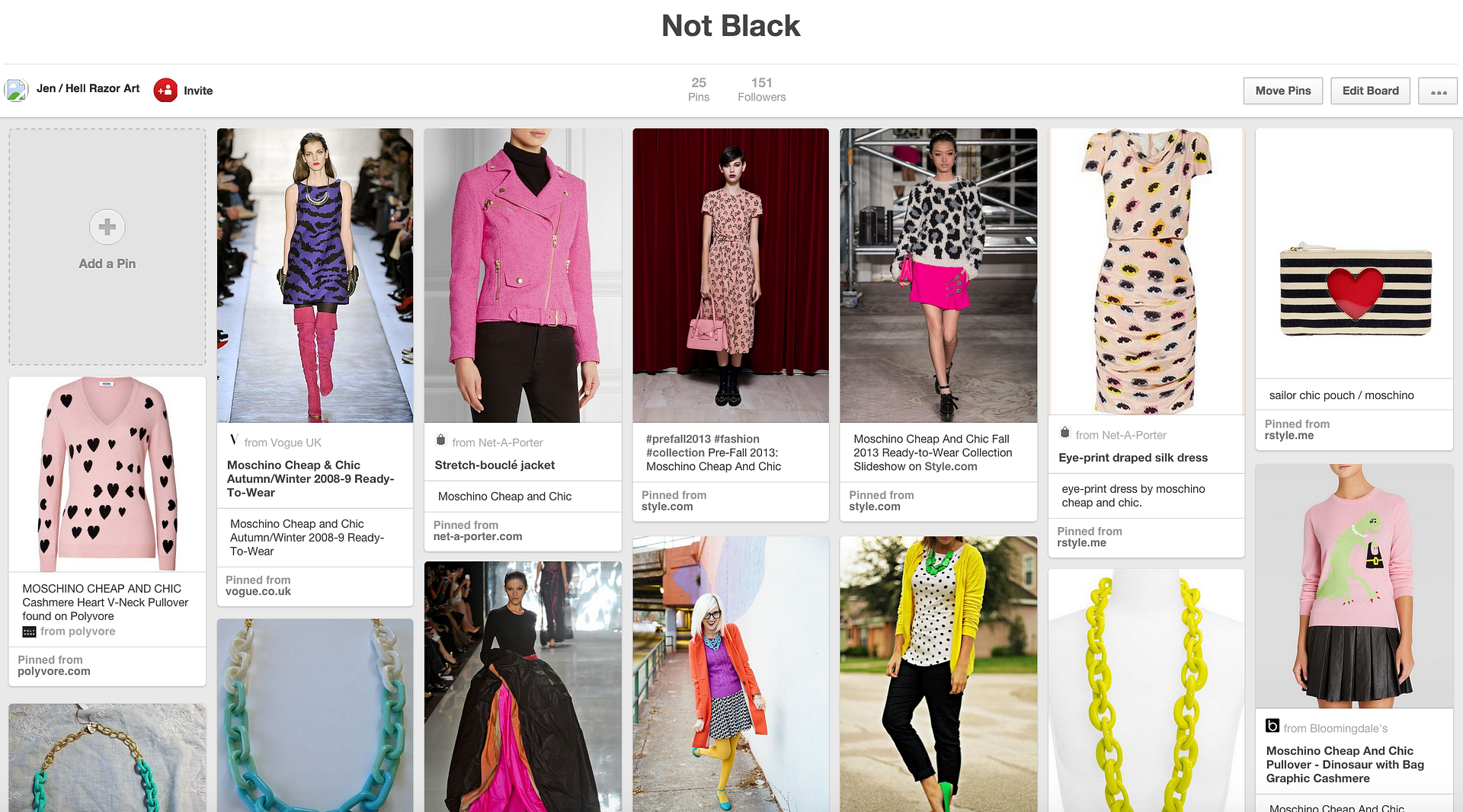 Rock On,
Jen @ Hell Razor
now playing: