boots - BCBG via DSW / tights - We Love Colors / sweater skirt - DIY / shirt - Domino Dollhouse / jacket - Guess / sunglasses - Moschino via TJMaxx / lips - MAC NastyGal "Gunner"
Check me out - I've got two #OnWednesdayWeWearArt posts in a row! This is awesome! This week's theme is "monochromatic." I've gotta tell you guys, I worked REALLY hard to not make my monochromatic outfit all-black. It would be just too easy for me, right? So I challenged myself to find pieces in another color... and I came up with purple!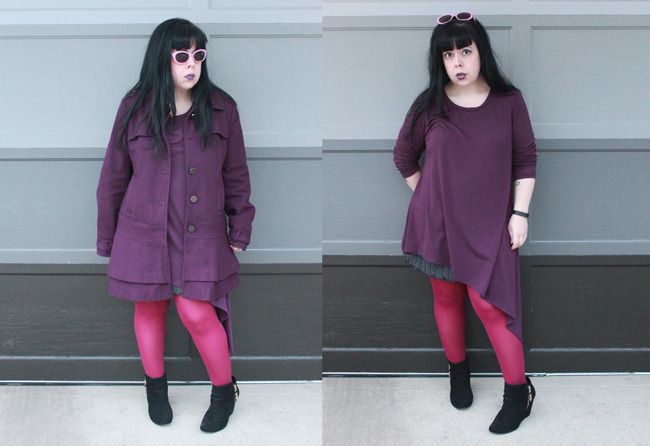 I love my purple winter coat. Can you see that it's missing a button on the top? I have the worst luck with coat buttons. Then I get sick of sewing them back on all of the time, so I just keep the button in my pocket, usually until the following winter when I forget that I did that.
My
Domino Dollhouse "Edge" top in Amethyst
is nearly the exact same color as my coat. I love this shirt, even though it's getting a little bit big on me. I may try to alter it so I can keep wearing it... that's how much I love it! I'm wearing it with a skirt here (to show off my tights), but I often wear this with leggings and it looks awesome and is super comfy! I absolutely love the asymmetrical hem and I wish I had more pieces like this.
I do own a lot of colorful tights. In fact, these tights are a tad bit more pink-ish than purple (my straight up purple ones were in the wash), but it's the same color family. So it works.
Something that is monochromatic is something that is all one color, or mostly one color. By "one color," that means the original hue, plus all of the lights and darks of that hue.
Sunflowers, Vincent Van Gogh, 1888
Van Gogh's
Sunflowers
painting is monochromatic yellow. There are many shades of yellow in this painting, and there are a few non-yellow colors, but overall it is mostly yellow. So this counts.
My DIY sweater skirt was first featured
on the blog here
.
Pablo Picasso went through a couple of monochromatic periods in his painting career. The Rose Period and the Blue Period are pretty well-known.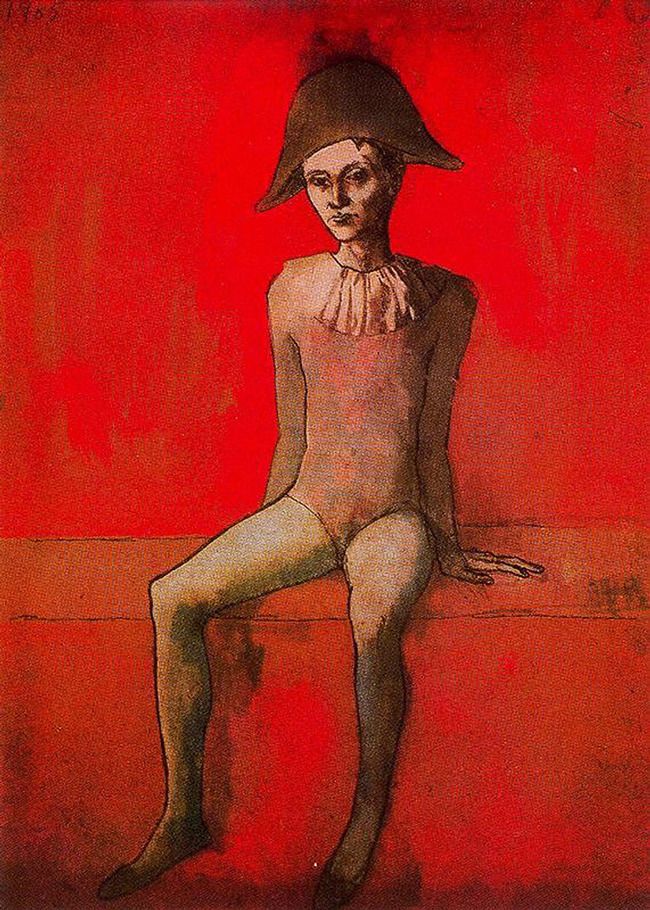 Seated Harlequin, Pablo Picasso, Rose Period
The Old Guitarist, Pablo Picasso, 1903-04, Blue Period
The Old Guitarist
is part of the collection right here at the
Art Institute of Chicago
, so I've been lucky to see it in person several times.
As I was heading outside in the cold to take my outfit photos for today, I remembered my purplish sunglasses that I just purchased recently from TJMaxx. They're Moschino, so this made me excited as I've been obsessed with
that damn dinosaur sweater
I've mentioned before that also happens to be Moschino. Sunglasses do not = dinosaur sweater, but whatever.
I'm so freaking festive that I even made my makeup fit the theme. This was actually super easy because purple eyeshadow is my most favorite eyeshadow, and purple lipstick is my new favorite thing to buy. This one is "Gunner" from the MAC x NastyGal collaboration and it's sold out. You'll have to pay an exorbitant amount for it on eBay now, which is what suckers like myself did. Doh!
Be sure to stop by
My Friend Court
and
Unbelievably Human
(the originators of #OnWednesdayWeWearArt) to see what's happening in their #OWWWA worlds!
Rock On,
Jen @ Hell Razor
now playing: