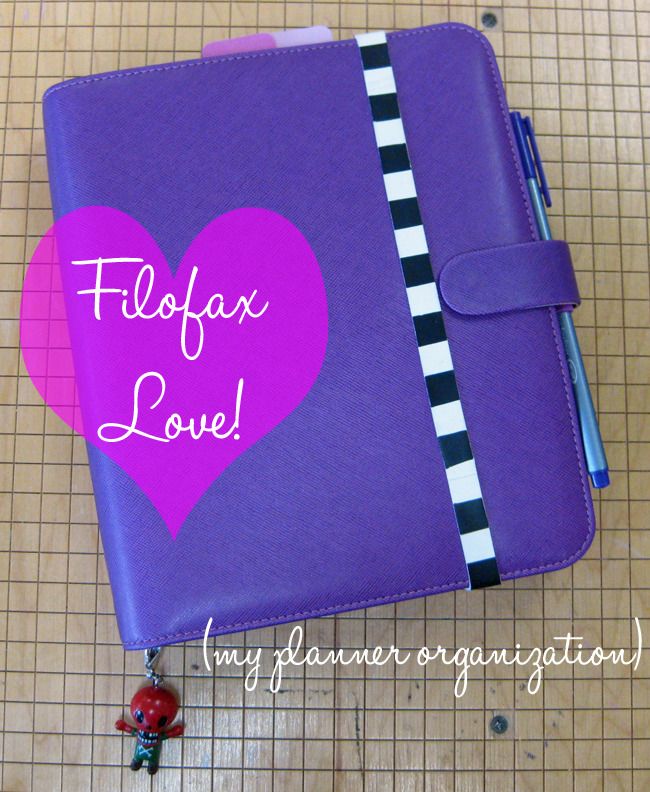 I have discovered a whole new world of things to become obsessed with... this could be good, or could be very very bad... enter the Filofax and planner/organization community. Oh boy.
I had an old Day Runner that I uncovered when I was
re-organizing the art studio
. I decided that I'd fix it up and use it for the new year, only to notice that one of the rings was busted. Wah wah. Seemed like a simple task to just go online and buy myself a new one. Oh sheesh... this is NOT a simple task!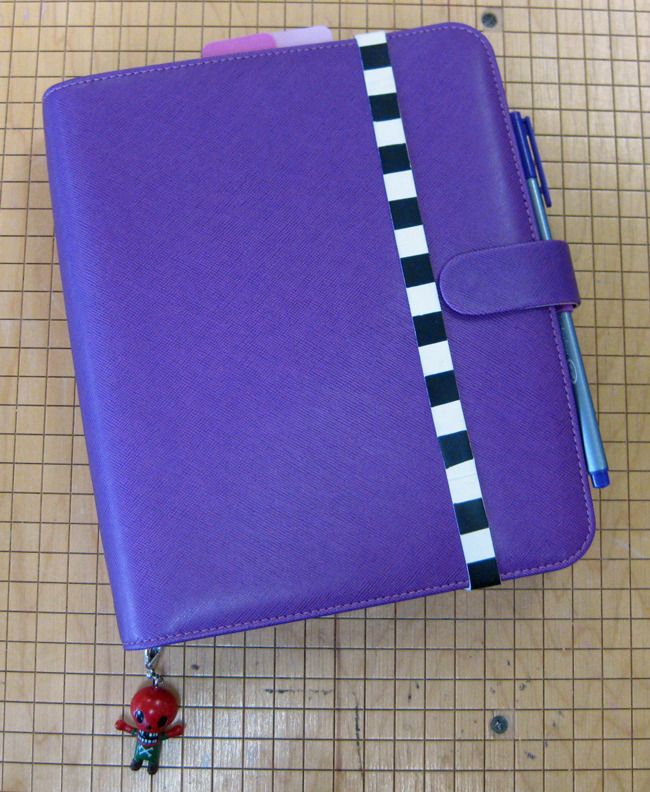 After researching and initially even buying myself an
Erin Condren planner
, I decided that a Filofax was best for me - I can customize the inserts exactly the way that I want them. What do you know - there's even a huge community of sellers on Etsy who create custom planner inserts, too! I found this Filofax A5 size "Raspberry Saffiano" on Amazon. I love how the inside is pink against the purple cover. Just the right amount of color, but plain enough to allow for lots of customization!
The black and white band is a
Smash Band
that I'm repurposing because I love anything with black and white stripes. :)
(Side note: the Erin Condren planner is nice, don't get me wrong. But it doesn't offer the kind of customization that I prefer. I'm keeping it and using it as a work planner/lesson plan book.)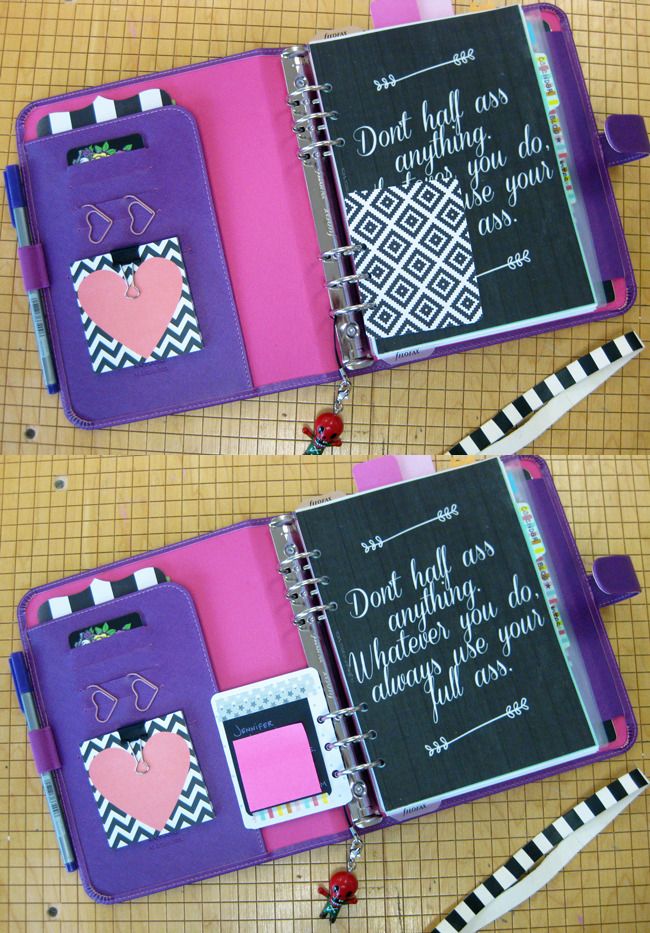 I've fallen down the rabbit hole of planner blogs, instagrams, and pins. You can check out
my Pinterest board for all things office, planner, and filofax-related
. One of my favorite new blogs that's planner related is
Strange and Charmed
.
I've learned a few things in common with my favorite planner layouts:
A cool "dashboard," or front page. I made my own image (on my iPhone, using PicCollage!) with an inspirational quote I found via instagram. It makes me giggle. Anyone interested in me making it a printable?
Owner information/ID just in case of the horrible instance that your planner gets lost! I put mine into my Filofax in the form of a card that I punched and placed right in front, before anything else.
Cute paperclips and post-its! I've also learned that the Target dollar spot is one of the greatest sources of post-its and cute office supplies, but that you have to be really really good about hunting them down and checking EVERY Target that you come across, because each one seems to have different inventories/quantities of supplies.
Cards/cardstock for custom folders, envelopes, dividers, or small inserts. I've been browsing Project Life cards and I'll probably eventually purchase a set... but not yet. In the meantime, I found a small set of Heidi Swapp cardstock folders that I've been using for organization (I even cut one down to make my ID card in front!).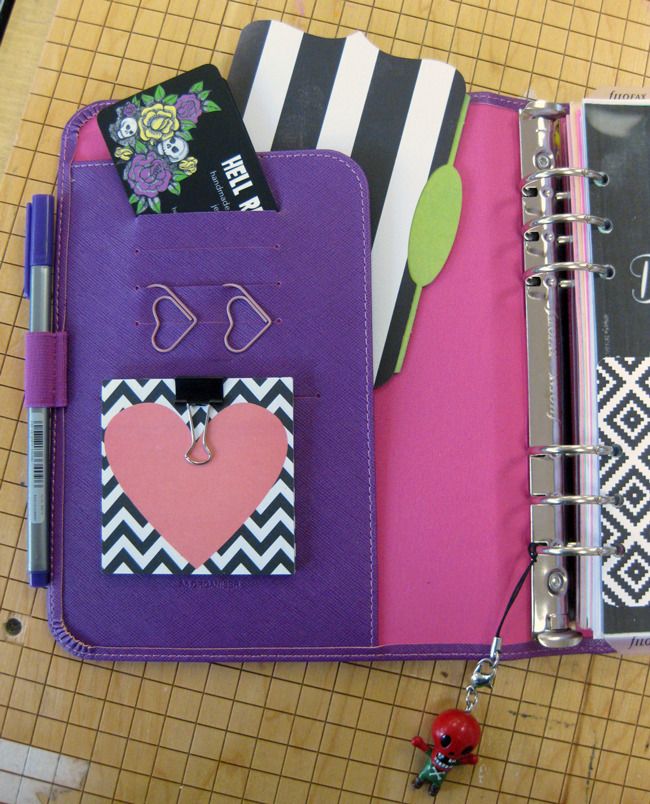 I love these heart post-its from the Target dollar spot (I search everywhere for them!) and that I have a spot to keep my business cards, too! The heart paperclips I thought were from OfficeMax, but I can't find a link anywhere...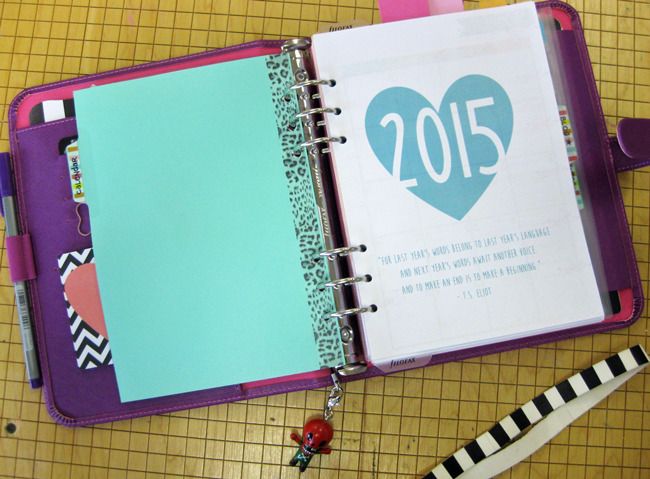 The dividers are the original ones that came with the Filofax, and I customized them with skinny washi tape, which is pretty cool because the tape also acts as a page reinforcer. My 2015 calendar was purchased via the Etsy shop
PerfectlyOrganised
.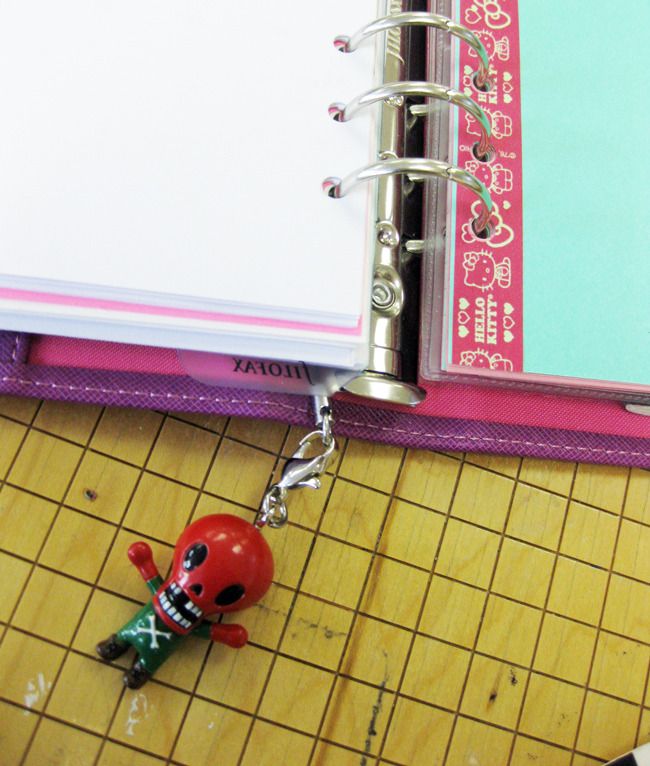 Alexis of Strange and Charmed taught me that a charm is a cool way to personalize your planner
. Instead of most girls' blingy-rhinestoned versions, I chose this tiny
Red Skull Tokidoki x Marvel Frenzies
phone charm. Anything skull-related is pretty much right up my alley!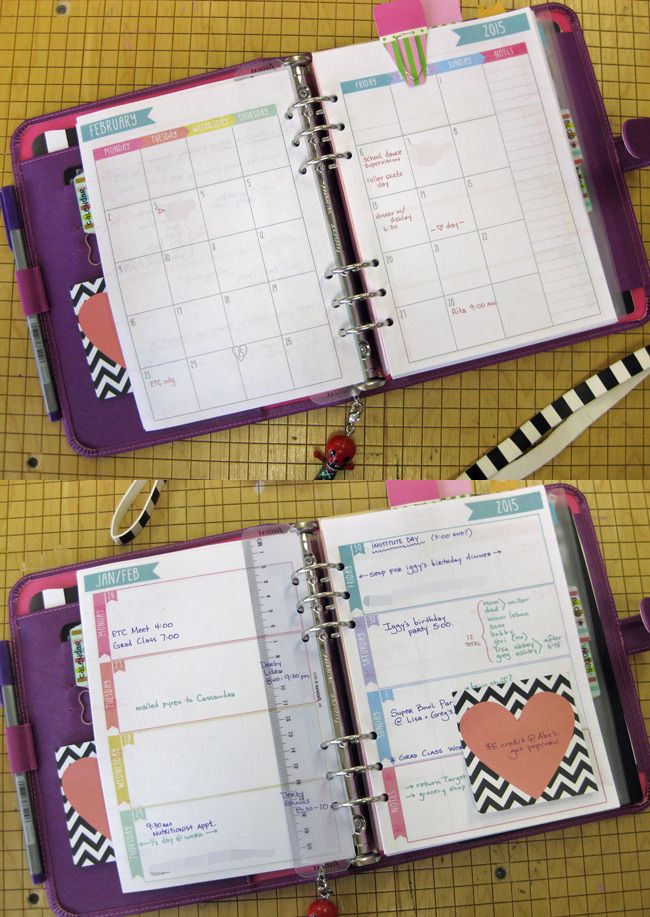 For my actual calendar, I searched Etsy for just the right design and layout for me. I chose the
pastel themed 12-month calendar on 2 pages layout
from PerfectlyOrganised on Etsy, and also the
pre-dated week on 2-pages pastel themed calendar
. I know that there are some free planner printables out there, but these two layouts cost me around $12, and I printed/trimmed the pages myelf. I feel like it was totally worth it to get exactly what I want!
(Side note: a good punch is ESSENTIAL for your Filofax! After buying and returning a punch that - despite claims - didn't really fit the A5 Filofax, I ended up purchasing this one and I am very happy with it!)
The second divider in my Filofax is dedicated to the blog. Here, I re-sized and printed a free monthly printable page (I know I found it via Pinterest but I can't find the link! Please let me know if you recognize it and I'll link here!) - I record my blog post topics here so I can keep track of what's been posted and what's coming up. I also have note pages for upcoming post ideas, and a chart with all of my affiliate programs and links.
Oh, and for those of you wondering, the divider that says "black" is a vintage flash card that I picked up at an antique mall and re-purposed it in my planner. I thought it was kind of a fun nod to my preferred fashion color scheme.
The third divider in my Filofax is notes and supplies. My planner came with some cute colorful lined paper samples, which I kept in here, along with a clear pocket that opens at the top. I purchased a zip pouch for the back to store additional supplies. One of my favorite places to find cute post-its (like the vellum moon ones), page flags (like the kitties!), and more is
MochiThings
.
From watching a few too many planner videos, I'm pretty sure I've learned that these clear sheets are called a flyleaf. I attached some post-its and flags obtained via a
Michael's
crafty bin score (you know, those aisles of inexpensive yet tempting things akin to the Target dollar spot? Yeah that's them).
The back of my Filofax originally had a notepad in it. To my awesome surprise, I discovered that this pocket/flap holds a
Moleskine
sketchbook PERFECTLY, and so have been using it as such. I'm almost finished with this particular book, which has sketches from all the way back to 2007! I can't wait to swap it out with a brand new Moleskine.
So there's my new Filofax! I hope you enjoyed my mini tour, and I hope to show you more fun updates in the future as I learn more from my fellow planner blogs and enthusiasts!
Rock On,
Jen @ Hell Razor
now playing: