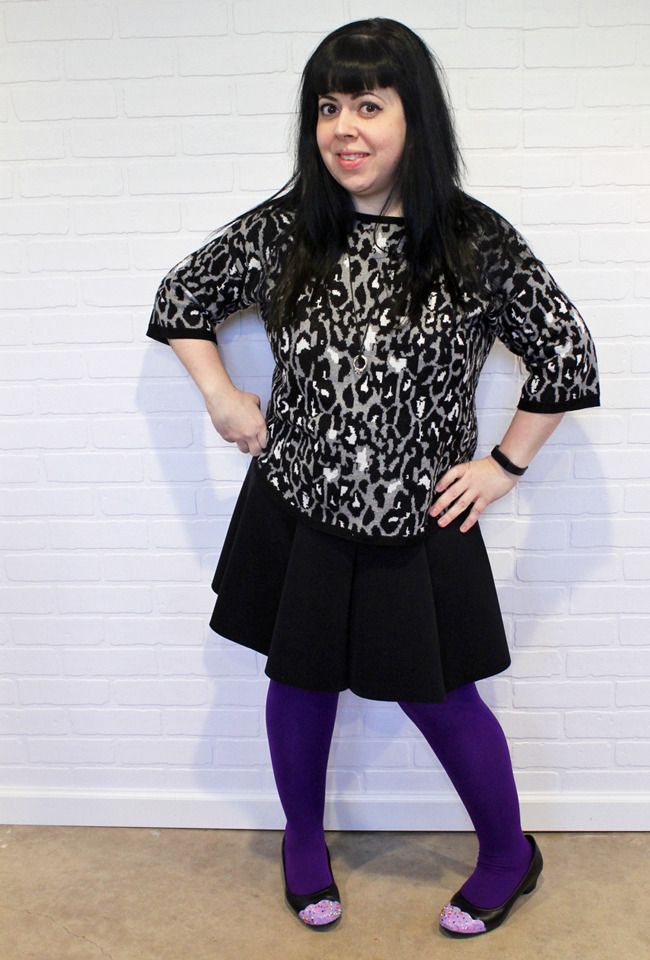 shoes - DIY / tights - We Love Colors / skirt - Top Shop / sweater - hand-me-down from Megan
Today was another one of those days where I didn't wear 100% black, and people commented on it throughout the day. Sometimes I have to wonder if it's worth it to break out of your norm. Contrary to what one might think of someone who has a blog and posts pictures of herself, I'm not exactly comfortable IRL with people commenting on my appearance - I get so awkward. But anyways.
Comments mostly revolved around my purple tights. "Your purple tights!" "I like your tights!" "You're wearing purple!"
I had to wear purple tights. I assembled the outfit around the shoes. Black tights wouldn't have made sense. In my brain (at least), it made so much sense.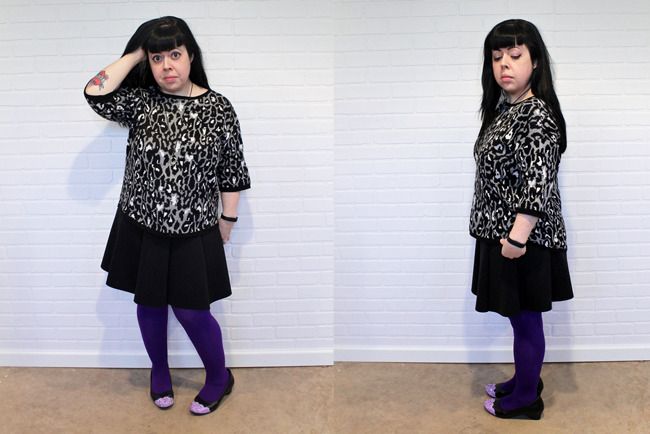 See? Black tights would have been all black/white/gray, and the purple shoes would have stuck out more.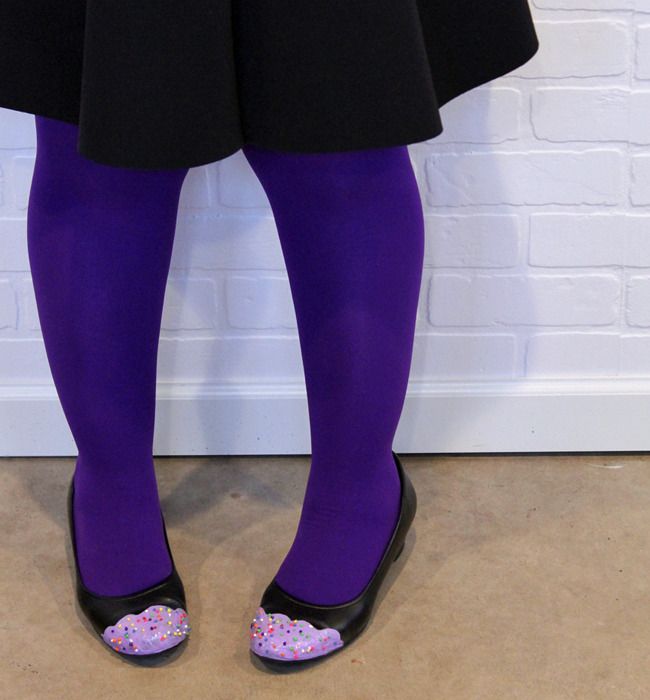 Lisa and I made our shoes a couple of weekends ago. We bought our shoes (via a BOGO sale!) at Payless, and used
this tutorial
to guide us. I ended up also spraying my shoes with clear spray paint to try and seal the sprinkles on. I still lost a few by the end of the day. I'm thinking that these shoes will probably need sporadic touch-ups every so often.
Here they are when I first finished them. I originally bought glow-in-the-dark purple puffy paint (it was all they had) and it dried way too transparent for my black shoes. I went over it with some regular puffy paint mixed with white that I found in the art studio. The longest part of this whole project is rolling and cutting enough "sprinkles" out of Sculpey clay for two pairs of shoes.
In case you're wondering, Lisa made her shoes with tan flats and light green frosting:
Pretty cute, huh?
When I'm working with clay or washing my hands constantly at school (which is really most days...) I've been wearing my wedding and engagement rings on this faux leather cording around my neck. Otherwise, I'm constantly taking them off, and I'm worried I'll leave them on the sink or on my desk. That would not be awesome. So, my necklace on this day was rings on a cord!
My sweater was a freebie hand-me-down from Megan (she's given me some pretty cute pieces before, like
this jean jacket
). I paired it with this skirt from Top Shop that I picked up in the city over winter break - it's made from that weird scuba-y material, so the nice part is that it always stays "fluffy" and I like how it lays.
I always wear spandex shorts under my skirts if I'm wearing tights. Is anyone else paranoid like that?
Rock On,
Jen @ Hell Razor
now playing: