The Bento Report is a regular feature on the blog where I show you what's in my lunch for a few select days over the past couple of weeks. It's informational because
I am a post weight-loss surgery patient
who is also a vegetarian/pescetarian, but also fun because I love the idea of bento lunches and have fun making my lunch look cute and/or making it fit into unique lunchbox container constraints.
You can view past posts of my
Bento Report series here
.
Information on where I buy bento boxes and accessories
in this post here
.
On this day, I had some fun leftovers to include in my lunch:
A hard-boiled egg. I think I may have saved and eaten this at the end of the day. For some reason, I seem to have difficulty eating hard-boiled eggs more so than scrambled or over-easy...
Grape tomatoes.
Leftover mahi mahi. I used a yummy marinade recipe (grilled mahi mahi with lemon and capers) that I discovered on Pinterest (my favorite recipe-hunting place!). Surprisingly, I've discovered that I love leftover cold fish. Weird, I know.
Leftover sesame noodles! I tried making these sesame noodles, only I used soba (buckwheat) noodles because of their high protein content. Turns out that I can't tolerate it much better then regular noodles, wah wah. :( I think it's the high fiber blocking things up! (TMI?)
Cucumber slices. Iggy has decided that he "likes" cucumber now, so I cut them in fun stripey round slices.
Mini Tupperware O'Vitamins. Contents detailed in my previous bento post.
Mini Tupperware O'Vitamins.
Cheese. Pretty sure it was Midnight Moon by Cypress Grove (ughh my favorite cheeses are from here - my all-time favorite cheese being Humboldt Fog)
String cheese, cut into tiny chunks. This one's a cheddar/mozzarella combo stick.
Trader Joe's crispy crunchy broccoli florets.
Trader Joe's milk chocolate peanut butter pretzels.
Trader Joe's teriyaki tofu, cut into chunks.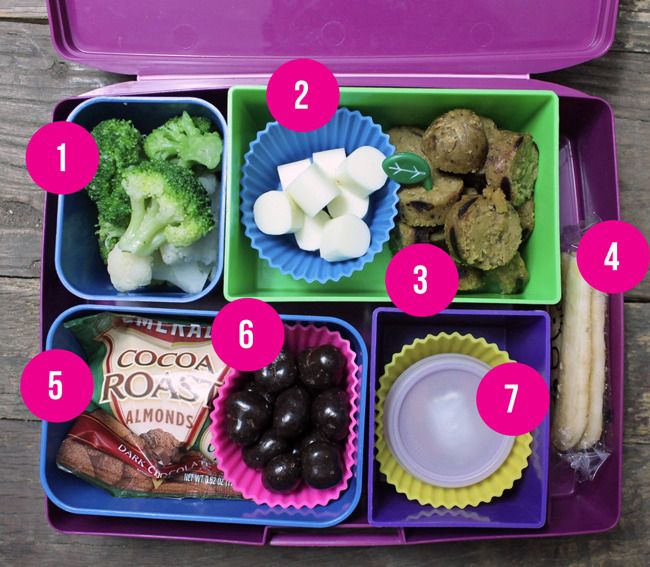 Leftovers: broccoli/cauliflower mix (I like to use a little olive oil and garlic salt on my veggies.)
Mozzarella string cheese, cut into chunks.
More leftovers: a Field Roast Sausage in smoked apple sage. Yummy!
Hello Kitty Senbei rice crackers (Lisa picks these up for me at Mitsuwa, and they are surprisingly delicious!)
Cocoa roast almonds - single serve pack
Chocolate covered espresso beans (from Trader Joe's... of course!)
Mini Tupperware O'Vitamins.
Rock On,
Jen @ Hell Razor
now playing: