shoes - BCBG via DSWarehouse / tights - TopShop (Halloween clearance) / dress - H&M (old) / cardigan - H&M+ / safety pin - eBay / necklace - The Rogue + The Wolf / FitBit bracelet - Kohls (xmas gift)
Yeah, I know... red! I'm wearing a red dress today. It's dark red, but still...
This is a very old (as in probably four years or more) babydoll-style dress that I purchased from
H&M
after seeing it on
The Clothes Horse
blog. I love her sense of style, but she is tiiiiny compared to me, so most of her fashion selections are beyond my realm of reality. She had this dress in a cream color, I think? - and it is an oversized style, so imagine my joy when I found it at my local store and there was a size that fit me! I've kept it over the years, stored away in my "pre-pregnancy box" of clothing, and now it is mine again! Yippee!
So although it is red, I will keep it in rotation with my black clothing anyways. I love it too much.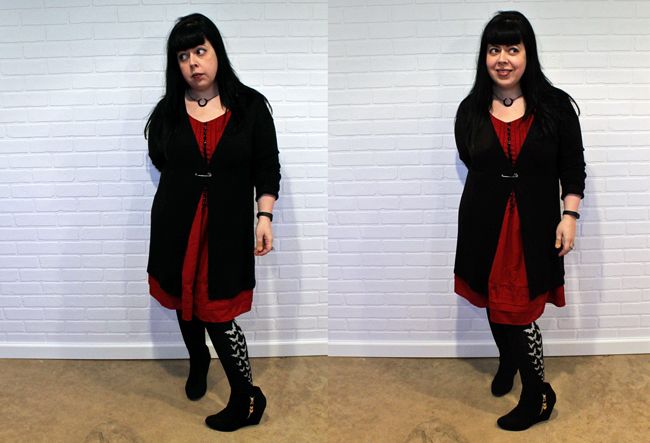 Also of note: I used to wear this dress so much that I had horrible white stains on the armpits from deodorant. Thanks to the miracle that is Pinterest, I completely got them out with a dryer sheet! Can you believe it? I was amazed, but it
worked!
(Seriously. When the clothing is dry, use a brand-new dryer sheet on the mark to rub it out as much as possible. Then I tossed the dress back into the wash - delicate, hang-to-dry - and the marks were gone!)
And another small victory: I finally got to stop into
TopShop
on Michigan Ave downtown (I'd been dying to go for a while now), and there were Halloween tights on sale for $10! With BATS on the leg! They were labeled "one size" which totally freaks me out, but happily they seem to fit a-ok! What luck!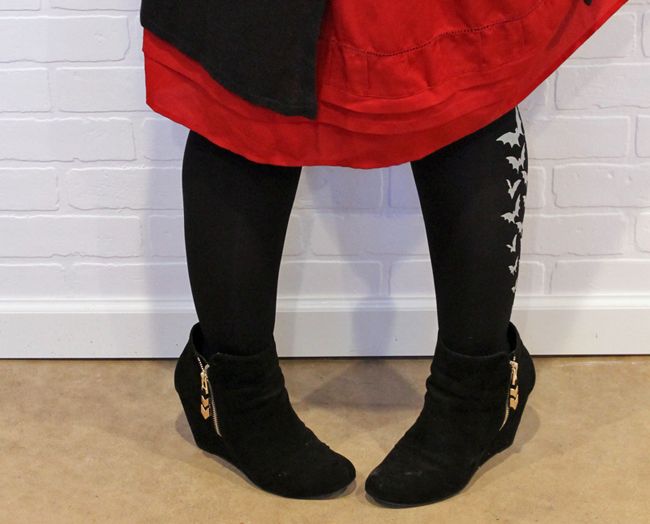 I've worn my sneaker wedges from
DSW
a few times on the blog, but I don't think I've shown you my dressier wedges I bought from there? These are BCBG, which make me feel all fancy. I could only find the
taupe version
online, but this style of wedge bootie is fairly common this season, so finding a similar item shouldn't be too hard.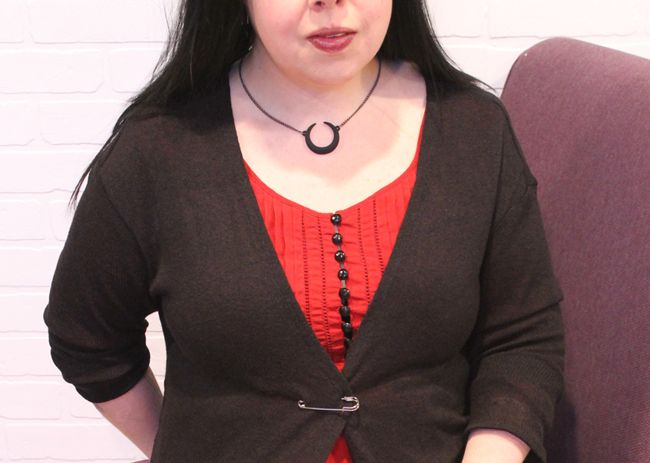 My sweater is from
H&M's plus size line
- I ordered it online before Christmas when I was shopping for a new bag for work (I have this habit of adding things on to my orders, and this was one of those purchases...). I really like the fit, and it's lightweight/slightly sheer, which makes it really nice for layering.
The cardigan does not have any buttons/closures on it. I added this oversized safety pin to keep it closed, but I'm just as likely to wear it open, too. I just liked how it looked on this day. I bought a bunch of these
safety pins on ebay
for use with sweaters and scarves for only a few bucks. I think they're a really nice inexpensive accessory option to keep in your jewelry box with your other pins and brooches!
My black crescent moon necklace is from
The Rogue + The Wolf
- they make their jewelry by 3-D printing it! How cool! I waited for a sale (just before Christmas) to make a purchase since they're overseas and therefore shipping is not cheap. Waiting for a sale makes the overall cost not so bad then. I also purchased a black midi ring from them, which you can see in
this post
.
Final thoughts for the day: taking photos at the end of the day when there is no good light anymore totally sucks. That being said, I think I did pretty well with these considering what I had to work against. Good job, me.
Rock On,
Jen @ Hell Razor
now playing: